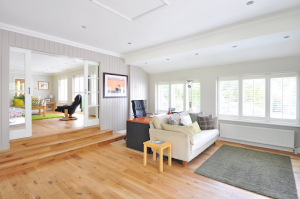 Many homeowners are turning to hardwood floors for homes. They enjoy the traditional look of wood flooring over tiles or carpets.
Most of us tend to daydream of having wooden floors for our homes. The vibrant colors and natural sheen of the wood can attract any customer's attention.
Wood flooring is better than other types of flooring available from the market. It provides warmth and elegance to any office, whether old or new.
If you're thinking of choosing wooden flooring for your office, you can't go wrong. All types of wooden flooring can match any style of decoration.
Why Choose Wooden Flooring? 
Wooden flooring is a good choice to refurbish your office's flooring, considering its superior quality. Shown below are some of the advantages of wooden flooring in offices:
Wooden floors are resistant and durable to day to day wear out. They absorb warmth much better than any tile or stone floor, making it always cold to the touch.
The main reason homeowners choose wooden flooring is its high durability. Wooden floors can withstand weighty footfalls in both commercial and domestic environments.
Wooden flooring keeps your office warm and gives a touch of exquisiteness to it.
Some homeowners overlook the timeless aspect of a wooden floor. It has been in homes for centuries and will never suffer from going out of fashion.
Linoleums and carpets go in and out of the trend, but the appeal for wooden flooring has lasted many centuries and will never change. The use of wooden floors is more popular now than ever before.
It happens that a carpet loses its brilliance and splendor over time due to the damage it takes from water and constant tearing for so many years. The sturdy wood design is one of the main reasons wooden flooring can last many decades.
No wooden plank is ever the same, so variances of color and shade add to the authenticity of any wooden flooring.
Because wooden flooring is so durable, it can last for many generations. Their enduring quality enables them to be a cost-effective flooring option. This makes it a more reliable option if you want a vintage look for years to come.
The general maintenance for a wooden floor couldn't be easier. Wooden flooring is resistant to dirt and spills, so brushing or wiping these away feels so easy. That gives you peace of mind if an accidental spill comes all of a sudden.
Wooden floors are also better than carpets because they don't harbor ticks, dust mites, fleas, and allergen-producing spores. This means that a wooden floor allows cleaning to be much simpler as opposed to carpets.
Budget is often a factor when buying any floor covering. Wooden flooring can be cheap or expensive, so you'll always come across something that will fit your budget.
Picking wooden flooring adds to the overall value of your property. The appeal of your house will increase, assuring the chance of settling an agreement with either party.
Prospective home buyers don't like carpets that other people have already used since they view them as an object that provokes allergy symptoms. For that reason, they often think about replacing existing carpets and prefer a house with wooden floors.
Wooden flooring does not harbor pollen, dust, animal dander, and allergens, therefore increasing the air quality of your home. If you experience frequent allergies, wooden floors are the best choice for you.
Develop Acoustics In Your Home
Wood is an excellent medium in receiving hollow sounds and other vibrations. As we can see, many studios use wooden flooring these days. You may trust the convictions of sound engineers with this one.
Wooden flooring comes in various ranges of grades and species. Taking this into consideration, it gives you the chance to pick the style you want and helps you choose the best wood finish that will fit your way of living.
One of the best characteristics of wooden flooring is its adaptability and versatility to almost every theme possible with interior design. It also works when you change other objects in your homes, such as wall art, mirrors, and other decorative objects.
Wooden flooring will always look appealing and fit for your chosen theme. They will give your home an everlasting beauty with numerous colors, swirls, shades, and grains to choose from.
How To Select The Best Wooden Flooring For Offices
Picking the best flooring is one of the most fundamental yet crucial decisions a homeowner has to make when starting a renovation, especially since it substantiates everything else. Out of all the options available, one material always stands out as the regarded standard — hardwood.
Choose Between Engineered And Solid Flooring
Solid wood is a natural material made from lumber, not just fibers or strands of wood. It is commonly obtained by cutting down fully grown trees.
Main varieties of solid wood include maple, oak, and rosewood. Exposure of a solid wooden plank to unceasing moisture may damage it on the surface.
Engineered wooden flooring consists of hardwood and base layers of plywood. You can install it with underfloor heating and in areas like conservatories where humidity fluctuates. Engineered wooden flooring works well with concrete.
The structure of engineered wooden flooring suggests that it is more versatile and stable than solid wood. However, beware when choosing between the two because engineered floors have upper layers that are so slim. Because of this, refurbishment in the future is unlikely.
Choose Between Prefinished And Site Finished
In the case of prefinished wood, the woodworkers will ship the product to your home ready for installation. One of the advantages of choosing prefinished wood is that you can utilize an exact sample to align with your office's color palette.
If you choose site-finished hardwood, you are buying wood flooring that will be delivered to your office to be sanded, stained, sealed, and finished with a protective layer. The advantage of site-finished wood is that you'll have the opportunity to choose between the different floor finishing methods — sheen level, stain colors, and choice of finish.
Consider The Wood Type
Oak is regarded as the king of wooden flooring in offices because it's a rigid wood that takes stains very well. Walnut is also a popular choice since it has a dark color that makes it suitable for rooms where a darker finish is applied.
Pick Your Desired Grain Pattern
Loggers chop a log in three ways: rift-sawn, plain-sawn, and quarter-sawn. These cutting methods generate three different grain patterns.
Rift-sawn planks produce consistently linear and long grains. Plain-sawn planks yield common wood grains with wavy patterns known as cathedrals. Quarter-sawn planks look parallel to rift-sawn planks but show irregular figures that resemble 3D rays.
Hardwood flooring is sold as plain sawn or as rift-sawn and quarter sawn matched together. However, there is no dichotomy in wood grain, and it simply depends on the type of grain pattern you desire.
Types Of Solid Hardwood
Two kinds of hardwood flooring primarily used in offices are solid hardwood flooring and engineered hardwood flooring.
Solid Hardwood
In general, solid hardwood, as the name suggests, is wholly composed of solid wood. It consists of solid pieces of hardwood species like oak, walnut, and maple. Its significant advantage is that it can be refurbished a lot of times throughout its existence.
Solid hardwood is highly rigid. Once you install it correctly and well maintained, it assures a lifetime quality.
Engineered Hardwood 
Engineered hardwood is composed of several layers of wood stacked together. A layer of solid hardwood is positioned atop of this core layer and on its bottom.
The multiple-piles construction of the engineered wood enables it to be less vulnerable to moisture damage. This construction stops the engineered hardwood from buckling and bowing the way a solid hardwood does in moist areas. The wood can enlarge and contract, yielding no negative impacts as humidity levels change.
One of the downsides to engineered hardwood is that it can't be refurbished, it's not quite as sturdy, and it doesn't add a lot of monetary value to your home.
Best Wooden Flooring In Offices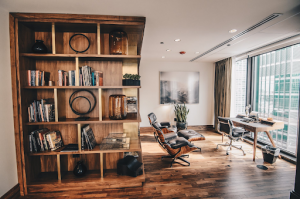 When choosing the best wooden floor for an office, it is important to consider design elements such as flooring style, color, dimensions, and edge detail of your prospective wooden flooring. Check out these amazing options to spruce up your workspace!
1. Cherry
Cherry wood is one of the most well-known woods used for hardwood flooring and kitchen cabinets. It comes in several varieties, and the most famous is American Cherry wood.
American Cherry, also known as black cherry, is prominent for its red and pink hues and wavy grain. A lustrous finish matches these.
2. Walnut
Walnut is another famous hardwood species available in multiple variations. It's well-known for its dark, dense, complex, and tight-grained look.
Loggers prize it for its durability and rich brown color. It glosses to a very smooth finish, and the color extends from creamy white in the sapwood to dark brown in the heartwood.
Some woodworkers use walnut planks in creating wood flooring, upscale cabinets, gunstocks, kitchen accessories. It is one of the most pricey types of hardwood flooring.
3. Oak
Most households in America use oak as their flooring choice. It is often found in furniture and is one of the best options for office flooring.
One of the main reasons oak has so many different looks is that there are many oak trees. An estimated 60 varieties are growing throughout the United States alone.
When it comes to furniture making, the most widespread species are white and red oak. Both are excellent choices and work profoundly in offices because of their durability.
Oakwood can come in several hues, but it's grain pattern looks incredibly unique, making it even more recognizable.
4. Maple
Maple is determined to be one of the most easily recognizable types of hardwood flooring. It is well known for its distinctive grain pattern, which sets it apart from other hardwoods.
Its light color and consistent texture help make it look appealing to the masses. Another notable quality of this wood is its durability.
It is determined to be one of the most rigid hardwoods available, and it doesn't scratch easily. It is popularly known for its high resistance to heavy impacts.
The overall quality of maple flooring enables it to be one of the best wooden flooring choices for homes with pets or children. Aside from its affordability, it is also known to take stains excellently.
5. Hickory
A hickory wood is known for its stiff, hard, and shock resistance. It is commonly used for bows, tool handles, pickaxe handles, carts, and drumsticks.
Hickory is often praised for its wood-burning capabilities since its high energy content makes it an efficient fuel source. It appears to be medium tan to light red-brown in color.
The distinctive beauty of hickory hardwood flooring makes it the perfect choice for log cabins and other rustic-style homes. However, the most significant disadvantage of hickory flooring is also its biggest advantage — its hardness makes the wood-cutting process challenging, leading to increased installation costs.
6. Ash
Ash is an elegant-looking hardwood species that's the best for flooring in luxurious offices. The wood appears to be a beige to light-brown hue and even has various shades of white sometimes.
Ash hardwood flooring is at a medium level when it comes to hardness. It is also famous for how well it is to take on a variety of stains.
One of the drawbacks to ash flooring is the maintenance it requires. Considering its light colors, it gets dirty very quickly, so you're obliged to clean it more frequently than other wood species.
There exists a diversity of ash trees native to North America. Green ash and white ash are the most abundant.
7. Teak
Teak is loved by many for its inherent shine and finish. While it looks exquisite with varnish applied, teak also preserves its natural oils.
Teak wood is known for its scratch-resistance and can be highly important if you're living with furry friends. Its toughness enables it to be the best wood flooring for dogs and other pets.
It is also considered a water repellent material since it is composed of natural oils, making it one of the most incredible wooden flooring options for offices.
Termites can sometimes munch on teak if they have no options, but they'd rather not. In certain areas where termite damage is alarming, teak can be seen as a natural termite repellent because of the oily feel it gives to surfaces.
8. Birch
Birch is a type of wooden flooring with clear wood grains. It is complemented with creamy white to yellowish-white colors.
This wooden flooring is known to hold stains very decently, making it so easy to be stained with an array of colors. It is also a type of wooden flooring that is budget-friendly.
The main drawback to birch is that it is a very soft wood and is also highly vulnerable to dents and scratches. It can also be unstable since it expands at a certain level as temperature and humidity levels change.
9. Pine
Pine is a wooden flooring that is the most traditional for its appearance. It has knots and pinholes and is coupled with vibrant color, most particularly when it's stained.
The downside to this wooden flooring is its relative softness. It's very likely to be dented and scratched as opposed to other wood species, resulting in more time spent on maintenance and care.
This is most particularly used in creating carpentry and furniture, and it is also known as an affordable type of wood among woodworkers.
10. Mahogany 
Mahogany is a kind of wooden flooring with a deep, dark color. Mahogany wooden flooring gives your office a more classic and rustic look.
It fits modern office interiors best and highlights your office decorations as well. The elegance and durability of mahogany make it an ideal choice as one of the best wooden flooring in offices.
One disadvantage of this material is that it is hard to cut and make various shapes with, so hire an expert who can do cutting and shaping in the installation process.
Conclusion
When choosing the best wooden flooring in offices, it is crucial to consider the overall quality of the type of wood you're choosing. Choices such as oak, maple, hickory, and mahogany are just one of the best options when choosing the best wooden flooring for your office.
Installing wooden flooring in your office is an ecologically sound choice to make. You'll help minimize your carbon footprint by using wooden flooring in your office.
Contact Us
30 Kallang Pudding Road #04-04
Singapore 349312
+65 8616 2206
By Appointment Only (in line with Covid 19 Movement Restriction Protocol)