The market for vinyl flooring is on the rise. With so many flooring materials available, it's challenging to decide which one is the best. To aid you in making an informed choice, we've listed seven benefits of using vinyl floors as an excellent material for every household!
What is vinyl flooring?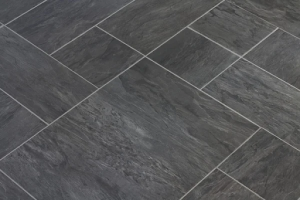 Vinyl flooring is a form of flooring made from PVC (polyvinyl chloride), designed to resemble stone, wood or tile. It comes in a wide range of styles and colours to fit into any home. It is simple to set up and maintain, making it a favourite option for many homeowners.
It is tough and can stand up to the rigours of wear and tear. It's also resistant to moisture, mould, and mildew. This makes it an excellent choice for rooms vulnerable to water, like bathrooms and kitchens. Vinyl floors are also simple to clean and don't require unique treatments or cleaners.
It is an affordable alternative to other kinds of flooring. It's also simple to install, which could help you save money on the installation cost. In the end, vinyl flooring is an excellent option for anyone who is looking for a beautiful and long-lasting flooring option.
7 Reasons Vinyl Flooring Is The Best Option
Vinyl floors are preferred for homeowners and businesses for various reasons. Here are seven good reasons vinyl flooring is the best option for you:
It is simple to set up and easy to maintain.
It is tough and lasts for a long time.
Itis waterproof and easy to keep clean.
It is non-slip and safe for pets and kids.
It is a comfortable option for underfoot and is easy on joints.
It comes in a variety of styles and colours.
It is a cost-effective flooring alternative.
Types Of Vinyl Flooring 
There are two kinds of flooring made vinyl as well as composite. Solid vinyl is composed entirely of vinyl, whereas composite vinyl is backed by comprised of fibreglass or another substance.
Vinyl is much more durable than composite vinyl, and it is more resistant to break or scratch. It is also simpler to maintain and clean. Mixed vinyl is, however, offers more comfort for walking and generally cheaper.
The two types of vinyl flooring come with advantages and drawbacks. But, in general, vinyl flooring is an excellent option for any home. It's tough and simple to maintain; it comes with a range of designs.
The advantages of vinyl flooring
There are many advantages of choosing Vinyl flooring to decorate your property.
Vinyl flooring is long-lasting and straightforward to keep clean. It's also waterproof, which makes it an ideal option for areas where spills could take place.
Vinyl flooring comes in a wide range of styles and colours, making it possible to find the perfect look you want for the home.
Vinyl flooring is the fact that it's simple to install. It is usually possible to do the flooring yourself, which can reduce the installation cost.
Vinyl flooring is an excellent choice in rooms that see lots of foot traffic because it is able to withstand high foot traffic and not show wear and wear and tear.
Vinyl flooring has disadvantages
While vinyl flooring offers many benefits, there are certain disadvantages that you should take note of. One drawback to vinyl floors is the fact that they could become easily damaged when struck by sharp objects. For pets who tend to scratch or claw on the floor, then vinyl might not be the ideal option for you. Another drawback to vinyl flooring is it could be slippery when it's wet. This could pose a safety danger, which is why it's crucial to be cautious when walking on floors made of vinyl that are damp.
Despite these limitations, however, vinyl flooring remains an excellent option for households and companies. It's strong, simple to maintain, and comes in a range of styles and colours. If you're looking for easy-to-maintain flooring, alternative vinyl is good.
Conclusion
There are many reasons vinyl floors are the best option for your residence. It's tough, easy to maintain, and will be resistant to scratches and scratches. Vinyl floors are water-resistant, which makes them perfect for kitchens and bathrooms. Additionally, it is available in a range of styles and colours that satisfy any style. If you're searching for an alternative to flooring, take a look at vinyl!
Contact Good Wood Carpentry Pte Ltd now to get the best vinyl flooring service in Singapore.
Contact Us
30 Kallang Pudding Road #04-04
Singapore 349312
+65 8616 2206
By Appointment Only (in line with Covid 19 Movement Restriction Protocol)