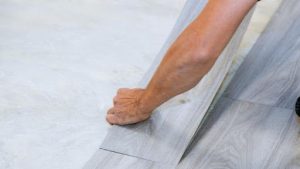 Photography: Forbes
While vinyl records went out-of-style decades ago, vinyl flooring is still steadily climbing and rising in demand. Vinyl tiles flooring, in particular, experienced a surge of high records of sale.
This marked the flooring material's continuous growth in popularity with homeowners in Singapore. It is easy to install, comfortable to walk on, and long-lasting! Indeed something that one would want for their home!
While that is the case, the question remains on whether vinyl tiles flooring is the right choice for you or not. Before coming up with your final decision for flooring material, there are some vital things you need to know and consider.
What Is Vinyl Tile Flooring?
Vinyl Tiles are solely created from 100% polyvinyl chloride plastic (PVC). These tiles usually come in squarish shapes with a vast pool of flooring options to choose from.
The typical ones you will find on almost all flooring suppliers are natural-looking wood-inspired styles. Other common types are made of marble and granite designs.
Manufacturers heat tiny pieces of colored PVC. They press them into thin layers that adhere to flexible vinyl sheets. After that process, the vinyl sheets are cut into square tiles. That being said, the standard size for vinyl tiles usually is 12 x 12.
Some people add grout to closely resemble and replicate the effect of ceramic tiles or stones. Most prefer to use vinyl tiles on smaller areas of the house. Unlike stones, you can easily cut down vinyl ones to fit in small spaces.
Similar to vinyl planks, these tiles can be textured and colored to mimic a wide variety of materials. That includes ceramic, porcelain, wood, and stone. You can find ones that are groutable and interlocking.
Vinyl tiles come in three layers. Foremost are the protective transparent film layer that protects it from tears, rips, and gouging.
Next comes the printed design layer. This layer comes in realistic patterns and colors. Lastly, the structural vinyl backing is for durability and strength.
What Are The Types of Vinyl Tile Floorings?
Photography: Flooring Stores
There are tons of opportunities with vinyl tiles that can expand your choices further. You just need to carefully consider where and what type of tile you want to use!
Here are the types of vinyl tiles you might encounter:
1. Luxury Vinyl Tiles
Luxury Vinyl Tiles, or LVT, have rigid construction and are created to be durable. These tiles are of higher quality than the peel and stick kind. They can withstand the abuse of high traffic, scratches from pets, and tantrums from angry kids.
LVT is created to replicate natural flooring choices such as ceramic tile and hardwood. It is almost five times thicker than the standard vinyl. The additional material is why it appears like a realistic stone or wood flooring.
Vinyl tiles are now ahead of other flooring options. It is mainly thanks to the leaps with technological advances and advancement in design capability. LVT can now come in many trendy and timeless designs and styles.
Above all this, LVT is easy to install. This specific quality gives it a significant advantage when renovating a single room or even the whole house.
2. Flexible Vinyl Tiles
This vinyl tile is perhaps the most stylish type yet. It earned the title of designer tiles due to its decorative use and wide range of color and pattern choices. This flooring typically uses interlocking or peel and stick type of installation.
Unlike PVC vinyl or Luxury tiles, this type does not have rigid construction. Meaning it flexes, which typically makes it easy to install and cut whenever you need it.
3. Waterproof Vinyl Tiles
As the name implies, this vinyl tile is 100% waterproof. It is a go-to option for areas usually exposed to water and moisture, such as bathrooms, basements, and kitchens.
This vinyl tile flooring typically features a 4-layer construction with a waterproof core. The core is the paramount quality that sets this vinyl tile apart from the rest. You have two choices for the waterproof core; stone-plastic composite (SPC or rigid core) and wood-plastic composite (WPC).
What Are Vinyl Tile Flooring Applications?
Vinyl tile flooring is known for its versatility. It is a manufactured type of flooring specifically created to suit just about anything. You can find vinyl almost everywhere, including residential homes, business offices, apartments, and even malls.
Here are the main uses and applications of the flooring:
Residential Use
Once upon a time, laminate, tiles, and hardwood were the only acceptable choice for a gorgeous floor at home. However, that is not the case anymore!
Homeowners today are obsessed with vinyl's stunning stone and wood looks. As if that's not enough, vinyl is also low maintenance, affordable, and has easy DIY capabilities. These factors skyrocketed the demand for vinyl flooring in the market!
Luxury vinyl tiles are currently the fastest-growing flooring choice in Singapore. Finding vinyl is not a rarity anymore. You will see homeowners of all lifestyles and ages renovating their homes with durable vinyl floors.
This flooring is famous for flip houses, long-term homeowners, and real estate agents. The benefits of vinyl flooring far outweigh the long-outdated notions that vinyl is tackier than other flooring options.
Commercial Use
The commercial sector is where vinyl floorings truly hit their stride. Since it contains the two main priorities of businesses (durability and affordability), owners couldn't seem to resist!
Vinyl advanced with more rigid core options and a new waterproof core, which placed them on the map of the commercial sectors. It is now possible to attain that natural wood-look in temperamental areas with vinyl tile floorings — areas namely for restaurants, commercial kitchens, and grocery stores!
A perfect cherry on top is how vinyl tiles can withstand high foot traffic. They are highly durable and would not easily tear and wear over time.
These benefits and advantages make it an excellent choice for commercial applications!
Where Can You Install Vinyl Tiles?
Vinyl tiles are versatile flooring options that you can use for almost any room in the house. The only requirement to look out for is the floor's need to be flat and level. You cannot install it on steep surfaces or stairs.
Most people use vinyl tiles for bathroom and kitchen areas. Its water resistance and durability make it an excellent option for these rooms as they often encounter water and moisture.
You can still install this flooring in other areas and rooms of the house, including the bedrooms and living rooms.
What Are The Benefits Of Using Vinyl Tile Flooring?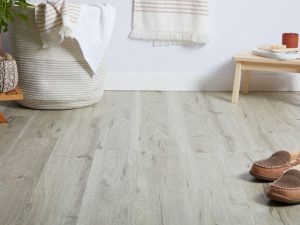 Photography: The Spruce
Vinyl flooring has been underestimated for many years, only being selected by a few. This deprived the public from enjoying the incredible benefits of vinyl flooring. Below are just the advantages you might miss if you choose another flooring option!
Vinyl flooring ranks as one of the most durable flooring materials in the market. This flooring can handle heavy foot traffic without losing its elegance or grace.
Vinyl tiles can undoubtedly withstand the heavy demand of the commercial sector without losing quality or integrity.
This flooring also has a wear layer on its surface to resist stains and scratches. Not to mention that if maintained properly, vinyl flooring can last up to 10-20 years.
Vinyl is unbelievably affordable, especially if you consider its quality and features. For instance, a genuine wooden floor requires a few hundred dollars to cover a small patch. It is expensive to both install and maintain.
However, you only need to spend a few dollars with vinyl flooring. You can install them yourself, and the maintenance is cost-effective! It makes vinyl budget-friendly to all clients.
Vinyl tiles use technology that can give you a natural feel and look on the surface. The pattern and texture appear genuine that even trained eyes would have a problem differentiating it from the reference flooring material! You will get your desired aesthetic without going over budget!
The maintenance of vinyl tiles is easy and effective. You only need to mop the floor or wipe the surface to remove the dirt. Since the surface is scratch-resistant, there will be no need for professional cleaning or expensive cleaning substances or equipment.
With vinyl tiles, you have various sizes and styles to choose from. All of which will meet your expectations. You will undoubtedly find a design that matches the one in your fantasies and imagination.
From wood to tactile slate — the options are almost endless! Vinyl tiles, in particular, offer the widest selection of realism for your flooring.
Vinyl tiles meet all the safety standards that are set for floor materials. This set of criteria includes flammability and slip resistance.
How Is Vinyl Tile Flooring Maintained?
Vinyl tile flooring material is easy to clean and maintain. Just make sure that you vacuum up all dirt, debris, and dust on your flooring. It would be best to use a vacuum that does not have a beater bar.
Aside from vacuum, you can also use a damp mop to keep your flooring clean. Be sure to wipe away all spills immediately to avoid damage to your vinyl.
Place doormats at all doorways and entrances to collect the dirt and debris from shoes. To avoid scratches on your floor surface, use felt pads under furniture. To prevent stains, use rubber-backed area mats and rugs.
You can also use non-staining floor protectors on your heavy tables and chairs. Don't pull or drag furniture across your floor either — it will undoubtedly result in scratches. Lift them as much as possible or use plywood to move them.
Finally, make sure to vacuum daily!
What Are The Installation Options For Vinyl Tiles?
Vinyl flooring is famous for its DIY-friendly installation options. You can easily install this flooring by yourself as long as you use the proper installation choice for you!
Interlocking – Depending on the vinyl tile, interlocking installation can either click together or use a tongue and groove system. Both methods are easy to accomplish. You will likely only need a few extra tools such as a utility knife and rubber mallet.
Peel and Stick – As the name implies, you will simply need to peel away the backing and stick the tile to an even floor surface. This installation method is excellent for low-foot traffic areas, especially if using standard vinyl.
Loose Lay –  Each vinyl tile has a backing that grips on the subfloor. This stops it from moving around. You will only need to lay down the tiles — there will be no need for glue to keep them in place. Use this for rooms that do not get too much foot traffic.
Glue Down – If you renovate a high-traffic area, the floor will need a super-secure hold. The glue-down method involves a pressure-sensitive adhesive that will permanently keep the tile in place. This ensures that the vinyl tile is fully bonded with the floor underneath it.
Groutable –  If you want a stone look floor for your home but fell short on budget, groutable tiles are your hail mary. They look like genuine stones, and the added capabilities of grout increases the realism.
Install the tiles using double-sided carpet tape or the glue-down method. Then, add the grout next.
How Much Are Vinyl Tiles?
The standard vinyl flooring costs an average of $0.50-$2.00 per square foot. It is essentially cheaper than other types of vinyl floorings in the market.
For those wondering about vinyl tiles price in Singapore, the range is about $2-$3 per square foot. The same price range applies to vinyl planks, as well. Although, that price will rise as you explore more high-end vinyl flooring types, quality, and styles.
If you compare the cost and price of vinyl flooring to stone, wood, or ceramic, there is a significant cost saving. You can save a tremendous amount if you install the vinyl flooring yourself.
Depending on the project's complexity, you can expect to pay up to $7 per square foot for professional installation. Some vinyl installation installers charge per hour instead.
Always ask first about their payment policies and price range foremost. It helps you judge whether it falls within your budget or not.
What Are Other Vinyl Flooring Options?
Vinyl floor tiles are not the only vinyl type available in the market. There are two other notable vinyl flooring options you can consider for your home.
Vinyl Plank Flooring
Vinyl planks are probably the most popular vinyl flooring type today. These are planks that generally replicate the appearance of solid hardwood. This flooring type will never fail in giving your home a warm and inviting vibe while still looking classy and expensive.
Luxury vinyl planks offer the texture and character of popular hardwood options. That includes wire-brushed and hand-scraped looks. Furthermore, vinyl planks offer the benefits of approachable and easy DIY installation. You will not encounter much trouble installing them if you wish to do it yourself.
Most vinyl planks come as 'floating' or interlocking floors that click together, similar to laminate flooring. Other DIY options include peel and stick, as well as loose lay. You can choose the glue down option to handle high traffic for commercial use.
Sheet Vinyl Flooring
Sheet vinyl flooring is also known as a vinyl roll for apparent reasons. It is, after all, a huge roll of vinyl flooring that you can easily lay over your subfloor.
Sheet vinyl is the original vinyl flooring choice. Most people would remember and imagine this if they thought about vinyl flooring in general.
While it comes in various looks, including stone and wood, this vinyl flooring is not exactly as convincing as tiles or planks. The main reason is because of its sheet form and look.
It is, however, the most affordable vinyl flooring option. This reason is enough to make it extra popular for commercial areas and spaces. It requires professional installation, though, since it uses unique methods.
Conclusion
Gone are the negative connotations and criticisms that came with vinyl flooring. This flooring used to be not-so-high on the list of top-notch coverings. Though, with technology and quality advancements today, vinyl tiles flooring has sneakily moved its way up the rankings.
Vinyl tiles won the hearts of most homeowners nowadays. It came to no one's surprise since the range of possibilities with this flooring grew spontaneously over the years.
If you wish to switch to vinyl tiles, you can trust SG Good wood to do the job. We are an established vinyl tiles supplier in Singapore that offers premium services and top-quality products. Check our website or contact us now to know more!
Contact Us
30 Kallang Pudding Road #04-04
Singapore 349312
+65 8616 2206
By Appointment Only (in line with Covid 19 Movement Restriction Protocol)