The bathroom is a good place to start renovating your home. After all, it's a place where self-care matters most.
Of course, when we talk about renovating, the flooring is a big part of it. Your bathroom flooring can do so much in terms of style and function.
Whether you are simply getting bored of your flooring that has been around for years — or you're doing a big overhauling project at home, considering vinyl flooring for bathroom in Singapore homes is a smart thing to include in your plans.
In this article, let us help you refresh and improve your knowledge about bathroom vinyl flooring. Some key points to remember while reading this article is your preference and the foot traffic that your bathroom normally gets every day.
Let's start with the most important question: is vinyl flooring appropriate for your bathroom?
Is Vinyl Flooring A Quality Choice For Your Bathroom?
The short answer is a resounding "yes." To expound, vinyl flooring is a popular choice for both kitchens and bathrooms where plenty of activities happen. Not only is vinyl flooring a popular water-resistant option, but it's also fairly easy to clean which is what you exactly need for places where spills frequently occur.
Of course, there are plenty of options when it comes to vinyl flooring so learning which is higher quality is important. For this, you need to be able to make certain of the thickness of the product, as well as the toughness or durability of the wear layer or its topmost layer that ensures your vinyl is as stain and scratch-resistant as it could possibly be.
What Are The Pros And Cons Of Vinyl Flooring? 
Vinyl flooring is great, still, there isn't one thing in this world that has no disadvantages. When considering vinyl flooring for your bathroom, it is important to weigh its advantages and disadvantages.
Below is a list of vinyl flooring in bathroom pros and cons which you can review. Consider your priorities and weigh them out.
Pros
Vinyl flooring can give you your money's worth. Compared to other types of flooring like ceramic, vinyl is relatively cheaper.
This cost-effectiveness includes installation and maintenance costs. As there is vinyl flooring that you can install on your own like a DIY project, you can cut the cost almost by half.
If you do proper maintenance, that is, sweeping it, wiping it from time to time, and taking care not to drop heavy materials on it, you won't have to spend much on repairing it as well.
In case replacement is inevitable, there's usually no need to change the whole flooring. Just remove the broken pieces, install new ones and your bathroom is good to go.
Vinyl flooring is known for its easy installation — so much that if you are a fixer-upper yourself, you can probably do it as easy as one-two-three.
Self-adhesive vinyl flooring is great especially if you live on your own and there's not much traffic expected in your bathroom. These are also cheaper.
If you want to be sure that your flooring would stick, glue-down vinyl options are a better option. You don't want to be slipping in your bathroom, after all.
The best you can do, however, is to let a professional do the installation for you. This might cost you more, but at least you won't have to worry about whether you did it right or wrong.
Since vinyl flooring is made to resist water, it's no wonder it has become a popular flooring for the kitchen and bathroom. Vinyl flooring works well with high-moisture rooms where steam and humidity are ever existent.
When installed properly, you won't have to worry about water damaging the subfloor. Take care that the seams and edges are well protected by putting high-quality grout to seal it in between sheets and planks.
Here's an aesthetic tip: Choose a colored grout to place over dark, neutral-colored vinyl to give that pop of color that is not overwhelming and yet still very stylish.
Again, the key to high-quality, highly durable vinyl flooring is good installation. That is why you should give proper consideration to consulting a professional for installing it.
Once you're past that, proper maintenance should be employed. Now, that's something you and your house members have full responsibility for.
On average, good vinyl flooring can last ten to twenty years. Some manufacturers, however, go as far as giving their products a lifetime warranty which speaks of their confidence about their vinyl's durability.
Although it's softer to touch compared to other floorings, never underestimate the toughness of vinyl flooring.
Vinyl flooring is easy to maintain with proper care. A little sweep every now and then would do. From time to time, it would be nice to wipe it with a wet rug (not rubber), especially if there's a stain or spill.
Remember not to overdo the cleaning. Vinyl flooring does not need a strong chemical that you would normally use for cleaning other flooring types. There's also no need for forceful scrubbing or you'll risk damaging the vinyl yourself.
Since it's the bathroom we're talking about, heavy furniture would not be a problem. Just in case your bathroom is so large, there has to be a sofa on it, it will be great to use protective pads on its legs so as not to dent the vinyl flooring.
Cons
Tendency For Discoloration
Vinyl flooring has a possibility of yellowing when exposed to direct sunlight for long and regular periods. Since we're talking about the bathroom, this isn't much of a problem – especially for smaller bathrooms with small windows.
If your bathroom is grand, however, with wide windows welcoming the sunlight in, you ought to get high-quality vinyl products with UV protection. Either that or make sure to have the black-out curtains drawn out whenever the bathroom is not occupied.
Also, never clean vinyl flooring with rubber tools. The friction from it can also cause discoloration. With that, stepping or walking around the bathroom with rubber soles should be understood as damaging.
Remember you have to prep your subfloor properly before installing vinyl flooring. Otherwise, you risk having subfloor damage.
Make sure to clean, dry, and dust the subfloor thoroughly. When the subfloor is not properly prepped, there can be small particles trapped beneath the glued vinyl tile. This can cause lumps to appear, resulting in an uneven surface.
You also have to be wary of low and high areas. It will be good to level these uneven surfaces first with a patching compound.
To know more about how to prep subfloor, you can check out this article.
Probably the biggest issue people have with vinyl flooring is how it's not exactly eco-friendly, particularly the adhesives used to install it. If that's your concern too, that's perfectly fine since click vinyl flooring exists. This allows you to easily install vinyl flooring by yourself by just locking vinyl planks together.
Another downside to vinyl flooring is that once it's been thoroughly used and abused (we're talking about years and years of recycling and upcycling it until it's no longer desirable), discarding it is doing a disservice to the environment since it is made up of non-biodegradable plastic.
If you used glue to install your bathroom vinyl flooring, chances are it will be hard to remove it. Difficult, but not impossible – and it will probably be messy.
To avoid having removal as an issue, think about how long you intend the vinyl flooring to remain in your bathroom. If it's only a temporary flooring option, consider asking your contractors to use self-adhesive vinyl or the clickable "floating" variety instead.
If you are considering the suggestion above, remember not to do the same for areas where direct water contact is expected like shower stalls.
Don't say you didn't see this coming. As vinyl flooring is, again, relatively cheaper compared to other flooring options, it will not add substantial value to your home if you do intend to sell it.
Therefore, if you are in the house flipping business, using vinyl flooring for your bathroom may not be the wisest choice. True, you will save money in the long run, but it's not likely you'll get a hefty amount when the time comes for reselling.
Best Vinyl Options For The Bathroom
Now, it's time to know the best vinyl flooring for bathroom. Below are the three most common options to choose from.
1. Luxury Vinyl Flooring
Luxury vinyl flooring (LVF) or luxury vinyl tile (LVT) is a limestone-based material with PVC composites. It is less flexible but more rigid compared to the other two options which are sheet vinyl and vinyl tile. LVF has a quality that enables it to be installed and "clicked" together, making it perfect for Do-It-Yourself renovation projects.
So, is luxury vinyl flooring good for bathrooms? It is, provided that you wisely use it beyond the shower area. Although it is possible, many believe that vinyl flooring is not exactly made for direct water contact with great pressure.
Still, LVF has a very tough wear layer. Since it's the most recent trend in the vinyl flooring industry, it also boasts a superior graphic process, allowing you to have a nice wood/stone/ceramic/metal-like look.
That being said, luxury vinyl is also the most expensive out of all three. Still, it is highly durable and easy maintenance, making it more cost-effective in the long run.
2. Sheet Vinyl
Sheet vinyl is a good flooring option for smaller areas like a bathroom. It consists of continuous sheets made of polymer materials in varying widths of about 6 to 16 feet.
The large rolls allow fewer seams, therefore making sheet vinyl more effective as a water-resistant flooring. It is ideal for bathrooms that are constantly wet and messy, like a child's bathroom which is usually smaller and is prone to water splashes.
Unlike LVF which has a more solid finish, its digital graphics layer is bonded to a fibrous or felt material base layer. It also has a protective wear layer to protect the PVC.
Sheet vinyl is usually installed using a full glue-down application. This makes it a quite difficult DIY project. It also costs a little more than Vinyl Tiles.
3. Vinyl Composite Tile
Let's be honest, with the existence of luxury vinyl flooring or even sheet vinyl, it is not likely that you'll go with installing vinyl composite tile (VCT) in your bathrooms. Once, it was widely used, but times change and so do homeowners' needs and tastes.
In case you do need VCT for specific purposes, know that this is made of natural pulverized limestone mixed with filler materials, thermoplastic binders, and color pigments. These are combined together and manufactured into solid sheets which are cut into tiles afterward. It has a nice resemblance to stone tiles and needs surface polishing from time to time, making it higher maintenance compared to the other two types.
The more seams these tiles have, the more it is vulnerable to water damage beneath the tile itself.
Some Vinyl Flooring Ideas For Your Bathroom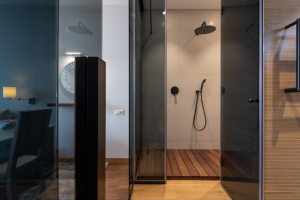 Whatever size your bathroom comes in, vinyl flooring can make it all the more special. In general, small bathrooms which are common in apartment dwellings will benefit from a light scheme to make it look bigger, but if you want your bathroom to be dark, soothing, and cool then darker hues would work, too.
Below are other ideas to play with:
Don't you ever dream of a full-on-white bathroom display? Or maybe black is your thing? Whichever color you fancy, there is probably vinyl flooring to suit your tastes.
If you don't quite like the idea of just one color but still want a nice and clean finish, neutral-colored vinyl flooring would go best with your aesthetic. Pair it with wooden fixtures, and perhaps some real or faux plants to get that refreshing bathroom display.
A pastel scheme is perfect for children's bathrooms. Still, there is no judgment if you are a full-grown adult, and pastel colors are your thing. As bathrooms are places for self-care, install flooring that makes you happy!
For the more adventurous types, consider having neutral-colored bathroom walls and fixtures, but make the floor go pop! For instance, white-schemed walls would go well with blue vinyl flooring.
Why have a uniform bathroom vinyl flooring when you can go crazy with patterns? Just make sure it gives a cohesive effect as a whole. How to do this? Choose one color scheme, for example, black and white, and install different patterns of black-and-white vinyl tiles.
Conclusion
Considering all the information we shared with you about vinyl flooring for bathroom in Singapore, we hope you were able to plan how you're starting your bathroom renovation project. You can always contact us to know more and we will gladly help you!
Contact Us
30 Kallang Pudding Road #04-04
Singapore 349312
+65 8616 2206
By Appointment Only (in line with Covid 19 Movement Restriction Protocol)