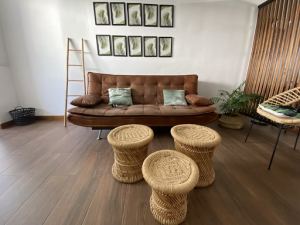 The floor is one of the most essential parts of a house. It can bring a room together and complement the other furniture. A floor must also be durable so it can withstand being exposed to foot traffic and other elements.
It's a significant bonus if it's easy to clean the floor; you won't have to exert too much effort to keep it shiny and presentable. Cost-efficient floors will work well for your budget since you don't have to spend too much on maintenance.
A floor that's durable, beautiful, low-maintenance, and cost-efficient — where can you find this miracle material? Vinyl floors of course! They fit all these requirements perfectly!
Luckily, Singapore has the best suppliers that sell all types of vinyl flooring. Here is all the essential information you need about this material.
What Are Vinyl Floors?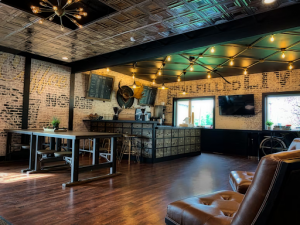 What makes vinyl flooring so unique? What is it made of? This surface is made of several materials combined to make planks. These materials are affordable and durable, so they are perfect for vinyl.
Vinyl floors can also resemble natural wood, so manufacturers need to choose the right fittings to make the surface. There are two types for this flooring:
Luxury vinyl tiles (LVT)
This material mimics the appearance and texture of natural wood. It looks and feels like you have hardwood in your home, but you don't have to worry about the high maintenance cost of real wood.
Using LVT is also better for the environment as you don't have to cut down trees to make this surface. It can also mimic ceramic, so you can choose if you want a rustic or a cool look for your home.
Vinyl roll
This roll is made of fiberglass, so it's large and flexible. It's affordable and people prefer this type because of its easy installation. Some homeowners also wonder, Is vinyl flooring in 2022? Vinyl rolls mostly have low VOC emissions, so your indoor environment will be fresh and healthy.
Why Should You Choose Vinyl?
Homeowners have countless praises for vinyl flooring, but here are the main reasons why it's a popular surface choice:
Kids and pets are the biggest threat to your shiny floor. Luckily, vinyl can withstand scratches, stains, and dents. You don't have to worry about spills or roughhousing on this surface.
However, you must also do proper maintenance on your vinyl. Have a regular cleaning and maintenance schedule, and your floor might last for 25 years!
Vinyl floor is waterproof
People usually worry about the floor for bathrooms, kitchens, and basements because of the constant spills and exposure to moisture. Vinyl works great for these areas because it's generally waterproof. There won't be any stains if you clean up a spill right away, and you can clean marks quickly.
All you need is a broom or a vacuum for quick cleaning. You can use a mop and mild cleaning agent for added shine. These surfaces have a protective layer, so you don't need to wax them. Vinyl floors will stay shiny for several years.
It looks like natural material
Several people want a hardwood floor, but the maintenance expenses are too much. If you choose vinyl floors, you get the appearance and feel of natural wood. However, you don't need to do waxing or other maintenance expenses to keep it beautiful.
There are different styles
Although one of vinyl's desirable factors is its resemblance to natural wood, there are other styles you can choose for your home. Maybe you want ceramic, stone, or something unique? Vinyl floors have any style you want!
This flooring's functionality and adaptability are reasons why it's a popular material for Singapore homes. It offers high quality without excessive price.
Types Of Vinyl Floors For Homes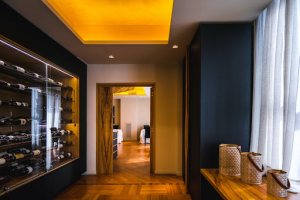 Vinyl floors have their general type, LVT and vinyl rolls, but are there different grades of vinyl flooring? Yes! There are other varieties you can use indoors. Here are the four types of vinyl flooring for Singapore homes:
1. Traditional vinyl floors
This material works better for commercial spaces like labs, clinics, and hospitals. They have anti-bacterial and anti-static properties that make them the perfect match for these areas. Traditional vinyl floors don't have a thick protective layer, though, so they won't work well for homes with kids and pets.
2. Clickable resilient flooring
This surface is one of the best for homes. Each sheet is 5mm thick, and it has a 0.5mm thick protective layer, so foot traffic and moving furniture won't leave any marks on it.
Clickable resilient flooring is made from virgin vinyl pulp, and it works well with different subfloors. You don't need a completely flat surface to install your sheets.
3. Medical clickable resilient flooring
This material is similar to the standard clickable flooring, but it also shares properties with medical-grade vinyl sheets. Medical clickable resilient flooring is anti-bacterial and eco-friendly, so it's suitable for home interiors. Children and the elderly will benefit from this safe and durable floor.
4. Eco resilient flooring
This material prioritizes being eco-healthy and friendly. Manufacturers use certified safe composite materials to make the sheets so it doesn't expel any harmful fumes indoors. Choose eco resilient flooring if you want the safest choice for your surfaces!
There are several types of vinyl flooring, but they all share general characteristics. They are waterproof, stain-resistant, slip-resistant, and they can withstand high impact. Even termites can't get through vinyl floors! Add their affordable price, and it's no surprise why they're popular flooring materials.
Vinyl Floor Designs
In total, how many types of vinyl flooring are there in Singapore? There are four basic types depending on their characteristics, but you can also choose various designs for your material. We have several colors and patterns to choose from at Good Wood Singapore. Find the perfect match for your home here!
Colors
The floor color is an essential element for interior design. That's why you should choose a manufacturer who has a wide variety. Good Wood Singapore has several color palettes you can choose for your home!
Brown has always been the traditional color for floors. It's classy and it accentuates the other furniture in your home. Good Wood has several shades like golden oak, natural oak, teak, and walnut. Whatever shade you need, we have it!
White is another color for floors. This color makes your room look bigger and it looks neat. However, cleaning these light floors can be a challenge. Luckily, you just need a broom or vacuum to keep these white floors brilliant.
Our colors, white ash,  and white oak will make your living space one of the most lovely in your neighborhood!
This is an unconventional color for floors, but our gray ash vinyl mimics the appearance of natural wood while giving a cool appearance to your living space. These sheets are the most unique in our collection.
Patterns
The vinyl patterns also contribute to how your floor brings together the room. Choose the best option whether you like a grid, diagonal, or herringbone style. Customize your home and give it an aesthetic touch.
The horizontal and vertical parts of the planks are aligned perfectly for a neat look. Grids are one of the most commonly used patterns on floors.
This pattern has the planks arranged in an alternate style. Offset patterns are also called "running boards" and they make the floor area look wide.
This pattern uses the offset style, but the planks are at a 45-degree angle. Your area will have more dimensions with these planks.
This pattern is similar to offset, but you use color variations to emphasize the design.
This pattern resembles fish bones, hence its name. It's a sophisticated design that works well in offices. You need special flooring cuts to achieve this pattern.
This style is a variation of the grid pattern. A vertical column cuts through the horizontal rows to give your floor a luxurious look.
You need rectangle vinyl tiles for this pattern. The planks intersect to form a "weave" on your floor, and it gives the illusion of movement in a small, defined area.
This design goes the opposite way of the corridor pattern — horizontal rows cut through the vertical columns. It's a fun twist to your typical floor.
This pattern alternates square and rectangle tiles to create dimension in your living space.
This pattern works best for luxury vinyl tiles (LVT). Install one tile and place the other one in a 90-degree "quarter turn". This floor compliments linear designs in your home.
Now you know the essential details about the types of vinyl flooring in Singapore. Each plank has special properties that suit different places. Now, it's time to learn about vinyl flooring care.
How To Maintain Your Floors
Vinyl floors are one of the most durable and manageable surfaces for your home. They are waterproof and stain-proof, and they will last you for several years. However, you must do proper maintenance to ensure your flooring remains in good condition.
1. Do regular cleaning
You can use a broom, a vacuum, or a microfiber mop to clean your floors. You must have a schedule to keep the surface free from dust and other debris. This schedule depends on how much foot traffic the floor gets. Clean once a week or once a month, just remember to have a routine.
2. Protective layers
Most vinyl floors already have a protective sheet, but they can also benefit from a yearly polish coat for additional shine. Read the manufacturer's instructions so you'll know what polish coat brand you need.
3. Furniture safety
Dragging chairs and tables across your floor can cause scratches, so you must put felt pads on the feet to prevent these marks. A rug or carpet can also help with protecting your floor.
Properly maintaining your high-quality vinyl floor will help maximize its functionality. Your vinyl floor will serve you well for years.
How To Find The Right Supplier
Vinyl flooring is one of the best options for your home. It's perfect for homeowners who want a high-quality floor at an affordable price. However, you must choose a trustworthy supplier who will only sell you the best vinyl floors.
Good Wood Singapore is one of the best suppliers in Southeast Asia. We are dedicated to giving our customers the best quality vinyl floors and housing materials.
We only choose the best materials for your vinyl floors and other furniture items. We also provide timber decking and fencing, wood plastic composite decking, and handrail installation. We supply everything your home needs!
Our flooring installers have years of experience. You know you're in trustworthy hands when our team handles your home needs. We know which materials and designs work best for your area, so we can work together to make the best result!
Don't hesitate to visit us or give us a call! We're always ready to give you the best products and services.
Conclusion
There are several types of vinyl flooring in Singapore. Each plank has its special characteristics, but they all provide the best service to homeowners.
Vinyl floors are one of the most popular surface materials because of their high quality and cheap price. Any style will go well with your home! Just try to research the properties and patterns so it perfectly matches your needs.
Contact your most trustworthy vinyl flooring supplier and plan the installation. It's an excellent investment for your home that will last you for several years. You won't have to spend so much on cleaning and repairing materials, and it will completely complement your home.
Contact Us
30 Kallang Pudding Road #04-04
Singapore 349312
+65 8616 2206
By Appointment Only (in line with Covid 19 Movement Restriction Protocol)