Having a balcony in your house means having a place for relaxation and peace. With its average temperature and abundant rainfall, Singapore is ideal for growing tropical plants. The subtropical location also makes it a wonderful place to relax and enjoy the outdoors. With a few simple steps, you can turn your balcony into an oasis of peace, relaxation and harmony. Balconies are the perfect place to spend time in nature while still enjoying the comforts of home. When it comes to balcony decking in Singapore, there are many options. You can choose between solid wood decking and composite wood decking. Every material indeed has its own set of benefits and drawbacks. Here we are going to look upon some kinds of balcony decking seen in Singapore.
1. Chengal Wood Decking
Chengal wood decking is probably the most commonly seen outdoor decking in Singapore. As it originates from neighbouring country Malaysia, its price is usually affordable as an option for outdoor wood decking for balcony in Singapore.
Chengal Wood Decking in Clear Varnish for planter box balcony in Singapore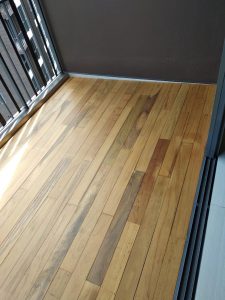 Chengal Wood Decking in Clear Varnish for whole balcony in Singapore
The two pictures above shows Chengal wood decking with clear varnish reflecting the wood's natural raw colour. The natural raw colour of Chengal wood is very patchy and some natural wood lovers appreciate the natural beauty that comes with it. However, most Chengal wood decking in Singapore is varnished in a darker varnish, usually dark walnut or black. This is to achieve better consistency from plank to plank.
Chengal Wood Decking with Dark Walnut Varnish
Chengal Wood Decking with Black Varnish
The two pictures above show Chengal wood decking in dark walnut varnish and black varnish respectively. These are the popular colours of Chengal wood decking for balcony decking in Singapore.
2. Teak Wood Decking
Burmese Teak wood decking for balcony is probably the most expensive wood decking for outdoor balcony. While installation method is the same or like other decking, Burmese Teak wood materials are expensive. Burmese Teak wood is famous for having the golden-brown raw colour with rich wood grains on the surface. Due to this characteristic, Burmese Teak wood decking for balcony is usually done in clear (transparent) varnish to enhance the wood grain.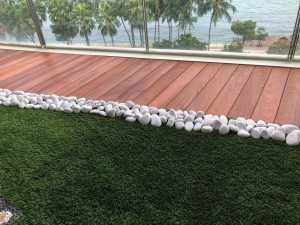 Burmese Teak wood decking is considered the more premium decking for balcony in Singapore. It should be noted, however, that Burmese Teak wood decking should be done for outdoor balcony with some shelter as heavy and direct exposure to sunlight may cause colour-fading issues with Teak wood.
3. Composite Wood Decking (WPC Decking)
Composite wood decking for balcony is popular among Singapore house owners for practicality reason. As composite wood is made from a mixture of wood and plastic, it is termite-proof and it lasts longer than natural wood placed outdoor under heavy sunlight and rain. Unlike solid wood decking, composite wood decking comes prefinished from the factory. Composite wood for balcony comes in a variety of colours too so house owners have a variety of options to choose from.
Composite Wood Decking – Aged Walnut colour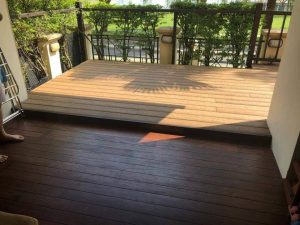 Composite Wood Decking – Washed Teak colour
Composite Wood Decking – Silver Fir colour
Composite Wood Decking – Rum colour
Composite Wood Decking – Gold colour
We have explained the best wood species that can be used for decking on balconies in Singapore. However, it depends on a person's choice what kind of hardwood he needs for balcony decking. The composite wood decking is our recommendation from among all of the decking types. The reason for choosing composite wood is its durability and sturdiness.
Similarly, the Singaporean market has a choice of decking that suits all tastes and budgets. Depending on your budget and the level of maintenance you want for your balcony, you can choose from composite wood, hardwood, or softwood decking materials. For example, if you have kids playing around the house a lot, composite wood may be the best alternative as it is more repellent to scratches and dents than wooden decking materials.
If you are looking for a balcony wood flooring and decking professional, look for us. We are an experienced supplier and installers of wooden decks and can help you achieve your dream balcony. If you're looking for a top-quality deck builder, then contact us now!