Timber outdoor decking is the best choice for many homeowners in Singapore. It is durable and provides a natural look to your home.  However, one of the main factors when choosing timber decking is the cost. Timber decking is typically priced per square foot, and the price can vary depending on the type of wood and the design of the deck.
Timber decking is also easy to maintain, and it can last for many years with proper care. It does come with some costs, however the initial cost of Timber decking may be higher than other materials, but it will last longer and require less maintenance over time. Timber decking is also susceptible to rot, so it is essential to treat the Timber regularly.
Overall, the costs of Timber decking are worth it for many homeowners due to the beauty and durability of the Timber.
Homeowners should also factor in the cost of installation when considering timber decking, as this can add to the overall expense. However, with proper care and maintenance, Timber Decking Singapore can last for many years to come.
Five types of outdoor decking options in Singapore to choose from
Outdoor decking is slowly increasing its popularity as new private residences and HDB flats are beginning to offer patio and balcony space to homeowners in the present. Investing in high-quality patio flooring is crucial to creating a chic and cosy space where you can relax and relax in the sun during your afternoon.
There are many alternatives available. To assist you in making a decision that is best for you, below are the top five decking materials suggested by our experts in flooring and their advantages and disadvantages.
1. Outdoor Wood Decking
The most commonly used outdoor flooring is nothing more than wooden decking. Available in Chengal wood, Ironwood, and Teak, natural wood decking is often used to cover outside of Singapore characteristics due to its cooling capabilities. Based on age, wood species are classified according to their different toughness and durability, Janka hardness, and dimensional stability characteristics. Wood decking is a piece of nature within your outdoor space. Because of its natural qualities, wood decking requires a lot of treatment and maintenance.
It is nevertheless among the most effective options for decking that is outdoor. To prolong the life of outdoor decking, it is essential to maintain it and give it a new coat of varnish or paint.
Additionally, any incorrect installation could lead to the stretching of decks. So, hiring a skilled outdoor decking contractor for an expert deck installation is equally important.
2.  Eco Wood Composite Decking
Eco-friendly wood decking is considered one of the most recent entries to the Singapore outdoor decking market. A significant improvement over conventional composite decking Eco wooden composite decking has been produced using a green method by mixing wood and composite which enhances the durability and strength of the decking material. So, good quality composite decking is significantly more durable and sturdy than traditional wood decking materials. Because of its technology for making composite decking higher-end, eco wood composite decking is vastly superior to conventional composite decking for UV resistance.
This is a crucial aspect homeowner should be aware of since low-quality composite decking can change in colour due to the effects of UV radiation. It is also an essential factor that homeowners must look at, particularly if the decking is placed in outdoor areas that aren't protected like swimming pools, and balcony areas in Singapore. It is a natural wood composite with significantly better properties against heat than traditional composite decking. It is because of the more significant amount of natural wood used that is used in it.
3.  Resilient Tiles Decking
Resilient tile decking isn't as widely used in Singapore However, we are beginning to see it in commercial buildings. The outdoor decking options are made of tiles laid out on the outside. They offer a high degree of toughness and are resistant to shine and rain.
However, they may not be the best choice when the decking is in direct sunlight, since it could cause colour discolouration. Compared with composite wood decking, tiles aren't as resistant to slip, and it could lead to slippery outdoor flooring if it is wet for long periods of time.
4. Treated Hard Wood Decking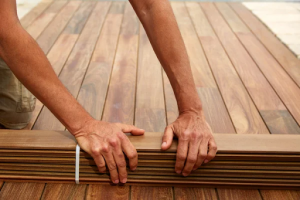 They are mostly softwood species, which may not suit outdoor decking or pedestrian traffic projects. Due to chemical treatment, this softwood is more durable, stronger and more durable than other wood species with a higher Janka hardness. This makes this kind of wood suitable for decking. But, these softwoods are generally not found in tropical areas like Singapore and Malaysia. Since they are slightly malleable, regular pedestrian traffic on softwood decking could cause wear and tear, so the deck may appear dirty. So, the coating should be applied with darker wood paint instead lighter or transparent wood paints.
5.  Composite Decking
The traditional composite decking is also a typical outdoor decking material in Singapore. We can state that even with conventional wood decking products, the quality differs, and it's challenging to determine which wood decking is more of a better rate. This is because these decking materials are easily mass-produced, thus causing the market to offer a variety of kinds of traditional composite decking.
Aside from relying on luck when it comes to finding a trustworthy composite decking material, selecting an authentic supplier of composite decking in Singapore is equally essential since reputable decking contractors will choose high-quality composite materials that will ensure consistency of quality throughout their work!
Good Wood Carpentry Pte Ltd
If you are looking for a new deck, you should keep a few things in mind. The first is the type of decking material you want to use. There are a variety of materials to choose from, including wood, composite, and plastic, and each has its benefits and drawbacks. The second consideration is cost.
Decking in Singapore can be expensive, but there are options available for every budget. Finally, don't forget to factor in your location and climate when deciding – some materials work better in certain environments than others.
Are you looking for an affordable outdoor timber decking that will last In Singapore? Contact Good Wood Carpentry Pte Ltd today for more information!
Contact Us
30 Kallang Pudding Road #04-04
Singapore 349312
+65 8616 2206
By Appointment Only (in line with Covid 19 Movement Restriction Protocol)