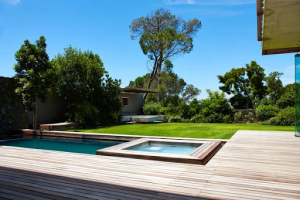 The best swimming pool decking material is not as easy to decide. Many factors determine what material is best for you, including the price, durability, design, and installation. In this article, we cover all of these aspects so that you can make the most informed decision possible when choosing your decking material.
What is Swimming Pool Decking?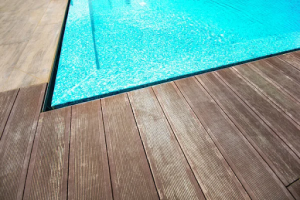 Swimming Pool decking is the material that surrounds your swimming pool and provides a non-slip surface for you and your guests. It acts as a barrier to protect both the swimming pool as well as the area surrounding it. There are many different materials for pool decking, so it's essential to select the one that best fits your needs. Factors to consider include budget, climate, maintenance, and aesthetics.
Swimming Pool Decking Materials: Which is the Most Suitable and Affordable One?
When it comes to choosing swimming pool decking material, many options are available on the market. But which one is the best suitable and affordable for your swimming pool?
There are many factors to consider when selecting pool decking material, such as the climate, the cost, and the look and feel you want for your pool area.
Here is a list of the most popular swimming pool decking materials, along with their pros and cons:
Concrete: Concrete is a durable and long-lasting option for pool decking, and it is also easy to maintain and can be customized with stains and stamps. However, concrete can be slippery when wet and susceptible to cracking in cold weather.
Pavers: Pavers are another popular option for pool decking. They are available in various colours and styles and can be laid in patterns. Pavers are easy to install and maintain but can be more expensive than concrete.
Wood: Wood is a classic choice for pool decking and can give your pool area a natural look. Wood is also easy to work with if you want to create custom designs. However, wood decks require more maintenance than other options and can be
Swimming Pool Decking Benefits
There are numerous aspects to consider when choosing the appropriate decking materials. It is important to select the material that will provide you with many years of enjoyment from maintenance and cost to durability and appearance. Here are a few benefits of various kinds of decking materials for pools.
Concrete is among the most used decking materials because it is sturdy and long-lasting. It can be stamped or coloured to create a unique look, and it doesn't require much maintenance.
Wood: Wood is a classic choice for pool decks because it has a natural look that can complement any home style. It is possible to stain or seal to shield it from weather damage, and it's simple to repair if it is damaged.
Composite: Composite materials are a combination of wood and plastic, making them resistant to rot and insect damage. They are easy to maintain and come in a range of styles and colours.
Pavers: Pavers are made from stone, brick, or concrete and can be used to create a variety of looks for your pool deck. They are easy to install and repair, offering a non-slip surface.
Comparison Chart of the Top 5 Best Decking Materials
There are several excellent options for pool decking material; however, it can be tough to decide which one is right for your swimming pool. To help you decide, we have put together a comparison chart of the top best decking materials.
| Material  | Pros | Cons  |
| --- | --- | --- |
| Concrete | Inexpensive, easy to install, durable | Can crack, difficult to repair |
| Brick | Attractive, easy to clean, low maintenance | Can be slippery when wet |
| Stone  | Natural look, cooler in summer temperatures, won't rot or splinter | Can be expensive, difficult to install |
| Wood  | Natural look, easy to install, can be refinished or stained | Requires regular maintenance, can rot or splinter |
| Composite | Requires little maintenance, won't rot or splinter, comes in a variety of colors and styles | Can be more expensive than wood |
| | | |
The next thing to consider is the size of your swimming pool. If you have a small collection, you will want to choose a material that is easy to clean and maintain. Some good options include concrete, stone, and tile. If you have a large pool, you may want to choose a more durable material that can handle heavy traffic. Some good options include composite and PVC.
The last thing to consider is your budget. Different materials can vary widely in price, and you will want to choose a material that fits.
Conclusion
Deciding on the best pool decking material for your swimming pool is essential. There are many different materials to choose from, each with advantages and disadvantages. In the end, it's your choice to determine which option is most suitable for your budget and needs. We hope this ultimate buyers guide has helped you narrow down your choices and made the decision process a little easier.
Contact Us
30 Kallang Pudding Road #04-04
Singapore 349312
+65 8616 2206
By Appointment Only (in line with Covid 19 Movement Restriction Protocol)