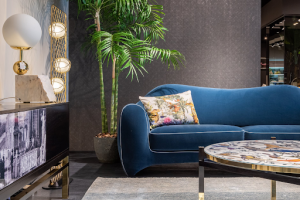 Who wouldn't want to be on a holiday trip? However, with travel restrictions still in place and your health always at risk, your dream getaway would probably have to wait.
Still, everyone would benefit from a much-needed rest, right? Here's an idea: why don't you bring the holiday vibe to your own home instead? With resort-style home decor in place, make your house a relaxing haven for all your family members!
To get you started, below are some resort-style interior designs to base your redecoration project on. Once you decide on what kind of look you'll go after, read some more to know how to prep your house, and finally, get to know some valuable tips to decor it just like your very own private resort!
Resort Style Interior Inspirations To Get You Started
Take your pick from these resort-style home interiors and start imagining what your dream private resort hotel will look like.
1. Beach House Interior
When we talk about vacations, we usually think of the beach. Away from the bustle of city life, a beach resort is truly a refreshing escapade. Add in the delightful sea breeze and energizing sunlight and you'll surely be healing the tiredness of your soul in no time!
Wood flooring and furniture are key to achieving a beach house interior even when you are in the city. To mix and match your decors, think about the colors of the beach from sandy hues to blue and green waters. Pair it with white and beige tones to get that clean, crisp feel and truly transform your home into a beach house that you'll never get enough of.
2. Modern Luxury Interior
Resort hotels are a place of luxury and comfort. It has a sleek, sophisticated interior design that is always spick and span. Get that same vibe in your home by getting home decors that are of high quality inside and out.
To have that luxurious feel inside your home, invest in metallic pieces such as lamps, tables, or even mirrors and wall accents. Have a neutral color scheme going on with a pop of color like gold, for example. This gives a modern, yet stunning, rich look to your home.
3. Exotic Maximalism
Even though we can't deny how minimalism has been extremely popular for years now, some people still can't get enough of its exact opposite — maximalism.
While the clutter of your everyday life can probably bring you more stress than you need, maximalism is filling your place with all the things and elements you love. It is perfect for people who are larger than life itself!
To get an exotic maximalist interior, combine big indoor planters with a mix and match of hues that remind you of a jewelry box filled with gems. Remember, anything goes with this style!
4. Futuristic 
For those who just love city life and can't get enough of its cool sophistication, a futuristic and innovative interior is perfect for you. Who says vacation should only be out-of-town when you can have fun in the heart of the city?
To get the futuristic interior going, consider getting decorative elements that are made of glass, leather, or metal. A neutral-themed color palette would suit the cool vibe you are going for. Make sure to add plenty of sleek and straight-line elements, with crazy geometric statement pieces to complete the whole look.
5. 21st Century Inspired
The 21st century is all about being true to who you are. Combine classy but simple elements that are not necessarily pricey and you're going to have an interior that will be loved not only by you but anyone who will set foot on your abode.
The key to getting a 21st-century style home is making sure each piece makes up a cohesive whole. It should be comfortable but still functional to get some productivity working.
It is pleasing to the eyes and easy to maintain. Just pick a palette that goes with your aesthetic and get decorative elements that are true to that palette to make sure everything fits.
Prepping Your Home For Staycation
Once you have an interior style in mind, it's time to prep your home to start the private resort hotel of your dreams. Keep in mind that it is very important to re-examine your whole interior and everything that is in it before trying to add some hotel-style home decor. Otherwise, your home would end up more unorganized than before and we don't want that.
So, how do you prepare your home for your resort-style transformation project?
Plan Your Dream Staycation
Think about your dream vacation — what do you imagine doing? Will you go sunbathing on a beach? Perhaps trekking on a mountain? Or maybe you're determined to enjoy the luxury of a 5-star hotel.
Whether your dream vacation involves the elements of nature or just the roaring fun of city life, use the image you conjure in your mind to plan your resort-style home.
Browse the web to look up other resort-style home designs in Singapore and get your notes ready. List down the elements you find appealing and plan how these will go well together in your own home.
Take into consideration what decorative elements you already have at hand so if you need to buy anything, you won't end up with a big amount of clutter to hide and discard.
Do A Deep Cleaning Stint
Have you ever been to a luxurious resort or hotel full of clutter? That does not exist and in case they do, they need to step up their game or guests won't be thrilled.
The same goes for your home. If you want to transform your house into your private resort getaway, you'll have to do some deep cleaning first.
For many people, cleaning is a tiresome task, but try cleaning for just 5 minutes and see yourself getting in the zone. It is very satisfying to purge out your home of things that are just collecting dust for years.
You may finally want to try the famous KonMari Method and welcome joy, light, and openness into your home. Highlight an inspiring, relaxing atmosphere that's representative of a resort-style home.
Let The Breeze In
When your everyday life starts to feel stuffy and suffocating, there is nothing you'll want more than to have a break from it. You'll find yourself craving a space where you can just breathe in and out as freely and deeply as you can.
This is why you should let the breeze in. True, you might not live next to a beach where the sea breeze plays. Your house might not even be located somewhere close to the mountains where the trees and wild plants just keep the air cool. However, you can still keep that air circulation going nicely for your home.
Put up a sheer light-colored curtain and keep your windows open to let the cool air in. If you live in a single-family unit, leave the doors open if possible and safe so that the open view can make you feel like you're elsewhere.
Fix The Lightings
There's something about letting the light in that makes us feel like we're truly on a vacation. You are in luck if the sunlight just naturally pours in your home when the sun rises and gives you a melodramatic shine come sunset.
However, if you live somewhere – say, in an apartment, that lacks openings to let natural light in, you have to be able to find lighting fixtures that will brighten up your space.
Soft and layered lighting is the way to go. It is both relaxing and aesthetic. Find lighting that will flatter your walls, ceilings, and furniture. Consider getting stylish lamps or even installing sconces if you have a bigger budget.
Lighting fixtures can also be statement pieces so if you have a hanging light that you have been eyeing for so long, maybe it's time to get it. Make sure it doesn't break the theme you are going for, though.
Rearrange Your Furniture
Since you are on a mission to make you home like a resort, why not play around for a bit? Once you have decluttered your spaces, it will be easier to rearrange your furniture and try different set-up.
For instance, think of making sure there is walking space between furniture like your sofa and coffee table. A great way to let more light in is to move the furniture away from the windows. It's always good to be facing the light rather than blocking it.
If you have less space than you wanted, maybe you can also discard furniture that is no longer working for you or your planned theme. You see, the less things you have, the less places you need to store them.
Keep on experimenting on the location of your furniture and once you have achieved the set-up that you want, that's the time you can add the fun decorative elements you have on hand.
Prepare Your Vacation Essentials
Maybe you're not actually going anywhere but you still need to think of what you'll be bringing on vacation. Remember that you intend to be pampered and do things that will lessen your everyday stress, so try to think of activities you plan on doing on an actual vacation and make sure you are prepared for those.
If the ideal vacation for you is going from one restaurant to another, maybe you'll be glad to fill your pantry with your favorite ingredients and snacks. Perhaps you want to spend more time on skincare? Then get some detoxifying face masks ready or a mani-pedi kit.
Get your place some scented candles, or maybe some books and magazines to read in your alone time. Whatever it is you see yourself doing at an actual hotel, make it happen in your own home to de-stress.
6 Tips To Have A Resort-Style Home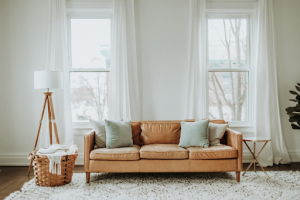 Now, let's get on with 6 simple tips that will elevate your home and make it into your very own favorite resort hotel.
1. Play With Prints, Patterns, and Fabrics
If you're going with a beachy theme, try incorporating light, sandy hues, and blue or green prints and patterns on your wallpapers or fabrics. Imagine a white, inviting sofa with blue printed throw pillows that reminds you of the deep blue waters you miss.
Maybe you like your place to be one with the luscious, green nature? Get some deep wood-colored decors so it can perfectly match with all shades of green — except neon, but that's totally up to you.
If the futuristic or modern luxury style is right up your alley, then cooler tones of flooring and walls are great. Add neutral-colored elements like a white carpet, for instance, or for your bedroom, go with crisp white bed sheets or even interesting geometric patterns as accents.
2. Go Green With Various Plant Decors
Indoor plants are getting their much-deserved popularity these years, and for a very good reason! Not only are these plants aesthetic, but they also help purify your home and bring that relaxing nature vibe in.
Big, palm-like plants like the Monstera make a home feel like a resort. Hanging plants like the Golden pothos gives that untamed, jungle vibe that is still pleasing to the eyes.
Don't forget to consider the planters in which you grow your plants. Terracotta pots are classic and will make any plant look great especially if you are going for that earthy theme. Believe it or not, fabric pots also work, especially if you're big on the boho-beach thing.
If you're the type, however, to have no time taking care of plants, faux greeneries and flowers are for you. Look for high-quality fake plants that are displayed ready and you're good to go.
3. Wind Down With Wooden Designs
While the futuristic interior would probably have less to do with wood than metals and concrete, there is something about wooden fixtures that kind of brings us closer to home. It might have something to do with the fact that it brings nature indoors, and that feeling of playing outside as kids are simply nostalgic.
Consider adding bamboo and rattan decors to your home. For instance, bamboo furniture pieces or rattan baskets as organizers would fit perfectly in a white aesthetic. You can also take it a step further and get wooden hanging chairs or hammocks and imagine reading on them while you spend your leisure time.
As for your flooring, try looking for wooden-style vinyl floorings which are easy to install and maintain. Choose from lighter hues to deeper ones, depending on the theme you are going for.
4. Make A Statement In Every Room
Whenever you visit resort accommodations, there is always that piece that draws the attention of everyone who steps in. Whether it's a large painting or a tapestry, put a statement piece in every room of your house so you'll have something nice to look at when the view you have at home isn't quite what you're looking for.
For your living room or bedroom, go for an art piece, whether a painting or a sculpture that you love looking at. Maybe you have plenty of travel photos you have personally taken on your old trips? Try making a gallery out of it by printing it in larger sizes and putting it on complementary wall frames.
As for your bathroom, you might want to switch out the faucets with bold or metallic colors, or maybe get an intricate mirror replacement that is worthy of a mirror selfie!
5. Line The Linens
Hotel experiences aren't complete without pure, clean, and crisp linens. Starting with the bedsheets — white, fluffy bedspreads and blankets make a bedroom a truly relaxing space where you can rest properly. Of course, you can also have printed, colored ones; it all depends on your taste!
Ready all the towels and even a bathrobe! Imagine lounging around all day wearing a bathrobe with a glass of wine in your hand. For meals, have table cloths and napkins at a ready and dine like you're in a five-star restaurant.
Don't forget about the curtains. Sheer, lightweight curtains are perfect for a tropical island theme, especially if the air comes and goes where you live. In the bedrooms, though, you may want to hang blackout curtains instead to make sure that you get to block out the light when you especially need to rest.
6. Fill The Air With Fragrance
Don't forget to treat your sense of smell, too! If you want a place to breathe, surely, you would appreciate a fragrant place more than a foul-smelling one. Scents could be very relaxing as well, especially if it is your favorite scent.
Filling the air with fragrance doesn't just mean buying a standard air freshener, spraying it all around your home, and calling it a day. You have to enjoy the experience.
For starters, you might have your favorite perfume bottles that have very little liquid left. Removing the lid and placing it in your cabinets is a nice hack you can do, especially if the scent is strong enough to diffuse and still linger.
Another thing you can do is to get your favorite scented candles and light them when you feel like the room is losing that smell you love. To add to the aesthetic, pick candles that have pretty designs and are fit for display. You can match the scent to the vibe you are going for — whether it's the beach, the woods, or a flowery field
Conclusion
Can you imagine your home turning into your very own resort now? SG Goodwood can help you complete your resort-style home decor. Just browse our pages and you'll surely find what you are looking for to complete your dream interior!
Contact Us
30 Kallang Pudding Road #04-04
Singapore 349312
+65 8616 2206
By Appointment Only (in line with Covid 19 Movement Restriction Protocol)