Planter boxes have now become a staple in balconies of houses in Singapore. Many Singaporeans enjoy gardening, and these planter boxes allow them to do just that, even within high-rise apartments and condominiums. But what if you aren't planning to use these planter boxes but can't stand having a pit on your balcony? Decking is the best solution for that. Join us as we discuss the 5 benefits of decking your balcony planter boxes in Singapore, and find out if this solution is the best one for you.
1. It extends your space
The best benefit you can get from decking your planter boxes is the additional area on your balcony. Some people might want to put a breakfast table and chairs on their balcony, and the extra space decking will give to them will allow them to do just that.
Some people would also enjoy the extra breathing room for other activities such as yoga and other exercises. The possibilities are endless when an area opens up for you. The most crucial thing decking your planter boxes will give you is the freedom to choose what you want to do with it.
2. It gets rid of a potential hazard
If you're not planning to use your planter boxes for gardening, it could be a hazard to the people living inside the unit. The danger it poses is especially true if you have children in your family, as they tend to move around a lot.
Decking your planter boxes will eliminate this pitfall on your balcony and make the area safer for you and your family. It will also give you additional space to see the sights on that side of the balcony, which is perfect if you want to unwind and think about nothing at all for a couple of minutes.
3. It can make the unit visually appealing
Having wood decking over your planter boxes will break the monotony of the materials within the unit. If you're used to seeing tiles and steel, seeing wood in the unit is a welcome change for your eyes.
Some companies that cater to decking will even allow you to choose between timber decking for a more natural look or wood plastic composite (WPC) decking, which is a combination of plastic and wood and can be designed in patterns that is pleasing to the eyes.
4. It can prevent slipping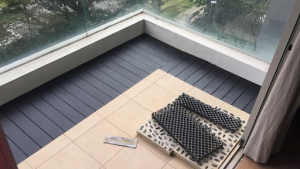 Since the planter boxes are located outside, there are instances that they will get wet when it rains. If you choose to have your planter boxes decked, it can also serve as a surface to prevent slipping. Most of the time, the flooring outside the units is made of slippery stones or tiles, so having a sturdy platform to step on if the floor is wet is reassuring.
One might think that slipping isn't that big of a deal, but if someone slips and hits their head on the solid flooring, it can have dire consequences. Think of having wood decking as an additional safety feature, among other benefits you can get from decking your planter boxes.
5. It raises the value of your property
Any home improvement done on your property will raise its value. If you are planning to sell your unit down the line, you will have ample reason to sell it for a higher price than other pre-owned units because of the improvements you've made on the property.
Houses are investments as well, in that if you take care of them, the return on investment can be substantial. You might think that decking your planter box might yield a small return, but if you couple it with other home improvements you've done, the property's value will go up.
Get your planter boxes in Singapore decked today
Decking your balcony planter boxes not only covers up an unused pit on your unit and frees your space, but it can also have various benefits that are outside of those two things. It is the ultimate dream for some people to make their house uniquely theirs, and decking your planter boxes using unique patterns will allow them to do that.
If you are looking for a company that will care for your decking needs and more, then Good Wood Carpentry is the perfect company for you. Good Wood offers high-quality, wood-related services to residential and commercial spaces.
Good Wood will cover your needs, from timber or composite timber decking, timber fencing, flooring, stairs, handles, and more. For more information about their services and to see the quality of their work, visit Good Wood Carpentry at: https://sggoodwood.com/.
Contact Us
30 Kallang Pudding Road #04-04
Singapore 349312
+65 8616 2206
By Appointment Only (in line with Covid 19 Movement Restriction Protocol)