Patio wood decking has become an increasingly popular addition to many homes. It is also a very cost-effective upgrade that can freshen up your outdoor spaces. Patio decking is great for patios that are exposed to the elements. The wood will not rot, warp or decay as it makes a perfect base for your patio furniture. It can also be used to make a raised garden bed as it provides a level surface and sturdy support. A wooden patio is a great way to enhance your home's appeal and increase the value of your property. Patios can be designed in a variety of ways, from just a simple deck with a railing to an elaborate patio with walkways, planters and even lighting. If you've been considering building a new patio, then now is the time to take the plunge! In this article, we are going to give you all the information you need when considering having a patio wood deck at your place.
Wood patio decking maintenance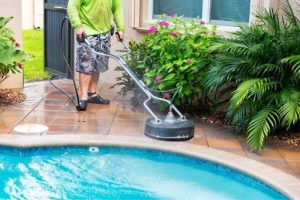 In order, maintain a patio wood deck, you should consider the following points:
Broom the patio wood decking regularly.
Wash the decking every week.
Remove stains using cleaning agents.
Choose the right cleaning agent that protects from discolouration of the patio decking.
Stain the patio decking when needed.
How to clean wood patio decks
Every type of flooring needs a different type of care and maintenance. To keep good care of the patio you should seek professional help or Keep in mind the following steps when cleaning patio wood decking: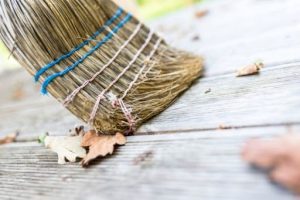 Sweep leaves:
Using a soft broom, sweep dirt and leaves from the deck. In this way, particles will not build up and damage the deck. Using a brush with a stronger bristle and some water will help you clean the deck thoroughly.
Power wash:
A power washer can make a weathered deck look like new as it blasts away grime and discolouration. Too intense of pressure can damage your deck, though, so keep the setting under 1500 pounds per square inch.
Maintain distance:
Pressure washers should be kept three feet from deck surfaces and should follow the wood grain when cleaning. Spray railings at 1000 lbs/psi with overlapping quick vertical strokes from three feet away at low pressure and at least three feet away.
Mix cleaner with water
Follow the instructions to get the correct balance when mixing the deck cleaner with water. Mix the deck cleaner thoroughly with the water in a measuring cup for accuracy. You should wear gloves, goggles and a mask whenever you are working with a deck cleaner.
Scrub 
Scrub the deck with the deck scrub broom after dipping it into the cleaning solution. Ensure the entire deck has been scrubbed thoroughly. Clean your plants for 10 to 20 minutes, but do not get any of the cleaning mixtures on your plants.
Sweep standing water
 Once you have finished power-washing your deck, sweep standing puddles of water away with a broom. By doing so, you'll speed up the drying process and minimize splintering. Before placing furniture or outdoor rugs back on your deck, let it dry for at least two full days.
Shapes of patio
Now, we're going to talk about patio shapes. You must understand what your options are before deciding on a shape for your new deck. Here are some of the most popular patio shapes
·        Freestanding Patio:
For larger properties, free-standing patios are the most appropriate option. The freestanding cabin is designed for those who dream of a quiet place away from the rest of the house. They are typically accessed through a garden path. It is important to point out that the improvements include gazebos, roofs, water features, and furniture among others.
A U-shaped deck usually wraps around the house and has access from several rooms. Easy to design and build, these make an appealing transition between indoors and outdoors.
·        Wraparound Patio:  
A wraparound patio is like a small porch, but it is a lot larger, and it is not always covered. Furthermore, it can be utilized to add extra living space to a house.
·        Multilevel Patio:
Multilevel patios can be added to sloped or large lots, often connected by steps or paths. If you live somewhere with a view, you might have an advantage with this type. You can entertain and relax outside more.
·        Entry Patio:
Adding an entry patio to your home is a great way to expand the space around your property and can provide you with much-needed living space. Adding a fountain and paving to your entrance will create an enchanting atmosphere.
Patio vs. deck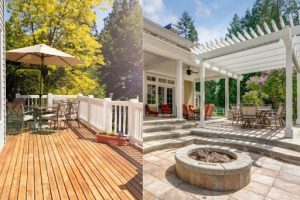 Both patio and deck have their beauty and benefits. However, both have some drawbacks too. Let's examine the benefits and drawbacks of both.
Patio Positives
Increases the living space of a home
These are most resistant
durable and long-lasting types of outdoor flooring
You have unlimited possibilities when it comes to enhancements
Patio Negatives
It is necessary to construct a patio more intensively in areas of high ground movement or in places that require reinforcement.
Costly.
Deck Positives
Constructing above ground is faster and easier, especially with a raised platform
made of natural-looking materials
It may also be less expensive if you use wood
Deck Negatives
It must be regularly oiled to maintain its brown colour)
Hardwood decking, however, tends to last longer than softwoods.
However, the surface can become very slippery during the winter.
How do they differ?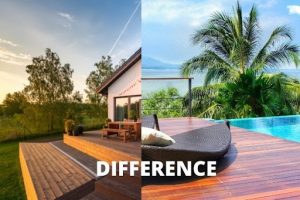 Patios are ground-level areas outside your home where you can enjoy the sunshine and fresh air. The surface can be concrete, stone, brick, tile, or pavers. There are two main types of decks: wood or composite decking. Wood decks are typically raised structures with a basement or foundation.
To wrap things up!
Patio wood decking is an important part of outdoor space. They add to the beauty of your place. Once you have learnt everything regarding patio installation, you should look for someone to hire. Thus, when you're considering having a patio wood decking installed for your home, contact us today
Contact Us
30 Kallang Pudding Road #04-04
Singapore 349312
+65 8616 2206
By Appointment Only (in line with Covid 19 Movement Restriction Protocol)