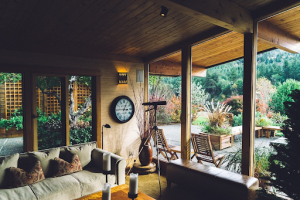 If you want to add a charming extension to your home, turning your outdoor space into a cozy and chic patio is the sure way to go. People usually use the patio as an extended living space, dining, entertainment, or relaxation area. Check out this page to know more about patio ideas in Singapore.
Even for places with small spaces, innovative design and choosing the right furniture can make a lot of difference. Most residential homes in Singapore have balconies often left untouched by their owners.
Different patio designs can cater to anyone's preferences and availability. Here are a couple of practical and beautiful patio ideas in Singapore to help you choose which one you should get for your house.
What Is A Patio?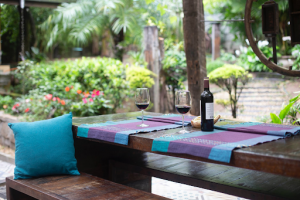 It's essential that we first talk about what a patio is before we present our list of patio designs. It can help you think about whether you want it for your property.
Did you know that "patio" is a Spanish word? It means "courtyard of a building."
A patio is a term used to describe a paved outdoor space adjacent to a home. It is usually built on the ground floor, and you can construct it using gravel, concrete, brick, wood, and more.
Unlike its literal meaning, a patio doesn't have to have walls around it. However, you can build a pergola to add shade to your open-space patio.
It can be attached from the house, mainly to the kitchen area. If you plan to get one for your home, make sure to choose good patio door ideas for kitchens that can effortlessly transition the cooking area into a cozy outdoor oasis.
A patio is versatile enough to be separated from the house, constructed in any shape, and made with various materials.
Most people assume that a patio and a deck are the same things. Check out this post that discusses the difference between a patio and a deck.
Factors To Consider Before Getting A Patio
Getting a patio is a significant project. To ensure that you're doing it right, keep reading to know what you need to keep in mind before getting one.
You first have to consider where you will place your patio. There's not much to think about if you have a small lot.
On the other hand, owners with extra space need to decide carefully about the location of their patio. The area needs to be as flat as possible, somewhere private and should maximize your view.
Here in Good Wood, we can help provide expert advice on which part of your outdoor space is the best to use. We have professional wood installers with years of experience to ensure the best service possible.
It would help if you also started thinking about which materials you want to build your patio. It will help if you base the materials on the house's architecture.
Doing this will help you create a patio that complements your home, giving it a more impeccable and uniform look. You should also keep in mind the patio's intended use.
For example, a concrete-based patio can be great for a formal patio as it may help put on a hard surface where guests can wear heels comfortably.
One of the most important things to consider is to check with your local government for any building permits required when building a patio. There may or may not be requirements, depending on where you live.
In the cities of Singapore, there will likely be some laws about it. Make sure to follow them for your and your family's safety.
As said earlier, patios are versatile as they can be built on any shape and size. The most common conditions are squares and rectangle ones, as they are the most practical shapes to use.
However, you can get creative with your patio shapes if you have the space for them. From round patios to free-form ones, the possibilities are endless!
Think About Installing A Pergola 
When people think about patios, they think of an open space where you can enjoy the sunshine. However, the weather in Singapore can get quite hot.
Installing a pergola may help provide a decent amount of shade where you can still enjoy the weather without the harmful damage from the sun. You may even add a retractable shader for more protection.
Benefits Of Having A Patio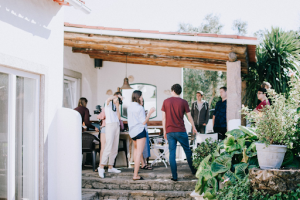 Most of us spend our time outdoors during the lazy days of a summer afternoon. Having a patio is just the perfect place to get the most out of your summer vacation.
One main reason you should get a patio is that it extends your living area. We understand that the house may feel cramped and heavy at times.
Spending some time out of your house without actually leaving your property may be what you need. According to the University of Michigan research, being around plants and nature reduces stress and improves cognitive function by 20%.
Have we also mentioned that having a patio can be good for the environment? As per basic high school science knowledge, carbon dioxide is the air we exhale.
Plants and trees use that to make food, which develops oxygen for us to breathe. A garden patio can help produce cleaner air around you, resulting in a healthier environment for you and your family.
Even though it may be pretty expensive, having a patio can be a worthwhile investment. Home improvements and landscaping increase a property's value as years go by.
When the day comes and you wish to sell your home, expect that you can sell it for a pretty good price.
Patio Designs For A Dreamy Outdoor Space 
As the temperature gets all toasty, we tend to spend most of our time outside. The attention shifts from interior design to outdoor areas.
Here are some of the best patio ideas to build your extra backyard space.
1. Garden Patio
Introducing plants and other greenery into your patio is probably one of the most common patio designs. It can work, especially if you live in a city with a small space.
You likely have a small outdoor space if you live in the city. Instead of turning this place into a storage room, building a mini lush garden patio would be better.
Sometimes, living in a city can get tiring. A garden patio can give you a place where you can take a break from the busy streets of Singapore.
2. Sheltered Balcony
Photography: Qanvast
Another great design for a patio is to build a sheltered balcony. This design is excellent for enjoying a sunny afternoon without being in the sun.
Most of us don't like getting tanned, so a sheltered balcony is a popular patio design choice amongst Singaporeans. Aside from that, it also works well for small spaces.
You may turn your sheltered patio into your open-air office room. You can decorate the area with a customized tabletop, chairs, and plants to liven up the place.
3. Convert Your Patio To Indoor Space
Photography: Real Homes
You may convert your extra outdoor space into part of your indoor area. It will provide you with a more spacious interior and space to play around with.
You may use this as a pet's nook for your furry companion or a common walkway to connect rooms. You may try choosing good patio decor ideas in 2021, such as adding some blinds or some succulents to make the area cozier.
It would help if you use your imagination and ask a professional for ideas on how to turn your patio into your indoor space.
4. Poolside Patio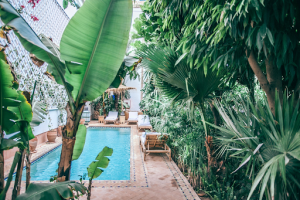 Beat the heat by turning your extra backyard space into a poolside patio. Take note that this design can get pretty heavy on the budget.
Since the pandemic has left us with lots of strict rules, sometimes the best thing you can do is stay at home. Building a poolside patio is just the perfect at-home getaway!
This way, you don't have to go out on a beach or to private resorts to spend time outdoors. Put some lounge chairs, bistro sofas, or a hammock to complete the look.
5. Brick Patio With A Fire Pit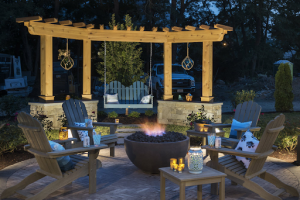 Photography: Hayneedle
Making smores by the fire or just drinking some beers with friends on cool summer nights sounds tempting. A brick patio with a fire pit can allow you to do these things and more!
You don't have to go to a remote place to enjoy nature and campfire treats if you have this one at your home. A fire pit is an excellent conversation starter and an entertainer for your visitors.
This unique patio design integrates some elemental excitement into your home. It creates a warm ambiance to enhance lounging and outdoor activities.
6. Minimalist Landscaping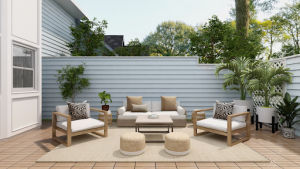 Are you looking for patio ideas on a budget? Then minimalistic-based landscaping may be what you're looking for!
The primary purpose of minimalism is simplicity and avoiding what's unnecessary. Remember that this art style depends upon the perspective that less is more.
Begin with choosing a monochromatic scheme and stick to that. Then, carefully select plants and materials you want to integrate into your patio.
Price Range Of Building A Patio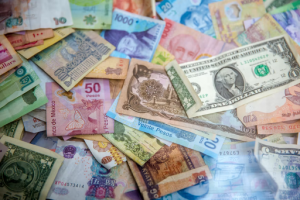 Like any other outdoor structure, installing a patio doesn't come cheap. It's essential to set up the amount of money you're willing to spend for your patio and stick to it.
In comparison to decking, a patio is cheaper. The minimum cost would be around $120,000, but the overall price will still depend on various things.
The first one that affects the price range is the outdoor paving you'll want to use. Your cheapest option would be the manufactured square flags as they are easy to work with or stone-based paving for a decent mid-range option.
However, if you want something fancier, you might want to invest in high-quality textured flags. They can be a bit pricey as they also require expensive materials, but the texture and quality are superb.
The materials can also affect the overall cost. Wood is a common and cheap choice, but they are not as durable as paving slabs and stones.
Think carefully and discuss with your contractor. Doing this can help you decide which ones are well within your budget and preferences.
Floorings To Use For Your Patio
1. Concrete Patio
Aside from being one of the cheapest flooring options out there, concrete is also known for its durability and versatility. You may stain it with any color, have it stenciled, or include decorative chips for that flawless finish.
You won't have to stress about the amount of cleaning you'll have to do for this type of flooring. To maintain vibrancy, you have to sweep it regularly and mop it down from time to time.
2. Hardwood Patio
Nothing beats the vintage and classy look of a hardwood patio. Hardwood flooring has always been a crowd-favorite among homeowners.
Although it doesn't last as long as concrete and vinyl, a wood patio can still last for many years and more if you maintain it properly. However, the maintenance can be heavy because wood is vulnerable to flame and mold growth.
3. Vinyl Flooring
Another cheap flooring option is vinyl, which people can use for commercial or residential properties. Many homeowners love this flooring because it is easy to install and requires minimal maintenance.
There are two types of vinyl flooring — homogeneous and heterogeneous. Homogeneous vinyl has only one layer that provides vibrant and in-depth color to your flooring.
On the other hand, the heterogeneous vinyl offers multiple layers and is also available in different colors or patterns.
How To Take Care Of A Patio?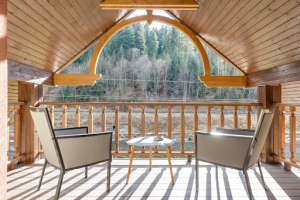 Since patios don't come cheap, you must take care of them to maintain their beauty and durability. With consistency and discipline, doing this task is quite simple.
Start by sweeping the floor at least twice a day. It can help avoid dirt and debris build ups which can ruin your pavers.
We recommend you get a sealer, especially if you have an open-area patio where it is exposed to various elements. It can help preserve the life and color of your patio from the sun, rain, etc.
Next, carefully clean up any spill or stains as soon as you see them. You may use a mixture of mild soap and warm water to lift those stubborn stains.
Speaking of water, you may also want to check any water source around or within your patio. Remember that constant moisture and humidity may cause mold growth.
Materials such as wood are most vulnerable to pests like this. If it happens, make sure to combine equal parts of water and vinegar to scrub off those pesky molds. Then, rinse carefully with clean water.
How Long Do Patios Last?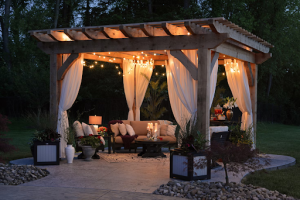 When your patio is installed correctly, it should last for a good ten years and more. The toughness of your patio will depend on materials, installation, and how much you've been taking care of it.
Materials like brick, concrete, and pavers are some of the most durable ones you can use. Although they cost more, it's worth investing in these as they can save you more money from replacements and repairs in the long run.
As mentioned earlier, proper maintenance is the key to a longer life expectancy for your patio. Make sure to regularly clean the place and use mild products as much as possible.
Harsh chemicals such as bleach and ammonia may affect your flooring's luster. Continuous exposure may lead to material degradation and color fading.
You'll know when it's time to replace your patios when you see larger cracks on the flooring. It may become dangerous for people to walk on and encourage weeds to grow everywhere on your patio.
Another tell-tale sign is when you notice that there's uneven ground. The land changes over the years, which may sometimes affect your patio.
DIY Vs. Hiring A Professional
We all know how exciting and fulfilling DIY is, but hiring a professional ensures quality service. You may wonder whether you could do this project by yourself or is it better to leave this one to the professionals.
First, ask yourself how motivated you are in committing to this ordeal. If you have the skills and patience, you may DIY your patio.
Please take note that even though you have the talent to do it, a DIY patio will take a lot of your time. Sometimes, it may even cost you more than hiring an expert to do it.
On the other hand, seeking help from a professional installer can make a lot of difference. It will help you keep track of the project and save you tremendous time.
However, this will only happen if you have a good contractor. Take a look at this guide on tips on hiring a professional for your patio project.
Conclusion
Most homes and apartments in Singapore come with a small space for planting. Choosing the best patio ideas in Singapore will help maximize what you already have in your home.
A patio doesn't just add attraction and attention to your home, but it also puts your property at a higher market price. Investing in a good and sturdy patio is worthwhile in the long run.
Remember to discuss with your contractor essential things such as the location and materials you're going to use for your outdoor project.
If you plan to do DIY, it will help you research more about proper patio installation. You may ask a contractor for professional advice to learn more.
Contact Us
30 Kallang Pudding Road #04-04
Singapore 349312
+65 8616 2206
By Appointment Only (in line with Covid 19 Movement Restriction Protocol)