Choosing which type of flooring fits your home can be a stressful task. With many styles available on the Singapore market, you might feel overwhelmed.
When selecting the material type for your home, make sure you decide the right one. Your choice will most likely influence everything. It can start from the color palette to the interior designs and furniture alternatives you need.
However, if you want to achieve a classic interior for your home, parquet flooring might be the best option for you.
Parquet flooring tiles come from cut woods into geometric designs. They also became an alternative for marble flooring way back. It makes a comeback of a cozy, sturdy, and adaptable choice for modern houses.
You may use parquet flooring in different settings, from rural to large public structures. The good thing about it is that there are many parquet flooring texture designs that you can buy. You may choose physical stores or online shops that offer them low prices.
Where Can You Use Parquet Flooring?
You may install parquet flooring anywhere in your home. It can fit any functional room, such as bedrooms, living room, kitchen area, and even your balcony.
Yet, when buying one, remember that you must give attention when fitting in narrow spaces. It ensures that all sides of the room are equal and symmetrical in measure.
For the best application, you may need to call an expert. They can do the required polishing in laying parquet and the leveling of the flooring.
What Are The Different Types Of Parquet Flooring?
1. Solid parquet flooring
For those who want a more traditional look, a solid parquet flooring might be the right one for you. You can install it by using nails or specialized glue. Parquet flooring texture designs are often geometric and angular.
Most traditional parquet designs are chevron, herringbone, or placed wood. They blend in contrasting hues and textures. The wood's thickness ranges from 12 to 23 millimeters. They are low maintenance since sanding and applying a new topcoat will restore them like they are brand new.
2. Engineered parquet flooring
Engineered flooring has the same visual appeal as solid parquet. However, the only difference is you can only refinish it once if the wear layer is 2.5 mm or thicker. This type of three-layer parquet flooring has a thickness ranging from 10 to 15 mm.
Using layers of plywood joined together, engineered parquet creates a consistent panel. It's possible to install this type of flooring throughout the house. It's applicable even in areas with high humidity.
How Much Does Parquet Flooring Cost?
Parquet flooring price in Singapore ranges from $20 to $45. The parquet flooring with prepared wooden tiles may cost anywhere from $7 to $10 per square foot.
But, if the wood is large, the cost per square foot might range from $8 to more than $12. When buying bulk parquet flooring tiles, make sure you choose the wood thicknesses or pattern ideas that fit your budget.
You may also consider asking for professional help in measuring your flooring spaces. This way, you can make sure you have the right fit and the correct number of materials you need for your home.
What Are The Standard Size Of Parquet Tiles?
There are a few standard sizes for parquet flooring tiles, including 9 by 9, 12 by 12, and 19 by 19. Tiles generally have a thickness of 5/16 inch to 3/4 inch. The most frequent hardwood species for the top layer include walnut, oak, maple, and a variety of other well-known hardwoods.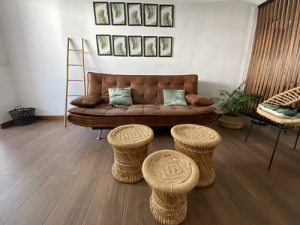 What Are The Benefits of Parquet Flooring?
There are several advantages to installing parquet flooring in your house. First, you won't have to feel stressed about the cost of pricey materials. You can be sure to find the flooring within your budget constraints.
You can buy parquet flooring in laminated and wood overlay. Both alternatives are far less pricey than natural wood.
The warmth and timeless charm of parquet flooring come from its ability to age even through the years. Most natural flooring materials, like marble, might be noisy.
This material gives a tactile grip and noise-absorbing characteristics. If you have a baby in the house or prefer a quiet environment, parquet flooring may work for you.
You may also personalize your home's appearance with this type of flooring. It is especially true if you favor a particular kind of pattern. Since parquet flooring textures and wood types are available, you can be sure that your home will look classy.
Parquet flooring also looks excellent in mid-century modern homes. Although, it may not work in other architectural types because of their natural grain and coloration.
Depending on the theme you're trying to create, parquet floors may be the best choice for an authentic restoration.
How Do You Maintain Parquet Flooring?
Parquet flooring is much like any other hardwood floor to maintain. You can incorporate it with a usual cleaning and dry wiping with a cotton mop.
You can use paper towels and a moist washcloth to soak up liquid spills or stains. You may also use a wood floor cleaning solution once a month for better maintenance.
To avoid slippery surfaces, avoid using waxes that may damage the wood. Make sure that your cleaning solutions best work with your parquet flooring.
Skilled specialists should only refinish these flooring to ensure they last. Consider calling a professional for a better flooring experience.
Is It Easy To Install Parquet Flooring?
Due to their adhesive nature, parquet flooring tiles are far easier to operate than hardwood planks. As mentioned, you only need nails to drive them into the sub-floor. They are simple to take with a saw because they are only 5/16 of an inch thick.
It is still imperative that the foundation be smooth and durable due to the thinness of the tiles. The surface flooring will bend underfoot if the substructure is unsteady. Pay attention to the arrangement of parquet designs. Check the emphasis on symmetry and straight lines.
What Are The Design Options I Have?
As one of the most ideal and pleasing floor coverings, most homeowners prefer parquet on formal spaces. It includes living areas, dining rooms, and entryways of your home.
While parquet flooring may be a plus in formal areas, it might not fit contemporary spaces. Yet, you can combine them with the right interior design and accessories for a better plan.
How To Choose Your Parquet Flooring
1. Choose what type of design you prefer
Floors play an essential part in your house's look and feel. Most of it demands careful consideration. Improving it may boost your space's value, attractiveness, and utility.
Parquet flooring is a great option for its vibrancy. It also offers an attractive and comfortable appeal to houses. When choosing which parquet flooring texture you need, consider the color, quality, and type.
2. Choose what range of color
Although you may think that parquet flooring tiles only come in brown, they have a different range of hues. The most common types are bright, medium, and dark wood flooring, depending on its type.
Parquet flooring may be a great addition to a large or small home, depending on the size of your room, the amount of sunlight that comes in, and your taste.
Since not all parquet flooring colors work with all furniture pieces and decor, consider the lighting of your rooms. Dark rooms often fit light and bright shades.
3. Choose your pattern style
Parquet flooring may be stunning when you put them out in elaborate patterns. With a bit of forethought and preparation, you may get the aesthetic you choose on your floor. A distinctive appearance distinguishes parquet floors such as chevron, herringbone, geometric, and rustic.
If you find it confusing, you may consider checking out and saving inspiration online. You may also ask professionals and suppliers for additional help on your interior design.
4. Estimate your budget and the cost
Another critical consideration is the amount of money you intend to spend on a new floor design. The building blocks of parquet go together with tiny pieces arranged in a grid.
Chipboard coated with engineered wood, laminated wood, and solid wood are only a few options available. Each type comes with a different parquet flooring price in Singapore.
Another factor determining how much it will cost is the cost of labor you will be paying. Choose services that are affordable but still provide a quality finish.
Improve Your Home's Aesthetic With Good Wood Carpentry!
Adding parquet flooring to a room brings out the natural beauty of the wood's texture and color. You may do this as DIY, but if you want something that will last longer, we recommend going with the best materials and the best service possible!
Consider the expertise of Good Wood Carpentry! Singapore's leading local wood contractor ensures you get your money's worth. We provide a one-stop solution for wood installation and other premium services.
Check out our website for multiple amazing designs you can choose from!
Contact Us
30 Kallang Pudding Road #04-04
Singapore 349312
+65 8616 2206
By Appointment Only (in line with Covid 19 Movement Restriction Protocol)