If you plan to redesign your home or want to make a new apartment that suits your taste and personality better, you don't have to go to lengths to make it happen. You can start with a flooring change, and no, you don't have to remove your existing floor tiles. There is an alternative way to get brand-new flooring without being too expensive or time-consuming!
Overlay flooring is the latest trend for people who want to make a significant change to their living spaces without committing to a complete makeover. Well, if you want to know more about it, be sure to read this post until the end.
What Is Overlay Flooring?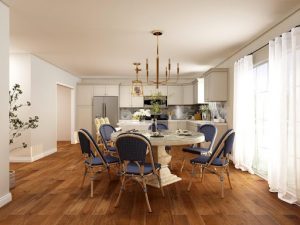 Overlay flooring is the process of installing a new layer of flooring to the current level. It doesn't require the removal of old flooring, which makes this preferable for people with a limited budget.
Depending on how thick the material is used, it adds a few centimeters to the floor, but it is usually unnoticeable and invisible to the eye. It also requires less work and can be done in just a few days.
Advantages Of Overlay Flooring
Overlay flooring has several advantages if you choose to continue with it. Some of those are the following:
1. Flooring protection
If you still love your existing flooring, doing an overlay will protect them by acting as a cushion. In most cases, the excessive impact can damage ceramic and porcelain tiles. If it breaks, it can affect the nearby tiles and make way for the water to sip in.
Overlaying doesn't damage the tiles, concrete, or hardwood floors beneath. You can even choose the thickness to create decent padding underneath the floor!
It adds durability and increases the lifespan of the flooring. They are also slip-resistant and water-resistant so that you can move freely at home.
There are eco-friendly and non-toxic options as well! You can choose those, especially if you have children in the house, to ensure their safety.
2. Time efficient
Hacking, or the complete removal of the existing flooring, involves a lot of work. The removal alone takes a long time to finish, typically around three days.
The installation is a whole another time frame. You also have to make sure that every single material is appropriately placed on the surface because uneven placements will be an issue in the long run.
Overlay flooring can be done in a day, and that's it. There's no need to wait for the bond to set before fixing up the space to your liking. You can even do it yourself, but leaving it to a professional will give you a better result.
3. Affordable
If you compare the overlay flooring price in Singapore to new installations, you will see a significant difference in cost. Adding a layer is much lesser work, and there's not much need for powerful equipment and multiple workers.
If you are on a limited budget, overlaying will be your best option. In this case, you can save up for your next more significant renovation project without compromising the look of your home.
This also works well for tenants who don't like the current look of the apartment's flooring. As a renter, you cannot make significant changes in the place, but an overlay is a safe option to revamp the space!
4. Limitless variety
All sorts of materials, patterns, and colors are available for overlay flooring. You might even get overwhelmed with all of the choices out there! The selection is vast and limitless, from vinyl floorings to metallic epoxy overlays.
To achieve a warm, traditional, and rustic look, you can go with an overlay parquet flooring. If you enjoy pops of colors and patterns, go with a linoleum overlay. You can make your renovation ideas happen with overlay flooring!
Things To Consider Before Proceeding With Overlay Flooring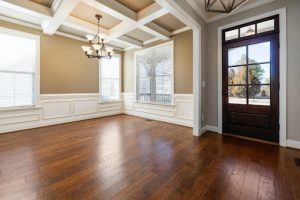 Of course, you cannot just decide and proceed with overlay flooring in just a snap. It would be best to determine if the current state of the flooring is good and will be able to sustain the new layer and other factors in the way.
To help you find out if you can make it happen, these are the things to check out on your list first:
1. Condition
The condition of the flooring is the most crucial part of overlaying. If the tiles have visible wear, cracking, or hollowing inside, it will not give great support underneath. To check for this, tap them and watch out for hollow sounds.
Suppose your flooring is wood, look out for signs of rotting and other external damages. If the original floor is not in good condition, it will only damage the overlay. You may even end up with a more costly renovation if you don't solve the issue first before proceeding with the process. It will also be evident in the finish and possibly hazardous in the long run.
2. Evenness of the surface
Unfortunately, not all types of flooring are ideal for an overlay. Some materials, such as hardwood floors, may have bumps due to the makeup and natural reaction of the material to the environment. On the other hand, tiles can have grout joints, which can inconvenience the overlay material.
It would be best to go with a stronger overlay like stone and resin in these cases. However, if you prefer an affordable alternative, be sure to even out the original layer before proceeding. You can sand out the bumps on hardwood floors and fill the grouts between tiles.
3. Substrate
The substrate is the layer installed between the top and the bottom layer. You don't always need it, but it is an excellent addition to ensure durability and protection.
They are usually made up of particle boards or plywood, as both are sturdy and less costly. It is also an excellent investment to ensure that the overlay would last longer and not cause any problems to the bottom flooring.
If you have problems with uneven layers due to tile grouts and bumps on wooden flooring, substrate use will also solve that problem. Assess the situation first and determine whether you want to include it in your renovation and within the acceptable budget.
4. Floor height
Overlay flooring adds additional thickness, so be sure to check the guidelines and regulations first for the maximum floor height available for your home. According to HDB, the floor finish thickness cannot be more than 13mm, including the adhesives. As much as possible, it is ideal that you have a decent room for the potential substrate, adhesive, and overlay.
5. Age of the flooring
In some cases, if the tiles are too old, it is susceptible to future damages and hollow insides. Some firms do not approve the overlay installation of these flooring, as it might only end in a worst-case scenario. If this is your case, you might need a complete redo of the flooring, which, unfortunately, would cost more than expected.
The current flooring will act as the foundation of the overlay, so making sure that it is in a good state is a must. Do not proceed with the process if you believe that your flooring won't make it.
Upgrade Your Space With Overlay Flooring Today
Not only does overlaying look amazing at such an affordable price, but it also has many benefits for your existing flooring. If you are still unsure if this is the right choice for your next renovation project, contact SG Good Wood today, and let's find out how to make it happen!
We have different services to offer, including overlay flooring solutions. Just tell us what you need, and we will deliver good wood art and carpentry to your home.
Our contractors are certified and experts in all sorts of woodwork, so you can only expect a good quality result and service. All of our wood materials are carefully selected to ensure a high-quality outcome.
At SG Good Wood, we value all our customers and always make sure that we do our best to give happiness and incomparable fulfillment. The secret to our success is client satisfaction. Come on and build your dream home with us!
Conclusion
As a homeowner, you dream of a neat, appealing, and classy-looking floor, right? Well, there's an easier and more affordable alternative to that!
The possible ideas, designs, and patterns are endless with overlay flooring. You can even change it after a few years without hurting your budget.
If you are interested in doing this in your home, you can always contact a trusted firm. There's no need for complicated processes, and you can enjoy the result immediately.
What are you waiting for? This is the latest trend in renovations today, so be sure to keep up with it and give your space the redesigning it deserves!
Contact Us
30 Kallang Pudding Road #04-04
Singapore 349312
+65 8616 2206
By Appointment Only (in line with Covid 19 Movement Restriction Protocol)