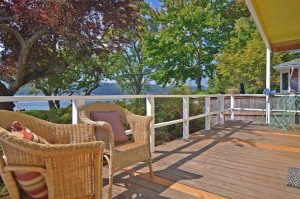 Do you have any unused yard, driveway, or garage and garden space? Well, you should never miss the opportunity to make it into something more useful! You can turn a plain, ordinary backyard into an exciting place with the best outdoor decking.
Outdoor decking is the act of installing composite materials to make a deck in your backyard. It may come in different designs, specifications, and styles. It allows you to create more living space that you can use for dining, throwing parties, or lazing around!
Outdoor decking has become a versatile garden or backyard material. It produces many benefits, so people love installing them in their houses. With that, here are outdoor decking area ideas if ever you want to have one!
How Does Outdoor Decking Make Your Home Better?
Outdoor decking has three main things it can contribute to your home. It can beautify your space, create a durable place, and be affordable. Continue reading this to explain its benefits further.
1. It Beautifies Space
Outdoor decking can turn a typical backyard into something more valuable and beautiful. It can make an unused space into a dining room, party area, or relaxing place. Moreover, it has many design options, so you can always make it stylish and appealing.
Wood and timber decking blends best in gardens and green spaces. You may also add different decorations and details to make it more attractive. Still and all, you can choose from various materials to match the vibes of your exterior.
2. It Is Durable
Outdoor decks are perfect for withstanding any weather, whether rain, snow, or heat. They are durable, and some materials can even last for 15-25 years. Installing one can be your most valuable favorite space for a lifetime!
3. It Does Not Cost Much
Outdoor decks may look classy, modern, and appealing. Nonetheless, they are more inexpensive than you may think. Some decking materials are cost-effective to use.
Aside from that, outdoor decking adds value to your home. Many people are looking for houses with outdoor decks because they are functional and relaxing. You can use them on different occasions, so it is worth the money and effort!
What Are The Types Of Materials You Can Use For Outdoor Decking?
Choosing the decking material plays a crucial role in building outdoor decks. There are different types and qualities that you may select. With that, here are some materials you can use.
Wood is the most common decking material today. It is natural, durable, and easy to install. It may come in Ironwood, Chengal wood, or Teak.
Wood decking also has cooling characteristics. Yet, it needs annual cleaning and maintenance every six months because it can rot, warp, and splinter. You will need to apply fresh coats of paint or varnish.
Conventional Composite Materials
This material is difficult to distinguish because the quality varies with each brand. It will be challenging to find reliable ones due to high production in the market.
Still and all, conventional composite materials are durable. It combines plastic and waste wood fibers that look like natural wood.
Eco Wood Composite Materials
This type of material is a combination of wood and composite materials. It has more wood than conventional composite materials, making it more durable and sturdier.
Eco wood composite materials also have UV resistance. The colors do not change when exposed to ultraviolet rays. Furthermore, it is also heat resistant.
Are you looking for the most durable and dense material? Tropical hardwoods do not decay and can last up to 25 years. It is resistant to insects and rich in color.
Nonetheless, it is heavy, expensive, and challenging to use. It is also best not to use tropical hardwood in places exposed to extreme heat and sunlight.
Pressure-treated wood is the least expensive material that can last up to 15 years. It has strong materials made from Southern yellow pine. It is resistant to cracks and rot and is easy to install.
Despite that, it is quick to splinter without proper maintenance. You will also need to use gloves and masks when working with it because it has toxic materials for preventing rot and termites. It is best not to burn it and use stainless steel fasteners only.
Due to chemical treatments, softwoods have become more durable and more robust. Yet, it is easy to wear and tear because of its malleability. You will need to apply a darker-colored coating three times every year.
Resilient tiles are not common in Singapore. It has durable materials made from designed tiles. It is resistant to rain and heat, but it can get slippery when wet.
Vinyl is more durable yet more expensive than composite. It has no wood content, is maintenance-free, and is splinter resistant. Moreover, its price varies depending on quality and design.
Lastly, aluminum is not popular, but it can last for a lifetime. It is lighter, durable, and resistant to weather, mold, and insects. Nonetheless, it is the most expensive decking material.
How Can You Make Your Outdoor Deck Creative?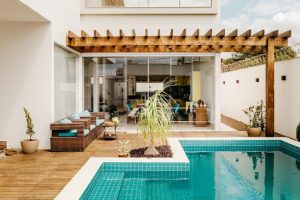 Once you have decided on your materials, let's pick outdoor decking designs! Here are twelve creative ideas to make your decks more appealing and relaxing.
1. Go For An Attached Decking
An attached decking will make your space look like a slightly-raised patio made from wood and composite materials. It appears best in L-shaped and U-shaped houses. It provides additional living spaces for exteriors.
2. How About An Island Decking?
Make an island decking anywhere on your property. You can build it even on uneven surfaces! Consider a peninsula-styled decking that connects your house to the deck via pathways and decking walkways.
3. Make It Multi-Level
Multi-leveled decking works best in larger houses with different elevations. It is a series of decks on varying levels with steps and pathways. It is more affordable than pouring concrete on slopes, hills, and rocky landscapes.
4. Relax With A Swimming Pool
Wood applies best near the waters because it is slip-resistant. Outdoor decking beside swimming pools creates space for lounging while enjoying the water. You can add plants, tables, and decorations for a more relaxing vibe.
5. Create An Outdoor Dining Area
Grab your outdoor lights, snack carts, chairs, and tables! Outdoor decking can be a dining area for parties and gatherings. It will be best to place it near your indoor kitchen to access it easily.
Moreover, you can put a kitchen counter, grill, bar, and sink for cleaning. Consider some decorations too!
6. Enjoy The View
Say yes to glass railings to make your view uninterrupted! It is also best to place an outdoor decking on a rooftop or high places for better scenery. You can watch the sunrise and sunsets with cozy pillows, sofas, and outdoor lights.
7. Cover It With Pergola
Are you in for a modern look? Put on pergolas with vines and flowers. You may also place chairs, tables, and minimal decorations for a calming vibe. Putting on pergolas can make your outdoor decking look more entertaining and relaxing.
8. Plants, You Say?
Plants and planter boxes will always be the best type of decorations. It is more comfortable and relaxing to see than any other decorations. How about some hanging plants, vases on tables, and layered outdoor rugs? Yes, please!
9. Make It Extremely Comfortable As Possible!
Outdoor decks are for lazing around. Consider placing a swing bench or a daybed to have a place to sit or lie down! You can put on cozy blankets and pillows or a table for coffees and books.
10. Bring Warmth
Do you want to spend the night on your outdoor deck while looking at the stars? Well, you can put outdoor rugs and an outdoor firepit to beat the cold. You can also place soft sofas and pillows for a cozier place to relax.
11. Are You In For A Jacuzzi?
Jacuzzis and tubs are excellent options if you cannot fit an entire swimming pool on your outdoor deck. It is best to relax with warm water after a long tiring day. You can also put screens around the place to beat bugs during the night.
12. Be Colorful
Do not be afraid of colors! You can paint the deck or the staircase to match your exterior. Putting different colors can produce classic, modern, chic, or romantic vibes.
How Much Does Outdoor Decking Usually Cost?
The outdoor decking price varies depending on the material, installation, sanding, and varnishing. Nonetheless, usual costs range from $16 to $32 per square foot.
Some decking materials need more work, so they have extra costs. Moreover, you may also spend more if you plan to install outdoor decks in huge spaces. Labor rates may also add up!
Make A Comfy Space In Your Home With A Winsome Outdoor Decking!
Alt text: An elevated outdoor decking with sofas, a kitchen counter, and a kitchen sink
Installing an outdoor decking in Singapore is an excellent choice. It is affordable, durable, and aesthetically pleasing. It makes things more valuable and functional in your home.
Outdoor decks can also be a place for you to spend your time. Be it an escape from a stressful or tiring day or a space for lazing around. It can be everything you need, so why not have one?
Many companies in Singapore are ready to help you work on one, so do not hesitate to make your comfy space today!
Contact Us
30 Kallang Pudding Road #04-04
Singapore 349312
+65 8616 2206
By Appointment Only (in line with Covid 19 Movement Restriction Protocol)