White Oak Wood Flooring
A beautiful oak wood flooring is sturdy and durable and is full of personality. The oak has a long straight grain with a silvery structure. The raw color of Oak wood is white, but it can be varnished into several different colors ranging between light and dark brown. Because oak is an adaptable wood, it is used in most parquet floorings.
The oak wood has a long history of constructing structures that must stand up to nature's forces. In reality, the Swedish Navy utilized oak to make their vessels. In the past, the Swedish Crown was the sole owner of all oaks in Sweden However; the trees were also reforested to supply builders with timber for the future. This is among the main reasons Sweden has so many oak trees. It is not common to build ships out of oak nowadays. Wood is often used for manufacturing things such as flooring and furniture, and the durability of oak makes it suitable for flooring with oak.
Oak Hardwood Flooring
Of the many wood flooring options currently available, oak flooring is among the top choices on the list of designers, architects, and homeowners. Oak flooring gives a classic and elegant appearance that works with any design style.
An appealing grain structure characterizes the oak wood flooring. The whitish, warm shade of oak floors is a definite preference, and its popularity shows not to let up.
A solid Oak floor is wood and is very robust. This wood was used for flooring for a long time, and it's not uncommon to see floors made of oak that are many centuries old and in good condition.
Maintain And Clean Your Oak Flooring
The floors of oak are simple to maintain and clean. Utilize a vacuum cleaner to sweep your floor when necessary, and use a moist mop or cloth to scrub regularly. If necessary, a solid oak floor made by Junckers could be smoothed, refinished and refinished many times to make it appear fresh as new.
Pick Your Oak Wood Flooring Design.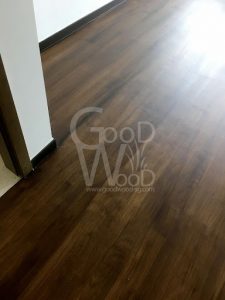 White Oak Wood Flooring in Dark Walnut Varnish
The picture above shows White Oak wood flooring with dark walnut varnish. Due to its popularity, oak flooring comes in a variety of designs, grades and sizes that provide a consistent to a more vibrant looking floor, with a range of finishing techniques like lacquers and oils the choice of texture and color from white to a natural color , as and dark finishes with different thicknesses to fit flooring overlays and structural installations and the latest trends in oak Herringbone parquet flooring and Oak Chevron parquet flooring.
White Oak Wood Flooring in Chervon Style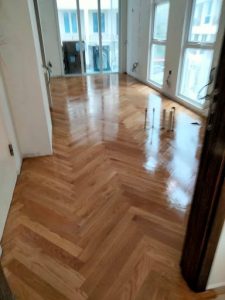 White Oak Wood Flooring in Herringbone Style
The pictures above show White Oak wood flooring in Chevron and Herringbone style respectively. These patterns incur higher material wastages and higher labor time to install, hence more expensive prices than normal straight patterns.
Oak Flooring Maintenance and Care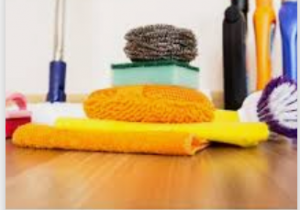 Hardwood floors give your home an elegant, timeless look that exudes elegance. Wood is also a sturdy material that can take lots of abuse from pet owners, foot traffic, children, and the demands of everyday life. Naturally, your floors won't look like they did without some maintenance program.
The positive side is that taking care of, keeping and maintaining the beauty of oak flooring does not have to be complicated.
Here is the guide to get more details about the care for oak floors and the care required to maintain gorgeous hardwood floors in your home or business.
Flooring Care Checklist for Oak Flooring Care Checklist
Make use of Felt Pads Guard Your Floors.
In the case of your oak floors, this is a well-known fact that you should be aware of.
In order to preserve your hardwood floors is to put felt pads underneath each piece of furniture placed on the floor. It's essential for furniture pieces such as dining chairs, which tend to move around frequently.
If you've never used felt pads underneath your furniture, Don't fret – we're not here to scold you. You can go and purchase one! They're on sale online and in most big box and hardware stores. Most importantly, buying a set can cost just a few dollars.
Buy various sizes today, and you'll be ready for new furniture pieces or to replace worn-out felt pads later on.
Learn to clean Oak Floors With Care
The care of oak flooring and the general care of hardwood floors differs from dealing with different types of flooring like ceramic tile, stone ceramic tile, or laminate. Although oak is a durable material designed to last the duration of your life, you need to be able to clean it properly.
Here are some suggestions to help you clean your floors of oak in the correct method:
Clean up debris, dust and dander using a broom with a soft bristle or vacuum before wetting-cleaning your flooring. When you use the vacuum, ensure you select a complex or high floor setting to prevent scratching or damaging the wood finish on your flooring.
Choose a mop specifically designed for hardwood flooring. Choosing a mop may seem simple, but the old string mops won't be your ideal choice for hardwood floors anymore. The good part is that there are currently many top-of-the-line options specifically for hardwood.
Make use of cleaning products that are designed especially for hardwood floors as well as engineered hardwood. These products offer excellent protection and don't contain substances that can harm the floor's finish. Be sure to read the bottle instructions carefully before using any new floor cleaner.
Do not drag objects. If you need to move objects resting on a wooden flooring, lift the objects. If you drag or slide the objects, the frictions on the floor may cause scratches on the wood floor.
Choose high-quality commercial flooring products that cover and fix scratches. Although a variety of choices are available, it is important to choose a product that is compatible with your flooring's materials and colors. It's generally just an easy microfiber cloth to apply these products to your flooring as they're easy and quick to use
Learn When You Should Refinish
Oak is tough, durable and designed to withstand the test of time. Naturally, the coating will begin to appear slightly worn after a few years and years of constant usage. This is when refinishing the floors of your oak can help.
How are you going to determine when it's time to redo your floors? This is a frequent question, and for a lot of people who aren't sure, it can be quite challenging to answer.
Here are the signs that it is time to redo your hardwood floors:
There are a lot of scratch marks. If  your floors begin to appear like they've got scratches everywhere on the floor, then the time-consuming repair process is often not worthwhile. You'll have a cleaner overall appearance by finishing your floors.
There is a lot of discoloration. Gray or black discoloration is a sure sign that it's time for renovation. Although you might be able to repair one or two of the boards within an area that is a frequent traffic area, it's definitely time for a new finish in the event that other areas of the floor show the same coloration.
The signs of water damage are obvious. Damage from water can cause rot to your wood, leaving it looking dark and dingy. The reality is that water damage usually cannot be treated and is not often severe enough that you're able to replace the board.Refinishing floors can restore them to their original beauty and shine. It also helps to stop the spread of water damage when you've experienced an incident involving water within your commercial or home space.
Cleaning oak floors doesn't need to be a difficult job, and once you master it, it'll become an automatic process for you. Most importantly, oak floors adequately cared for in the right way will look stunning for years to come. And that's before you even have to finish them.
Do you have any specific questions regarding wood flooring in your house? Contact SG Goodwood today to get more information about our range of oak flooring and also how to care for them in the best way.
Contact Us
30 Kallang Pudding Road #04-04
Singapore 349312
+65 8616 2206
By Appointment Only (in line with Covid 19 Movement Restriction Protocol)