Linoleum, one of the oldest flooring materials, gained popularity and fame during the 1940s and 50s. It used to be the go-to flooring material for bathrooms and kitchens. That reign ended with the rise of vinyl flooring. It seems that linoleum just took a momentary step back and is now back in the spotlight!
Linoleum flooring in Singapore is slowly but steadily making a comeback! It's making its way back to houses and buildings alike, competing with laminate and vinyl as the best alternative flooring. With its cheapness and durability, linoleum is truly capturing most homeowners' attention.
Here is a complete and comprehensive rundown about linoleum flooring. Read on to know more about the various types of lino, their benefits, price, and proper maintenance!
What Is Linoleum Flooring?
Linoleum is a flooring type with a canvas backing coated with powdered cork and linseed oil. The name might sound fancy, but in reality, it is one of the simplest options for flooring nowadays. You can consider linoleum a green option because it uses natural and renewable resources.
It is made of all-natural resins, linseed oil, cork, wood products, and natural pigments. Manufacturers have been using this same formula ever since its creation. Being eco and environment-friendly, linoleum can easily break down in landfills when the day you remove it from your home comes.
This flooring is one of the oldest and most classic materials and options out there. Lino has been gracing the floors of houses way back 1800s. It was invented by Frederick Walton in 1855 when he noticed the rubbery skin of linseed oil. He came up with a way to use his discovery — hence the birth of linoleum.
Linoleum has been around for so long that it began to fall out of fashion somewhere along the line. It is due to new options, like laminate and vinyl, popping up here and there. To the surprise of many, instead of falling out of the picture, linoleum made an epic return.
People started to realize the variety in linoleum flooring designs and styles. Its customizability, paired with its affordability and durability, makes this flooring due for a well-awaited renaissance.
What Does Linoleum Look Like?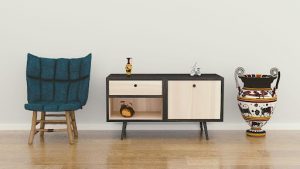 While linoleum offers wood looks, it is most typically used to recreate the look and elaborate patterns of tiles. Various colored linoleum flooring is usually laid out in squares or straight lines. The purpose is to create borders that divide the room or set off other designs or patterns. It can also create a mosaic-like look on your floor.
The way how linoleum is made plays a crucial part in its colors. Since this flooring option is made from natural and organic materials, its color is always warmer than vinyl or other materials. Linoleum's warm tone would suit a room that has an understated design.
Unlike most flooring options, the color of linoleum goes all the way through. Whether the color is a pattern or just a solid tone, it goes all the way deep into the backing. It just means that even if the top layer fades over time, the design will not come off.
Types Of Linoleum Flooring
The first thing you need to learn about linoleum flooring is probably about its types. There used to be only two options available for linoleum — sheet and tile. Though, in recent years, another type (planks) was introduced.
1. Sheet
Sheet linoleum is the best option for those concerned about water damage. It is also perfect for large and spacious rooms.
It is usually sold by the square foot or by the roll, so you can expect fewer seams to deal with. This type offers the largest selection of designs and colors you can choose from.
You can lay it over any properly leveled subfloor. After being glued down with water-based adhesive, these sheets are flattened using a 100-pound roller.
If you are dealing with new construction, installation of sheet linoleum would be an absolute breeze! Though, if you have no experience or knowledge in the installation, better to contact a professional.
2. Tile 
Linoleum tiles offer an enormous amount of designs and patterns. It is conducive if you are not in favor of solid hues. Tile linoleum flooring sizes vary, but the most common one is probably the 12″ x 12″ size. It could come in a click-lock form or be backed by adhesive.
Tile linoleum is an excellent alternative for expensive floorings like porcelain, stone tiles, and ceramic. They are catchy and aesthetically pleasing to the eyes.
Expect a lot of seams! It means there is more opportunity for water to get through. While it is easy enough to install, you can call a professional to ensure that the installation is done right.
3. Plank
Plank linoleum is the newest addition to the lino family! It is a linoleum type that effortlessly uses the lick-lock system to snap it together like a huge puzzle. Using this linoleum means more thickness, but it does have to deal with seams.
The options and colors of planks are still limited, but the ones available in the market are pleasant enough.
Benefits Of Using Linoleum Floors
Similar to its history and types, the advantages and benefits of linoleum floors also run pretty deep. Here are the excellent key points that make linoleum a better option for your home!
Durability
Most manufacturers offer linoleum flooring with warranties that last for 25 years or more. You can expect it to survive for much longer with proper maintenance and care. This flooring material's lifespan can extend up to 40 years, double the expected lifespan of vinyl.
Among the primary reasons for its longevity is its inherent colorfast construction. The pattern and color of the linoleum are not just printed on the surface but are throughout the material's width.
You need to make sure that your linoleum includes a protective coating, courtesy of the manufacturers, to stop the surface from darkening or developing a yellow tinge. This color change typically happens when exposed to sunlight. Better check first, as this is not necessarily included with every linoleum option.
The protective layer strengthens the flooring's resilience against scuffs and dirt.
Scrapes and scratches would not show much due to the color permeating the backing. It also can stand up to high traffic areas.
Water Resistance
Aside from the durability that allows it to hold under the immense wear and tear of foot traffic, linoleum also has primary water resistance. This specific feature makes it an excellent option for areas that welcome wet shoes and boots from the outside. Also, spaces that often see splashes, like bathrooms and kitchens.
Despite having great water resistance, it should not be fully immersed in water, mainly because excessive moisture can cause the corners, seams, and edges to curl. Burst pipes, floods, and high humidity can lead to permanent damage.
Eco-Friendliness
Linoleum is a flooring option that environment-friendly people or eco-warriors would approve of. From the name itself, 'linoleum' reflects the material's natural roots.
It came from the Latin words 'Linum,' meaning linen or flax, and 'oleum,' meaning oil. Its all-natural roots and composition ensure that it won't release or emit any harmful VOC (volatile organic compounds) emissions.
This flooring is also biodegradable and recyclable. Due to its wood components, you can toss the flooring out after 25-40 years without much guilt or qualms. You can take your used linoleum to an energy-recycling incineration factory or plant. If the discard pile is small, you can just compost it to use in your garden!
Low Maintenance
Linoleum is probably one of the most accessible flooring options to maintain and clean. While the protective layer prevents dirt and scruffs, you will still need to clean it regularly. You can use mild, non-ammonia-based cleaning formulas or agents.
A quick vacuum or sweep would be more than enough to remove the abrasive dirt that could scratch up your flooring. Occasional mopping is also advised.
Myriad of Options 
Today, linoleum offers a wide array of options. There is an enormous variety of styles, patterns, and colors! There are even designs that mimic the look of stone, marble, or wood. It only means that it is highly likely that you will find a design or style that will fit your aesthetic and interior design.
Aside from appearance, you would also need to think about the type of linoleum. You can consider three main kinds: plank, tile, and sheet. You can choose one that would fit your taste and needs!
Factors To Consider In Buying Linoleum
Before you go out and buy a sheet or tile of linoleum, there are several factors you must consider first.
Linoleum (it doesn't matter which type) are all durable. All types are long-lasting and rigid. It can still be scratched, though. Also, linoleum is water-resistant. That does not mean it's waterproof.
It needs to be maintained annually by applying floor sealer. This flooring also tends to turn 'yellow' over time. Unsurprisingly, a color change is significant and could be a huge turn-off for most people.
Before buying your linoleum, consider first the area of coverage. Measure the size by square feet and know how much floor space you have. It helps you anticipate how much material you need to buy.
To get the square footage, measure the width and length of the room. Multiply those numbers together; you do not need to be exact.
A linoleum's thickness can determine how high the quality is. While this is not precisely an end-all-be-all indication of quality, it is still a tell-tale sign. Linoleum planks are the thickest of all options.
If you wish to look for linoleum planks, find ones at least 8mm thick. However, ones that are 9-10mm are much better.
Tile and sheet are less thick. A good quality roll and tile are typically around 2-2.5 mm.
Linoleum can't increase your home's resale value by much. It is, however, the preferred flooring option over vinyl.  Linoleum's eco-friendly qualities prove a huge selling point for discerning home buyers.
Warranty and cost of the flooring will always play a huge factor. Linoleum is not expensive. There are some planks and tiles that can get a bit costly, but overall, it is a highly affordable option.
How Much Does Linoleum Cost?
The linoleum flooring price in Singapore is higher compared to vinyl. Sheet linoleum, on average, costs around $2-$2.50 per square foot. On the other hand, Linoleum tiles could range around $3.50-$5.00 per square foot. High-end designer and luxury and designer styles cost much higher.
A factor that changes this price range is the installation.
Professional Installation
Undoubtedly, a professional installation would add to the cost. For starters, you need to decide whether you are buying the linoleum yourself or if the contractor will take care of it.
Most reputable contractors supply linoleum. However, if you are looking for a specific design, color, or brand, you will need to purchase it yourself.
Hiring professional installers means you do not have to worry about tool rentals, energy, or time waste. The professionals will take care of everything. Also, consider getting a labor warranty. It covers any issues or accidents for at least 90 days.
The average professional cost for 100 square feet can fall around $150-$350. The bigger the area coverage is, the higher the installation cost.
DIY Project
Installing the flooring yourself will help you save money. Though, DIY also means that you are responsible for the effort and time and the tools you will need. You also need to purchase the linoleum yourself.
The cost for every type of linoleum varies. Plank linoleum costs the most, while sheet ones are the cheapest.
Aside from the linoleum, you will need to provide the tools yourself. If you remove existing flooring, you will need to prepare removal tools such as chisels.
If you already own such tools, then there is no additional cost. You can also rent tools if you need to.
How Is Linoleum Eco-Friendly?
Even though linoleum is an older wood alternative, it is one of the most eco- and environment-friendly options. Linoleum is a green flooring material for several reasons, including:
Biodegradable – Once you dispose of linoleum, it would not just sit in the dumps for a hundred years to come. Eventually, it will break down — the natural and organic materials used to make it will reintegrate with nature. The process also would not sprout out dangerous chemicals in the air.
Made Of Natural Materials – As mentioned earlier, linoleum is created using natural materials. This flooring option is 100% organic and plant-based. It means that all materials used to create linoleum can be naturally replaced. It offsets the carbon footprint of production.
Does Not Need Replacing – One of the simplest yet overlooked ways to practice eco-friendliness is by using what you have. It is opposed to buying something new. Linoleum is prominently durable, which means you do not have to replace it for a long time. It ultimately means less product to manufacture and throw away.
How To Maintain and Clean Linoleum
Linoleum flooring is relatively low maintenance. The only exception is the annual resealing.
You will need to keep it away from strong and harsh cleaning agents while cleaning it. You can use a damp mop and water. Like wooden floors, you should never use anything abrasives to clean them.
Despite being water-resistant, you should never let liquids sit on it for long to avoid permanent damage. Most linoleums have outer coatings and layers. You will need to wax yours periodically if it doesn't.
Resealing is a vital maintenance task for linoleum floors. Doing this means your linoleum can hold up longer, stay waterproof, and look fresh.
The process of resealing is not technically complex. Check with a manufacturer to know if it's necessary to strip your floor before applying sealant. If it is not needed, pour the sealant over the floor. Spread it using a damp mop and let it dry.
Conclusion
Linoleum is an old and non-traditional flooring alternative that has been gracing homes since the 1850s. It reached new heights in popularity during the 1940s, though it became less popular as time went by.
This flooring option can serve as a long-term investment that can survive decades of wear and tear, all without losing its essence. It became an affordable flooring solution in both residential and commercial settings.
If you are looking for a reliable linoleum flooring contractor, you can trust SG Good Wood to do the job!
Contact Us
30 Kallang Pudding Road #04-04
Singapore 349312
+65 8616 2206
By Appointment Only (in line with Covid 19 Movement Restriction Protocol)