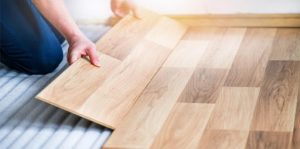 Photography: HomeLight
Wood-looking floors are the hottest trend in the flooring industry right now. Though, many decide against it due to its high price. Fortunately, a more affordable alternative can help achieve that dream wood floor look! Enter laminate flooring — the cheaper go-to wood flooring option that excels in durability and performance!
Despite critics, laminate flooring is steadily becoming one of the most famous flooring choices in Singapore today. Why is that? Below are reasons why laminate floors are probably the best choice for your home.
What Is Laminate Flooring?
Laminate floors are an absolute staple in the flooring industry. They are a hybrid floor covering that includes a particle board wood base topped by a transparent wear layer and image layer.
Laminate floorings are versatile products you can install almost anywhere in your home. It can cover your kitchen, dining area, living room, bedroom, and hallways without trouble!
This flooring has a wood-grain appearance, with planks that come in almost the same shape and size as wood floor planks. Its appearance is the reason why it is a convincing substitute for hardwood.
Laminates are suitable for rooms where you wish to have the aesthetics of a 'natural' floor. It works well for people who want hardwood but are a bit on a tight budget!
Sweden created laminate floorings back in the 1980s. It has come a long way since then. High-quality laminates typically offer a textured appearance, making it look realistic even up close.
Laminate floors can copy and replicate several types of wood. That includes mahogany, walnut, oak, maple, pine, ash, and chestnut. It can also copy the look of stone flooring.
Laminate flooring is easy to install and maintain. It is scratch-resistant and DIY friendly. Good quality ones are also durable and could have a long lifespan if treated with care.
What Are the Thickness Variety Of Laminate Flooring?
Laminate floorings come in various thicknesses. Some laminate planks have thicker cores than others. Though, this is not a tell-tale sign of its durability. There are thin laminate planks that have a durability that surpasses thicker ones and vice versa.
The product's core is usually measured in millimeters. It is also dependent on the product's grade and manufacturer. To ensure durability, stick to products with better construction and higher ratings.
The four typical thickness measurements are:
What Are The Types Of Laminate Flooring?
Photography: Forbes
There is more than a single type of laminate flooring, at least based on material. By knowing the difference, you can make a more informed decision.
Plastic
Plastic laminate, as the name suggests, is entirely artificial. Most people avoid it due to that reason. Though, it cost almost half of the engineered wood laminate, so quite a few still turn to it.
This laminate type is waterproof and not vulnerable to scratches, dents, and staining. These features and characteristics make it a great choice for messy and high-traffic areas! Manufacturers today made leaps of progress in making plastic laminate look similar to the material it is replicating (whether it is stone, wood, tile, etc.).
Engineered Wood
If you prefer using actual wood and still want the perks of laminate floors, engineered wood might be for you! This laminate flooring type uses layers of genuine wood in addition to acrylic lamination.
While engineered wood is more expensive than plastic laminates, it lasts longer if you sand and refinish it.
What Are The Benefits Of Using Laminate Floors?
Choosing the right flooring is a huge decision to make as a homeowner. There is no shame in hesitating and taking your time to decide. It is something that will affect you for years to come, after all.
If you are seriously considering laminate floors but can't seem to get the right push to make it final, here are reasons that might convince you!
Most people would turn to laminate floorings for their cost-effectiveness. Since this flooring type is made from composite wood pressed together under high temperatures, it is cheaper than timber or hardwood.
This flooring type is quite common, so you would not have any trouble finding cheap laminate flooring in Singapore.
Laminate floors are surprisingly easy to clean and maintain. Marks and spills are just a simple wipe away!
You may use a soft microfibre cloth and detergent to do the job! Occasional mop and regular sweeps are enough to clean it.
Not only is this material hard-wearing, but its topmost layer is also scratch-resistant! The top coating can survive high foot traffic, scratches from pet claws, and stomps from rowdy kids. Moreover, it is also resistant to impacts and would not quickly fade when exposed to sunlight.
There have been significant developments in laminate flooring technology over the years. This advancement means that the difference between laminate and timber is much harder to distinguish now. Several laminate floorboards have a unique embossing that accurately mimics the look and texture of natural wood.
It is not just limited to wood too. Laminate floors can replicate stone and tile as well. It gives you more options and designs to choose from and play with!
Laminate flooring has a simple lock-together mechanism that is very easy to use. It means that these floors have interlocking grooves that can easily snap into place, similar to puzzle pieces. You don't need to attach them to the subfloor! It is the reason why they are also called floating floors.
You can install this flooring yourself if you want to try it. Start by rolling out inexpensive foam underlayment. Tape those together and then lay the laminate planks on top of it. Depending on the type, it could either be glued or snapped together.
How Much Is The Cost For Laminate Flooring?
If it's laminate floors you are looking for, you can find ones at various price points. The laminate flooring price in Singapore can start as low as $1 and range up to $10 or possibly more. It is per square foot measure.
The price would vary depending on the design options you choose. You can expect waterproof and water-resistant laminate planks to be on the higher price end.
Hiring a professional laminate installation service can be costly, but at least this way, you are sure that it is done correctly. The cost for installing a laminate floor ranges from $1500-$5000. The price of the product will depend on the size of the area and the laminate type you will use.
Also, be aware that the price does not cover the removal of existing flooring, moving furniture, delivery, or installing baseboards. You will have to do these yourself. If you are willing to spend, you can ask the installer if they can do it for you.
How To Find Reliable Laminate Flooring Supplier and Installer?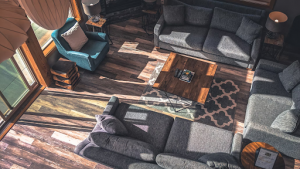 Flooring lays the foundation of a property, mainly since it covers the largest surface area. You will need to make sure that your flooring choice blends well with your interior.
It needs to add more personality to a room as well. A trusted laminate flooring supplier and installer can help with that.
There are hundreds of suppliers in Singapore, so finding one is not the problem. It is a matter of finding a credible one that can meet all your demands and needs. You can start by doing research or asking for suggestions.
There are bound to be shops and stores in your neighborhood that offer flooring supplies. You can ask the store owner for their contractor or supplier.
Going online is also an effective way to go about it. Make sure to use specific keywords, such as "laminate flooring suppliers near me", to narrow down your search. Read through the reviews and testimonials first if they have any to gauge their service.
You can also ask people you personally know. Ask your friends, neighbors, coworkers, or relatives if they had their flooring done.
Conclusion
The wood-look you have been dreaming of is more achievable than ever with laminate flooring. With its low price and resilience, this flooring truly is an ideal choice for your home. You can finally rest knowing that you are investing in durable flooring that will maintain its beauty for several years to come.
Looking for one of the best suppliers for laminate flooring Singapore has to offer? SG Good Wood got you! We provide top-quality laminate flooring services for both residential and commercial properties.
You can trust us with all your flooring needs! Just browse through our official website to learn more about our services.
Contact Us
30 Kallang Pudding Road #04-04
Singapore 349312
+65 8616 2206
By Appointment Only (in line with Covid 19 Movement Restriction Protocol)