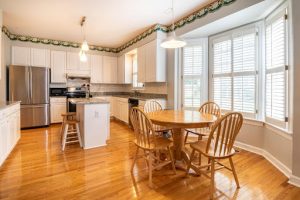 One reason why Korean laminate flooring is popular these days is its limitless possibilities when it comes to flooring finishes. It can give you the look of exotic hardwood, patterned wallpaper, vibrant enamel paint, and even polished granite!
Even though laminate is relatively thin, it is still durable and resistant to water, scratching, fading, staining, and cracking. These sheets are made of heat-infused paper and covered with melamine plastic. It gained widespread popularity after the Second World War and began popping up everywhere.
Aside from flooring, it is also used in kitchen counters, bathrooms, restaurants, and luxurious furniture. This modern, sleek, low-maintenance, and economical material is a game-changer in the world of construction, architecture, and interior design. It embodies the contemporary lifestyle of the 50s to 60s, and it is still far from stepping down from the spotlight.
These days, laminate flooring gives many residential homes the best and most realistic looks. Over the years, its quality has dramatically improved with more realistic images, wider color choices, better scratch-resistance, and new textures.
To learn more of what is Korean laminate flooring and its great features, keep on reading.
What Is Korean Laminate Flooring?
Laminate flooring was first manufactured in the 1970s and was among the first artificial alternatives for hardwood flooring. Hardwood is a popular choice for most homeowners due to its durability, longevity, and overall aesthetic.
It is comfortable to walk in and provides excellent thermal insulation, so your feet won't get cold barefoot. However, it also comes with a great price, and not everyone has the money needed to have it installed in one's home.
Laminate is made from synthetic materials and precisely manufactured to resemble the look of natural hardwood. Many people use the terms vinyl and laminate interchangeably, but they are two different forms of flooring.
They are made from other materials, and laminate has a decorative photo image above the inner core board. It is then topped with an overlay layer to protect the floor underneath.
However, laminate flooring does not stand up against water and moisture well, unlike vinyl. It is not recommended to let them get soaked for long periods as it may damage the composition of the material. It is important to note that they can be water-resistant but not waterproof. Still, laminate flooring is a popular choice for DIY flooring projects.
If you consider this material for your home renovation, be sure to get one with a high-quality and meets the standard for laminate flooring.
How Is Laminate Flooring Made?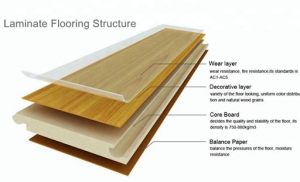 Photography: Interior Floors
Suppose you are considering this material for your next home project. In that case, it is necessary to know everything about Korean laminate flooring down to how the material is made to ensure you are making the right decision. It has a unique manufacturing process, and there are four main layers in a single piece.
These layers are combined through high heat and high-pressure processes, resulting in sturdy and durable flooring material. The layers mentioned are as follows:
(E) Attached underlayment
Not all laminate has an attached underlayment below the backing layer. It all depends on the manufacturer, but it can give additional strength and durability to the board.
(D) Backer balancing layer
The backer balancing layer, and often the bottom-most layer of the laminate, provides the essential balance and stability. It gives the board a straight and level base for better installation.
(C) High-density fiberboard (HDF) core
This is the laminate core, where wood fibers are combined with additives like waxes and resins. It improves the board's strength so it can withstand impact weight when installed flooring. They are then shaped into planks and pressed under high pressure to create the laminate.
(B) Decorative paper layer
On top of the HDF core is the decorative layer in any design, pattern, and color. This gives the laminate its appearance, and the design possibilities are endless. Most manufacturers create high-quality decorative coatings to provide the most realistic images that resemble your desired finish.
Lastly, the topmost layer is the wear layer. It is usually an aluminum oxide coating, and it gives laminate protection and a shiny finish. It also acts as a seal to protect the laminate from UV damage, scuffs, and scratches.
It can come in various finishes and wear layers that create AC ratings. Higher AC ratings are synonymous with the floor's durability after laminate installation.
Manufacturers cut the edges once the planks are made and the layers combined to create a locking system that keeps the laminate in place. This creates a seamless flooring surface.
How Can You Tell If A Laminate Has A Good Quality?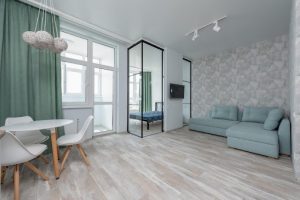 Generally, laminate flooring is durable as long as the AC grade is high. You can easily find high-quality laminates and Korean flooring manufacturers in Singapore if you know what you should be looking for. In this case, what are the factors that you should consider before purchasing a new flooring?
Thickness
When choosing a laminate, you should look out for the one with a high-density fiberboard core, which is compressed word fibers attached by a bonding agent. Thicker HDFs provide better durability. Usually, the ideal thickness is around 12mm, but 7 to 8mm is still a good choice.
For areas with less foot traffic, a minimum of 7mm is an excellent option to start with. Many customers also seem to appreciate the thickness of a laminate, as it correlates with positive reviews in most manufacturing and company sites.
Design variation
You would want to have a wide selection of designs upon choosing which one is perfect for your dream home renovation, right? Be sure to go with the company with a vast number of choices, from design, patterns, and colors down to the textures. You'd want to make sure that the hardwood species have differently patterned planks to avoid repetitive patterns to your flooring.
In addition to that, check the quality of the designs and make sure that they look realistic so that you won't regret your choice in the future. High-quality designs will have a look of more natural grain and patterns.
High-quality wear layers
Another thing to consider when choosing the best laminate is the quality of the wear layer, as they are the ones that repel damage and stains. Different brands have their formula of the wear layer, and the compounds you will often see in these are aluminum oxide and polyurethane.
You can also check the laminate's abrasion class rating, called the AC rating. It ranges from AC1 to AC5, and laminates with higher ratings have a better wear layer quality.
How Long Does Laminate Flooring Last?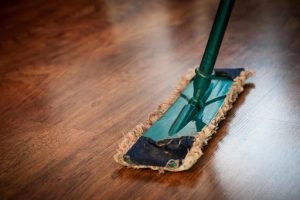 Does Korean laminate flooring last long? Typically, yes. A high-quality laminate can last for ten years, given that a trusted manufacturer makes it. Most flooring comes with a warranty covering repairs on damaged areas due to several factors.
Thickness also correlates with how long the flooring will last and with the quality of its installation. You can expect thicker laminates to last longer, while those with a poor installation are susceptible to warping, buckling, and unevenness over time.
Of course, you also have a part in making sure your laminate flooring will last long. Adding rugs placing protectors under furniture and the legs of the tables and sofas will prevent scratches and tears from developing. You should also clean the floors regularly and keep them from water exposure for extended periods.
The minimum time your laminate flooring can last is at eight years, but you can extend it to at least a decade with proper maintenance.
Foot traffic is also a significant factor in the lifespan of Korean laminate flooring. If you have multiple children and pets at home, then a good ten years is enough, and you will probably need to schedule a new installation. However, areas like bedrooms receive less foot traffic. Therefore, the laminates can last for as long as 25 years!
Overall, the life expectancy of your laminate flooring comes down to its quality, traffic, and the maintenance it receives. You don't have to walk on thin ice all the time to make sure it won't tear or scratch, but keeping it in good condition and cleaning it on a regular basis is enough.
What Is The Best Grade For Laminate Flooring?
When choosing laminate flooring for your home, it is essential to consider the AC rating of the specific product before making a significant decision. This is to ensure that you are getting your money's worth, and the beauty of the flooring will last for a long time.
The AC rating helps you identify the durability of the laminate and how well it can withstand foot traffic and potential abrasive impacts. If it is for residential or commercial applications, it will allow you to understand the sustainability of a particular product.
First, let us know what an AC rating is.
What Is An AC Rating In Laminate Flooring?
Abrasion Class, or simply AC, is the internationally accepted system when classifying the laminate flooring durability. You can always see this in the product's description, which is a significant factor when choosing the ideal choice for your home.
In other countries such as Australia, laminate undergoes several testing methods, according to the European Standard EN 13329:2000, to assess its water-resistance upon long-term exposure.
The testing methods include using an abrasive wheel, a leather wheel, and the Taber abrasion machine. In some cases, they also use a particular grade of sandpaper to wear the protective layer until reaching a certain point.
The AC rating is the most reliable indicator when it comes to the durability of laminate flooring, as a third party performs the tests. They also cover various ways a laminate can wear to assess its ability to last against several factors fully.
Different Types Of AC Ratings
After the assessment, the authorities will then designate an abrasion class to a laminate from AC1 to AC5 rating based on the results. Knowing the differences among classes gives you an advantage and helps you shop smarter.
Laminate flooring that is rated AC1 is more suitable in areas where there is light foot traffic. It is recommended to be installed in dining rooms, guest bedrooms, and other rooms in the house that you don't use as often.
AC2 rated laminate planks are applicable for rooms with moderate foot traffic only. It is slightly more durable than AC1 rated laminates, so you can use them in family rooms and other areas you spend time on every now and then. However, it is not recommended to install them in living rooms and hallways where there is more traffic.
This rating is the best option homeowners can get for residential installation, and you can install it in rooms and areas where there is heavy foot traffic. You can install these in hallways, stairs, kitchens, conservatories, and living rooms.
Laminates with an AC4 rating are first-class intended for commercial installation. They are great for commercial spaces that receive moderate traffic, such as salons, cafes, boutiques, and offices.
AC5 is the highest class, and this also means that the laminates with this rating are the most durable. They are suited for commercial areas that receive high foot traffic, such as showrooms, department stores, restaurants, and other public buildings where people walk back and forth.
What Rated Laminate Flooring Do I Need?
For domestic usage, laminates with an AC3 rating are the best you can get for your next renovation project. If you desire to give your home the makeover it deserves, they are an excellent investment.
In addition, you should also know that each rating has a 60% increase in wear from the previous class. For example, AC2 is 60% more wear-resistant than the last class, which is the AC1. Laminate flooring with the rating of AC3 is 60% more resistant to wear than AC2, and 120% of that than AC1.
When the AC rating is higher, you can guarantee better durability and quality from the material. This is also another factor that determines the life of the flooring. Be sure to include this in your checklist when shopping for Korean laminate flooring.
Upon making a decision, you might ask yourself why not invest in a higher grade, such as AC4 and AC5, instead of stopping at AC3. The first reason for that is that it is not worth the investment.
They may be durable, but they come in a rougher texture that is just not pleasant for your feet. They are usually made as a high-pressure laminate (HPL), making them resistant to different kinds of abrasion. However, you might find these too much and uncomfortable for domestic use.
This is aside from the fact that they are more expensive as well. Why would you pay for more if you already have the ideal grade for home use?
You must consider the intended usage of the grades and not make an impulsive decision based on what you think is the best choice. You can always ask your dealer or inquire to a manufacturing company to help you develop the best conclusion before proceeding with the installation.
For your home, you should go with AC3 if you have the means to afford it. It is cost-effective, versatile, and has excellent wear-resistant ability. The quality of this laminate flooring has more than enough strength and durability among 95% of homes.
What Thickness Of Laminate Flooring Is The Best?
The laminate thickness is often defined by measuring the base up to the top of the board. It is measured by millimeters, but some might find it confusing with a pad attached to them. Keep in mind that this is not included in the laminate's thickness upon measuring.
Does Laminate Thickness Matter?
Yes! The laminate thickness is essential when choosing which one is the best for your home. It somehow affects the durability of the material, but it is more on the overall look and feel. Some of the advantages of a thicker Korean laminate flooring are:
Resembles the feel of hardwood
More details like wood grains can be engraved in
Produces less echo
Greater impact resistance
More forgiving of subfloor imperfections
However, it would be best to remember that durability isn't directly correlated with laminate thickness. It does have an impact, but it is not the sole indicator of how long your flooring will last.
How Thick Should Laminate Flooring Be?
Typically, laminate flooring should be around 6mm to 12mm thick. A flooring thinner than that is more susceptible to damage and wear over a short period. When asking a dealer, be sure that the padding attached to the board is not included in the measurement.
If you want the ideal laminate thickness to achieve the hardwood feel beneath your feet, you should go with 10mm to 12mm. However, if you have a restricted budget and a relatively smooth subfloor, 7mm to 8mm is still a good option.
The only advantage of moving along with a thinner laminate is cost. You don't always buy the thickest laminate to say that you are getting your money's worth.
You can still get high-quality laminate flooring at such lower prices. So, before making a purchase, make sure that you know the value of the thickness closest to your needs and desires.
Comparing Different Thickness Laminate
To give you an overview of the quality of the laminate based on thickness, let's start with the thinnest and make our way to the thickest of the group:
When it comes to laminate flooring, 7mm is the thinnest it can get, minus the attached padding. It relatively costs less than the other available choices, but you can't expect it to have the best quality among the rest.
Manufacturers can make these laminates highly durable, but they will also have a cheaper look upon installation. The main reason is that there is not enough layer for the design and texture to get in place. You will also notice it sounds cheap, so it is not an excellent long-term investment.
If those factors don't affect you, getting this is still a good choice.
8mm laminates are better in terms of overall quality. You can easily find excellent 8mm laminates in the market today, but don't expect the drawbacks of thinner materials to disappear with this one.
10mm laminates have a 25% increase in quality, and there are minor improvements that you will notice with its performance.
Some 8mm can be just as durable as most 10mm, but 8mm feels more plastic and has a louder sound that might not be ideal for some people. If the subfloor is in poor conditions and is not perfect, the 8mm laminate can easily split over a short period. You don't want that.
With 12mm, you can notice the diminishing of performance problems that are visible with thinner laminates. Due to the thicker makeup, 12mm laminate flooring is more resistant to impact and has a quieter sound than the rest. This also offers the closest feeling to hardwood.
If you want the cost and aesthetic to meet halfway, 10mm is the best choice. It still has some of the performance of 12mm and the affordability of thinner laminates.
Give Your Home A Makeover With Korean Laminate Flooring Today!
Are you starting to consider Korean laminate flooring for your home? SG Good Wood is at your service! We have all sorts of materials you will need to build your dream home aesthetic.
If you are still unsure of the thickness, grade, and other features to get, don't hesitate to contact us through our website. We are eager to help you along the process.
From inquiries up to the scheduling of installation, you can count on us! At SG Good Wood, we bring the art of nature straight to your home.
Conclusion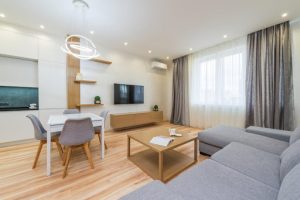 Above is everything you need to know about Korean laminate flooring in Singapore. They are an excellent investment for your family home, and you can easily achieve the look you always desire. Whether it's hardwood, granite, patterns, and solid colors, there is a perfect laminate flooring out there for you!
Contact Us
30 Kallang Pudding Road #04-04
Singapore 349312
+65 8616 2206
By Appointment Only (in line with Covid 19 Movement Restriction Protocol)