The kitchen is more or less the busiest place in the house where a lot of cooking and cleaning action happens. On top of that, a kitchen is also a place with great exposure to water. If you are the careful type, spills may not be much of a problem for you.  Still, it is better to be prepared with water-resistant flooring.
Aside from being resistant to moisture and stains, tiles also boast many colors and patterns which you can choose from. Since the options are plenty, let's go over each of the most common tiles so you will be able to choose properly for the kitchen of your dreams.
Types Of Kitchen Floor Tiles To Choose From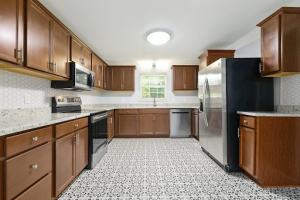 The cost of kitchen floor tiles will most likely depend on the type you choose to be installed. To keep you guided on what type of kitchen floor tile is perfect for your kitchen, continue reading down below.
1. Cement Tile
Cement tiles are supposed to be maintained regularly for their beauty to last. This is why many would suggest that cement tiles are best used in areas that don't have much activity, unlike a kitchen.
However, if your kitchen is small and you're going for a baroque interior, cement tiles are lovely to have. Despite the vintage feel, the tile designs of cement tiles are making their way to modern interior design.
Cement tiles are quite difficult to install since they are porous and need sanding and immediate resealing. However, its beautiful designs would probably be worth it, especially if you spend a lot of time in your kitchen.
2. Ceramic Tile
For a tile that is easy to clean and non-absorbent, ceramic tile will do the job. Aside from being stain-proof, it also does not absorb any smell, so you can be sure that there won't be any lingering smell from your chili crab dinner, especially if your kitchen has good ventilation.
Ceramic tiles are also considerably affordable, considering their improved durability. There are commonly two types of ceramic tiles — glazed and unglazed.
Glazed tiles are perfect if you want your kitchen flooring to be long lasting. However, since kitchens are busy places with safety risks, it is recommended that you consider unglazed tile since it is more slip and scratch-resistant.
3. Granite Tile
Another common and mostly overused tile, like ceramic tile, is granite tile. It is a natural stone material that feels like marble but is not as expensive as marble. Although it looks "cheap" due to being overused, it definitely isn't low quality, so it still works for a busy space like your kitchen.
Granite tiles perform well as it is especially durable. It is also stain-resistant and will most likely not let lingering cooking odor last. Granite tells works whether you use it in your kitchen floors or countertops.
4. Marble Tile
If budget is a no-brainer for you and you want only the premium best and uniqueness displayed in your kitchen, marble tiles are the way to go. Its textured design — whether patterned or veined — is a thing of beauty and elegance.
Aesthetic-wise, marble floors are truly remarkable. However, such beauty requires regular upkeep, so it remains as pristine as a newly installed flooring. Marble tiles are prone to scratching and stains, so the kitchen might be an unlikely place to install them.
Still, there is no blaming you if you want to go for marble floors and walls. If your kitchen is more for its decorative purpose and you have a trusty dirty kitchen in the back room, then marble is for your dream kitchen.
5. Porcelain Tile
Porcelain tiles get an A for their versatility. Aside from being highly durable, it also comes in many finishes, whether it be glazed, polished, smooth, or textured. This is why it is a nice alternative to other types of more uncommon floor tiles like brick, glass, metal, stones, or wood flooring.
Imagine getting a glass-like flooring tile without the need to maintain it regularly! Perfect for busy people and those with no expert knowledge about flooring installation, right? Aside from your kitchen, porcelain tiles are also great for outdoor use. You can be sure it won't crack easily or fade in color.
6. Vinyl Tile
Another very versatile flooring option is vinyl tile. Wood, stone, concrete, even fabric — you name it, and vinyl flooring can produce a design for you. For upkeep, vinyl tiles will last well as long as you sweep and wet mop regularly so crumbs will not accumulate on them, leading to scratches.
What's great about vinyl tile, aside from its ability to mimic any other flooring type, is that it is budget-friendly and even easier to install (probably the easiest to install). If you are big on Do-It-Yourself projects, you can totally ace the floor of your dream kitchen if you have vinyl tiles at hand.
Since this tile comes in both panels and sheets, you can totally play with the designs. You can even have different colors around each other to customize your kitchen floor.
Things To Consider When Choosing
Whether it's a brand new house or simply a project to overlay the kitchen floor in Singapore, choosing the right type of kitchen floor tile to match your vision is important. Below are four things you should consider before you add to the cart.
Go For Easy To Clean Tiles
Kitchens can easily get messy, but they're also a place where cleanliness should be the first priority to keep food safe for consumption. There are plenty of tile choices to choose from, and some of them, although brilliant and beautiful, are really a pain to maintain.
If you're more of a cook but not necessarily someone who likes to spend a lot of time cleaning, you should go for tiles that are relatively easy to keep tidy, like porcelain or vinyl.
Ask whether the tile can keep off stains, whether it be water, coffee or any of the sort. Especially if you have young budding cooks who like to help out in the kitchen, stains and spills are likely to come by. The smell also matters since some tiles are very absorbent, and you don't want your smoked barbeques to keep haunting your kitchen for weeks.
Usually, glazed and smooth tiles are easier to wipe and clean. If you prioritize texture and are a fairly clean, careful cook with no kids to make a mess, it is perfectly fine to go still for tiles that can be harder to clean.
Make Sure It Matches
The bigger picture is always important to consider. When choosing what type and color your kitchen floor tiles would be, it is important to have a complete vision in mind.
What type and color of cabinetry will you have? What about the countertops? The walls? The ceiling? The lighting also counts, of course.
Everything has to match with one another to get a more cohesive product. However, matching doesn't always mean monochromatic because it can also be contrasting and yet still complementary.
To make sure your kitchen furnishings will match with the tiles of your choice, bring samples of your cabinet or wall finishing to your tile selection process. Consider both natural and artificial lights when choosing a tile since the kitchen is likely to be used both day and night. If you have a theme going on with your whole house, whether it be rustic or modern, consider that and plan ahead.
Pick High-Quality Ones
Durable tiles are crucial for a busy kitchen. Over the years, you would likely experience cooking tools and equipment accidentally dropping on floors or liquid spills that cause slipping. That is not ideal, but it is also not entirely avoidable.
These common kitchen mishaps are why it is important to go for tiles that can resist dropping impacts and are also significantly non-slip. Be sure to choose tiles that are actually for flooring purposes. Although glazed tiles are incredibly easier to clean, if there are more house members prone to slipping, it is better to choose a more textured tile to have that grip while walking.
Examine all your tile options and pick the one which matches your priority, whether it should be more scratch-resistant, slip-resistant, or stain-resistant.
Kitchen Ambiance 
Whether or not you consider your kitchen as your pride among all the rooms in your kitchen, it is important to consider the ambience you want this busy place to have. Do you want your kitchen to feel warm, cool, nostalgic or extremely modernized? Whatever the case, the setting of tone starts with the flooring.
Remember that lighter hues will give the illusion of bigger kitchen space, while darker tiles can create a cozier feeling. Whether or not you want your kitchen flooring to make the statement or just simply provide a cohesive tie for all the elements on it, it's totally up to you.
Here are kitchen floor tiles ideas to get started on planning what kind of ambience you would like your kitchen to give,
Conclusion
Now that you have an idea of what kitchen floor tile options you have, it becomes much easier to envision your dream kitchen. We would surely love to help you on your way to realizing it, so browse our website to keep learning more.
Contact Us
30 Kallang Pudding Road #04-04
Singapore 349312
+65 8616 2206
By Appointment Only (in line with Covid 19 Movement Restriction Protocol)