The herringbone pattern has been a staple of parquet designs for over a century. These sophisticated zig-zag patterns elevate a space from the ground up and are frequently seen in formal living rooms, dining rooms, and entryways. Engineered wood floors with a herringbone pattern are distinguished by their distinctive arrangement of precise rectangles. The Romans used this sophisticated zig-zag design to create roads as early as 500 BC, making it the most widely used type of parquetry. It is made by 90° connecting rectangular building blocks. The style is frequently favoured in formal living rooms, dining rooms, and entryways because it elevates the space from the floor up. The SG Goodwood herringbone collection goes one step further by lengthening each block, creating a slender slimline shape that highlights the pattern's scale and dramatically enlarging the space. We'll look at four reasons why herringbone flooring is a good choice for your natural wood floor today.
1. Sturdy & Lasting
Natural wood floors are always a good choice, and herringbone-engineered flooring is no exception. Herringbone flooring is more stable than solid wood floors because of the way it is installed. A stabilising core and a balancing layer at the bottom of the flooring's design also assist it in maintaining its form in inclement weather. Herringbone flooring is more durable and scratch-resistant thanks to its hardwood basis.
2. Easy to Maintain
Because the surface of engineered herringbone flooring is smooth, this flooring is perfect for frequently used areas like the kitchen, bedroom, and entryway. Because herringbone-engineered wood floors are thick, they may be resurfaced and fixed.
3. Aesthetic
Natural wood flooring is always a visual pleasure, and a wide variety of alternatives are available across well-known and exotic wood types. Engineered herringbone flooring's top layer is made of real wood, giving you both the realism of natural wood and the excellent performance of engineered wood. The herringbone pattern has a European pedigree, giving it the elegance modern homeowners seek.
4. Space Magnification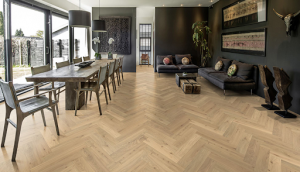 Herringbone flooring is a terrific space enhancer that looks amazing in any room because of its zig-zag pattern. This makes it a fantastic option for updating any room. Any size place can appear more prominent because of its pattern, tiny and constrained spaces like hallways. The herringbone-engineered wood floor will make the area appear larger if placed diagonally against the long wall, as opposed to longer if it is placed parallel to the long wall.
Given such information about herringbone wood, it would be an excellent choice to select such material instead. Visit SG Goodwood if you wish for expertise in such areas to achieve the best version of your house.