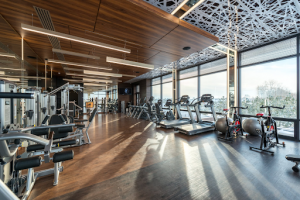 Going to the gym may be a tedious task for some, but this is the best place for you to completely take care of yourself. By working out with equally inspired people, you will be able to get the best results for your physical health. However, a poorly built gym may lead to negative outcomes for its users, especially when you can't rely on its flooring.
Identifying the perfect flooring for your gym is the only way to avoid unwanted accidents. It can also give you a guide to provide your clients with a better experience by providing a safe, comfortable, and healthy environment during their workouts.
In this case, we can only choose from two options — we could get the proper flooring that can satisfy ourselves and our customers, or the wrong flooring that will lead them to leave your gym and find it unsatisfying.
Believe it or not, some gym users already know if the floor is in good condition, making them comfortable to do their activities. Of course, they also know if the bottom is in bad shape, making them feel uneasy and unstable.
Finding out the best gym flooring is a process that you have to take seriously since you need to consider many things. You have to take your time looking not just for an affordable kind, but also for a good quality type.
A suitable quality type of gym flooring can help you give the gym users the protection and security they need in the first place. It can help you provide them with the comfort, trust, and loyalty that is not easy to attain these days.
Finding the right gym flooring options may be a challenging task, but you don't need to worry since we have carefully written this guide for your benefit!
Things To Consider In Gym Flooring
It would be best to think about factors multiple times before considering and purchasing a specific flooring material. You have to think thoroughly, and you must be wise about it since your clients will use it for a long time.
Listed below are some of the details you need to consider when looking for the right gym flooring.
1. Thickness
The role of gym flooring is to support the entire place, including the weights and other types of equipment. This is why it is essential to choose the right thickness for your floor.
Remember that the quality and the durability of the flooring always depends on your choice of thickness. If you use thin flooring, expect that it will not last for a long time. The thicker the flooring, the better it will be because it'll be  more durable and substantial.
Here are the ideal flooring specifications depending on each exercise:
Functional activity or training – 6 to 10 mm
Weightlifting activity – 12 to 30 mm
Barbell activity – 8 to 10 mm
Cardio activity – 6 to 8 mm
2. Dimension
It is also essential to consider flooring dimensions since they will help determine the overall look of your gym. For this part, you can maximize the entire space. This is an excellent factor to note because the more you maximize the room, the more you can give freedom for your gym users to move freely and comfortably.
Remember that there are flooring choices that will perfectly fit small areas, and there are also those that are best suited for larger spaces.
3. Types Of Exercises
In selecting flooring, you also have to consider the type of exercises that each gym user will do. Proper gym flooring should be able to endure long, rigorous activities. The most authentic and practical thing to do is ensure that the material is reliable enough.
You cannot rely on soft flooring for your gym's common area since your clients may easily damage the material. It should be solid and durable to support the entire place without anyone worrying about anything.
4. Color
This factor is not that essential when it comes to the decision-making process, but it can help you figure out the best flooring to fit your gym's theme. Of course, you also want to satisfy your clients by letting them see the area's design and ambiance.
If you're working out in a home gym, having a properly designed place can motivate you during your exercises. However, if you do not have a theme, gray and black colors are more convenient to use.
5. Budget
Good quality flooring does not mean that you have to spend a lot of money purchasing expensive materials. Various options can be budget-friendly and fit your requirements perfectly at the same time. You just have to look for the right sellers and products since not everyone can serve you well.
Some floorings are affordable, but you cannot guarantee their credibility and sound characteristics. You have to take your time finding the right material that will suit your needs.
6. Features
There are specific features to take note of before choosing your gym's flooring material. You need to have the right classifications and requirements to ensure that they fit your taste.
Of course, it is better to satisfy yourself first to guarantee that you can also fulfill the expectations of other people. There are also questions you can consider asking yourself to make the right decision; some of these are:
Do you need portable flooring?
Do you prefer to use flooring that you can install easily?
How big is the area? Is it small or huge?
Are you planning to follow a specific theme or feature?
Qualities Of Good Quality Gym Flooring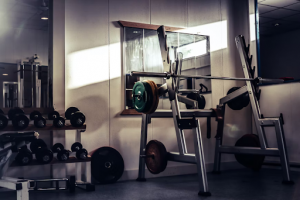 Thinking about gym flooring is not the most exciting part when it comes to managing your workout area. Most of the time, people prioritize the equipment they will get to successfully fulfill their needs. However, choosing the right material for your gym's overall area is just as essential since it can either make or break your workout sessions.
Flooring is a significant factor in making the gym reliable, which is why you always need to make sure that it is of good quality and stays in good condition. To help you with that, here are some qualities that will help you determine if your chosen material is reliable or not.
It can avoid slippery accidents and other injuries
We cannot avoid the fact that people sweat when they work out. This is an unavoidable situation, especially since you are constantly working in an area where people are motivated to lose weight. Because of numerous activities throughout the day, your floor is prone to moisture, which gives space for unfortunate events to happen.
You can easily determine that your flooring is good if it can reduce and avoid accidents. Since you want to maintain the identity of being a responsible gym owner, you should prevent injuries at all costs — even if it means investing your hard-earned money on high quality gym flooring. Remember that it is crucial to consider and guarantee every detail of your floor since the safety and comfort of your clients should be your top priority.
You can clean it with ease
Maintaining the cleanliness of your gym's floor is also an essential factor. Cleaning it quickly, effectively, and thoroughly will help you give your clients a good service. Gym users produce unbelievable amounts of sweat, body fat, and moisture, which you need to take care of and get rid of as soon as possible.
Remember that maintaining the cleanliness of the whole area is also a good sign of proper hygiene. A gym is supposed to provide motivation, protection, comfort, and ease while people are working out. Therefore, it is part of your responsibility to make the entire place as clean as possible.
It produces good air quality
A responsible gym owner makes sure that they get eco-friendly flooring products from credible and reliable distributors. This can assure the gym users' peace of mind, providing them with a safe, healthy, and sound environment. A gym should offer a good feeling and not a suffocating atmosphere.
It is extremely durable
A gym's flooring should always be durable and robust to help the owner make it long-lasting. Many people will use the area since one of their goals is to achieve physical fitness. Therefore, these people will do various activities and use different weights and other equipment.
If you imagine the weight and heaviness of each gym user, and if you add that to each piece of equipment, you should know that the flooring should be strong enough to cater to all of these.
It can take and absorb impact
Your flooring should also absorb and take all the impact from weights and other types of equipment that will drop on the floor. It should be strong, durable, and dependable.
To make this possible, the quality of your chosen flooring should be good and strong enough. If you do not consider this, you might end up using and promoting a gym that is unreliable when it comes to the safety of its users.
Types Of Gym Flooring
If you are still thinking about the best gym flooring you can rely on, this portion is for you. Of course, these flooring types are different because they each have their own definition, quality, and purpose. However, rest assured that these materials will do their job correctly to ensure safety inside your gym.
1. Rubber Flooring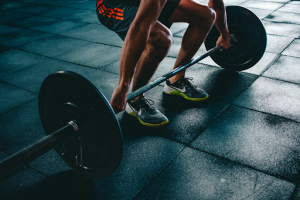 Rubber flooring is durable, resilient, strong, and well-built, making it a suitable choice for any gym. People do not need to worry because they can use this type of flooring in small and large spaces of your area.
It has three different styles: roll rubber, interlocking rubber, and rubber floor tiles. Each of these has their specific purpose and advantages.
Moreover, rubber flooring is available in different colors, thicknesses, sizes, and budget-friendly prices. Remember that all of these classifications depend on your choice that you think will be best for your gym.
Pros:
Rubber flooring provides an anti-slip feature that will prevent and reduce accidents such as falling, slipping, tripping, or even dropping off the heavy types of equipment that can cause injuries.
It absorbs the impact of any workout activity and equipment that leads to possible damage to the floor. It also guarantees the safety and comfort of gym users.
It is soundproof, wherein it also lessens the vibrations and noise coming from the gym users while they are working out.
It is always easy to manage and install.
Rubber is easy to maintain, clean, and is best in preventing foul odor.
It is durable, stain-resistant, shock-absorbent, and water-resistant, so it can last long if you maintain and clean it well.
If you want to know more about rubber flooring, you can check out rubber tiles and rolls pros and cons for more detailed information.
 2. Foam Flooring 
Photography: alvarez
This one is defined as suitable flooring for workouts like yoga and pilates because it is soft. People consider it the most comfortable flooring option that you can rely on.
It is also available in different colors, shapes, and sizes. If you are planning to use equipment, you have to make sure that it is lightweight to maintain the excellent condition of the material.
Pros:
Foams are said to be an affordable type of flooring.
It is easy to manage and install
It has a good surface that can easily accommodate various workout methods and techniques.
People define foams as versatile, which gives comfort to gym users.
3. Carpet Tiles Flooring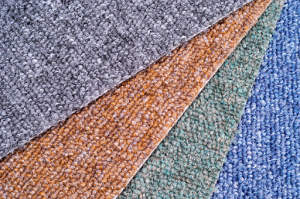 Photography: frankwright
Carpet tiles are somehow similar to foams. Most people consider this the most famous gym flooring tiles for homes. People love this due to its soft surface, various textures, and vibrant colors that make them fit the gym area. Although, you have to clean it regularly to avoid foul odors, dust, and viable bacteria.
Pros:
It is easy to install and maintain
Carpets can manage heavy equipment and workout activities
It is an excellent material that can absorb sound and heat.
It is suitable for homes
Carpets are also as versatile as people think
4. Vinyl Flooring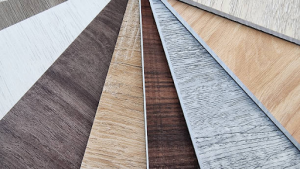 Photography: Wongsakorn Dulyavit
Vinyl is also an amazing choice for home gym flooring. It is comfortable, practical, and is one of the most reliable gym floorings. However, you have to refrain from using sharp objects to avoid damaging it.
Pros:
It remains comfortable since it can handle heavy workouts and pieces of equipment.
Vinyl also has a helpful characteristic to prevent mold, mildew, and moisture.
It is versatile, easy to maintain, easy to clean, and can manage the strong scent and chemicals from the cleaning agent to remove all the sweat, dirt, dust, and odor.
5. Wood Flooring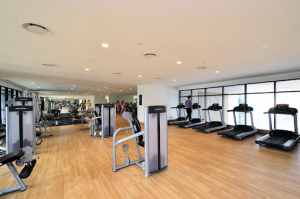 Wood is a warm, classy, and smooth surface, making it an ideal choice for your gym flooring. It looks professional and can fit into various types of exercises. There may be a lot of wooden materials to choose from, but in the end, it all comes down to your personal decision and the durability of your chosen product.
Gym flooring wood options are the best if you want to add a bit of style to the area.
Pros:
Wood helps the area look spacious.
It is durable and can handle heavy workout activities and equipment.
It can be used for an extended period if it is dealt with and maintained adequately.
It is easy to use, durable, and is shock-absorbent.
6. Cork Flooring
Photography: realcorkfloors.com
Cork is a material that is suitable for people who want to be eco-friendly. It is a flooring type that is made of natural resources, making it entirely biodegradable and renewable.
Pros:
Cork flooring is flexible, making it perfect for high-intensity activities and heavy pieces of equipment.
It can also help avoid mold, mildew, mites, fire, and shock.
It is a material that can be good for the environment
Cork is also water-resistant, which is a good factor that you can apply in the gym area.
Conclusion
It is complicated and challenging as you think to look for the perfect gym flooring, whether it is for a commercial establishment or a home area. It undergoes many processes, and you have to think wisely before coming up with a decision.
This is a serious matter because one of the goals in purchasing flooring is to guarantee that you can use it for a long time. Reading this article can help you find out what factors you need to consider to help you make the right decision.
Contact Us
30 Kallang Pudding Road #04-04
Singapore 349312
+65 8616 2206
By Appointment Only (in line with Covid 19 Movement Restriction Protocol)