Photography: IgorVetushko
It will always feel so exciting to build or renovate your dream house. You can improve it by painting your wall, putting on new furniture, or installing new flooring! Nonetheless, you will still need to be careful with the designs, quality, and longevity.
If you plan on changing or installing new floors in your home, it is best to look for professionals. This project is crucial since a house's flooring can be visible to everyone. Good thing, there are eight tips for you to consider when looking for a flooring contractor in Singapore.
Continue reading to know more about hiring contractors for flooring projects!
Why Should You Hire A Flooring Contractor?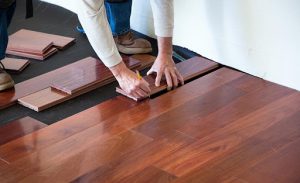 Photography: slobo
Hiring a flooring contractor can make everything better for you. These professionals can help you plan, prepare, and install your new flooring. Asking one to work for you can lead to more satisfying results than doing DIY projects.
Here are some benefits of hiring a flooring contractor to know more about this.
1. Quicker Installation Process
DIY projects can take too much time due to measurements, materials, and process errors. Learning the steps in installing the flooring can waste time also. Hence, you will have less time putting furniture and organizing the rest of the interior.
If you hire a flooring contractor, you can get the work done in no time. They will use their experience and skills to make perfect plans to speed up the process. Worry not about the quality because professional contractors know what they are doing!
2. Professional Recommendations
Choosing on many designs, materials, and flooring type options may be challenging. You need to pick out the colors that suit your interior, and so on. Fortunately, a flooring contractor can guide you on the things you do not know yet.
Flooring contractors know the factors needed for the installation. You can tell them the designs and the outcome you would like to have, and they can assist you in getting into details. They can recommend materials with high quality, availability, and lower costs.
3. Trustworthy Services
Hiring contractors for flooring projects can be expensive at times. Yet, they can meet your expectations by providing outstanding customer service. You need not be afraid of trusting them because they can achieve the best outcome!
4. Equipment And Tools
You will need advanced and latest tools and equipment to achieve your renovation goals. Nonetheless, if you do it yourself, it may be expensive and more hassle to look for the said materials.
On the other hand, hiring a professional can provide the equipment to speed up the process. Furthermore, using the correct set of tools can improve the installation process. Thus, you can enjoy high-quality and exceptional results.
5. Enhanced Safety
People who perform DIY projects are more prone to dangers. Chances are they do not have PPEs, and they do not possess enough skills in installing flooring.
Meanwhile, a professional contractor can handle different equipment and tools without worries. They can manage the project with total safety, so you can feel at ease about the flooring installation.
6. More Pleasing Outcome
DIYs do not always go the way you want them to be. Sometimes, the designs may fail or not meet the goal you had in mind. Nonetheless, you can bring everything to life by hiring expert flooring contractors.
You can ask flooring companies about their portfolio with their previous works. You can check them and choose the one you want, or make them an inspiration. These professionals can take notes to produce a more polished and more beautiful flooring.
7. Schedule Management
Lastly, flooring contractors can make a timetable, including the duration, schedule, and process. You can keep on track of the progress of your project and monitor the possible issues that can affect the period.
Still and all, you will need to discuss the timeline first before starting the installation. You can also tell the contractors the specific date to finish the project.
What Do You Need To Consider When Hiring A Contractor For Flooring?
Photography: IgorVetushko
Since you already know the benefits of hiring flooring contractors, here are some tips for finding one. You will also need to be careful on this matter because your installation project depends on the contractors you will hire.
Tip #1. Check For License And Insurance
Two of the essential things you need to find are the license and insurance. First, a license is crucial to verify the credibility of the flooring contractor.
Moreover, most companies can have a general contractor's license, but only a few can have licenses for flooring works. Hence, it is advisable to check whether the contractor has the latter one.
On the other side, companies with insurance are better in safety. It can serve as a protection from unwanted accidents in the workplace. You may not want to hold liable for these occurrences, so you better look for their insurance.
Tip #2. Look For Reviews And Ratings
Ensure to check different websites and platforms with possible user ratings. If you happen to find excellent reviews about a company, you can list their names on your checklist. Remember only to pick contractors with good track records.
Aside from that, if any of your friends or colleagues know a trustworthy company, you can get recommendations from them. You can also ask for their comments and thoughts about these contractors.
Tip #3. Consider The Costs
You can ask the flooring contractors about the estimated costs of the project. You can include some details, such as down payment, schedule of the fees, and issues that may lead to more charges.
Furthermore, note that flooring types may differ in prices, so be ready for extra costs. Pricing plays a crucial role in this project. Yet, please do not make it your sole factor because quality must be your priority.
Tip #4. Verify The Company's Experience
Companies with experience gain extra points when hiring contractors for flooring. It is better to look for experts with excellent backgrounds in installing and renovating flooring. It can signify credibility and reliability.
Nonetheless, some skilled yet beginner companies may not have many experiences. We are not disregarding their excellence. It's just that contractors with records can be more trustworthy.
Tip #5. Inquire About The Process
Before starting the project, ask about how the process will turn out. You can also inquire about the timeline or the plans. Moreover, you can ask who you can communicate with throughout the project.
This tip is crucial because it helps you not be clueless about your project.
Tip #6. Check Their Expertise On Various Flooring Types
Some contractors have specializations or fields of expertise. For instance, a vinyl flooring contractor can do better on vinyl floors. On the other hand, hardwood contractors are the best in hardwood floors.
In this case, you can pick the material and look for a specific flooring contractor. Ensure to hire the right one for your flooring type because incompatible contractors can lead to errors. You may never want to waste your money and time on a failed project.
Tip #7. There Must Be Professionalism
It is advisable to take notes from the first moment you communicate with a flooring contractor. You may notice the way they talk and guide you to the project. If they happen to interact with you nicely, you can say that they are a professional company.
Moreover, it is better if a contractor explains the project's process, size, and scope. Talking to them in the most professional way can make you feel at ease that you are in good hands.
Tip #8. Is There A Warranty?
Lastly, you may want a company that offers a warranty. For instance, the flooring contractors have already finished your flooring renovation. Nonetheless, there were issues after a week.
You can claim for repairs from the contractor if they have a warranty. They can be liable for errors like ripping, disintegration, tearing, and the like. In this case, you can avoid getting scammed by low-quality flooring works.
What Are The Things To Avoid When Hiring Flooring Contractors Near Me?
You may not want to commit mistakes when looking for contractors. Here are four things you need to avoid to prevent errors and scammers.
Do not skip the credential checking to avoid scammers and poor-quality flooring works.
Do not aim for the lowest price. What you pay is what you receive, so it is better to focus on the quality.
Ensure to sign contracts. You cannot make the contractor liable for damages if you do not have written contracts.
Do not pay too much upfront. Some contractors ask for 50% and disappear without doing the installation. Thus, it is best to provide only 10% for a down payment.
Make Your Floors More Exquisite By Finding The Best Flooring Contractor In Singapore!
Renovating and building your flooring can be a step to a more aesthetically pleasing home. It adds beauty and spice to any house interior. Nonetheless, achieving exquisite flooring needs an excellent flooring contractor in Singapore.
Fortunately, this article has already guided you to things you need to remember when hiring contractors. The only thing left is looking for one! Ensure to give it your best shot to achieve that dream house of yours.
Contact Us
30 Kallang Pudding Road #04-04
Singapore 349312
+65 8616 2206
By Appointment Only (in line with Covid 19 Movement Restriction Protocol)