In recent times there are more people who choose wood decking for their outdoor areas, patios, balconies, and planter box in Singapore. If you happen to be considering getting an outdoor wood decking, we can guide you through what are the different options or materials of outdoor wood decking you can choose from.
1. Chengal Wood Decking
Chengal wood originates from Malaysia and is one of the more popular decking options in Singapore as it is reasonably affordable and tends to last longer outdoor compared to other natural wood.
One of the unique characteristics of Chengal wood is pinholes as shown below.
The pinholes in Chengal wood are completely normal and do not pose any hazards. Most outdoor wood decking in Singapore is made of Chengal wood. Outdoor Chengal wood decking is usually varnished in a dark colour for easier maintenance and a more consistent look.
2. Composite Wood Decking (WPC Decking)
WPC stands for Wood-Plastic Composite and is sometimes referred to as just composite wood. Composite wood is a mixture of plastic and wood. Due to its plastic composition, composite wood (WPC) has a very strong resistance against insects or termite. This termite-proof trait has been one of the more popular reasons why people choose composite wood (WPC) for their outdoor decking.
For those who appreciate consistency, composite wood (WPC) is the optimal option as every plank of the decking looks very identical to each other, unlike solid wood which always comes with a noticeable level of natural variation of tonality and raw colour.
The older version of WPC decking came with wood support below. To make the whole decking system termite-proof, we offer aluminium support instead to make sure there is no rotting or sinking-down problem in the future.
It is also worth noting that since WPC decking is not a natural wood, it is the most maintenance-free decking there is in the market. Composite wood decking has often be labelled as the "practical wood decking".
3. Burmese Teak Decking
Burmese Teak is a premium wood that comes from Myanmar. Teak wood is often used for oat building, exterior construction, veneer, furniture, carving, turnings, and other small wood projects. Burmese Teak decking is probably the most costly wood decking in Singapore due to its high material cost, particularly with the recent political situation in Myanmar causing fluctuations in Teak wood price. Despite the high cost, there are still many Teak wood lovers who opt for Burmese Teak wood decking for their outdoor balconies.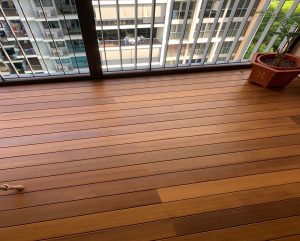 Burmese Teak wood decking is usually varnished in a clear varnish to enhance the beautiful grain and the rich golden brown colour of the wood.
Feel free to reach out to us at 86162206 or browse our website at https://sggoodwood.com/ for a quote.