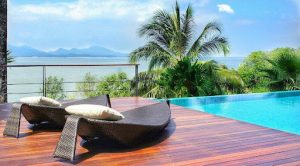 Decking became a famous option for renovating balconies and patios in residential homes. It adds space and increases the value of your property if ever you want to sell it. Moreover, decks are perfect for outdoor activities like barbeque parties, dinners, and gatherings.
Nowadays, people have fallen in love with wood decking. Wood decks are structural planks and boards attached using beams, joists, or rafters. Its primary purpose is to form an extra roof surface or a floor using wood materials.
Nonetheless, choosing the type of wood material affects the appearance and durability of your deck. Various wood types have different prices, quality, and durability. You will need to choose one that suits your preferences and budget.
Furthermore, you will need to find trusted decking wood suppliers to have the best materials. They must be dependable, creative, and accessible. If not, the materials they will give can be a waste of money!
This article will be your guide as you go on your journey to build a wood decking. It will discuss the different types of wood materials and the costs of installing a wood deck. Moreover, it will give five tips for choosing decking wood suppliers.
Continue reading this article to know more!
What Are The Advantages Of Using Wood Materials For Decking?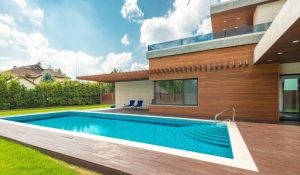 Before using wood for decking, you must know the advantages it brings to you and your household. With that, here are five benefits of using a wooden deck.
1. It Is Durable And Sturdy
Using wooden materials creates a more durable and sturdier deck. Some types of wood can hold heavyweights, such as furniture and decorations. Moreover, they can stand firm whatever you throw or drop to them.
Most wooden materials also resist tension, rot, and warp. They can also fight against wood-destroying insects and moisture.
2. It Is Easy To Maintain
Some wood decking materials do not need much effort in cleaning. They only need very little maintenance, such as putting sealants, polishing, and refinishing. Maintaining your wood deck will make it look fresh and vibrant over time.
If you want to protect your wood decking, you can consider putting shades and pergolas. These things can reduce the risk of getting heated by direct sunlight. Furthermore, they can protect the wood from weather changes and moisture.
3. It Has A Natural Wood Appearance
Wood materials produce a naturally attractive appearance. Skipping the application of paints and decorations is possible due to its natural beauty! You may also choose not to make enhancements because it is already vibrant and pleasing.
With this feature, you can save money because you won't need to buy decorations and paints. You will only need to maintain its top-quality over time.
4. You Can Select From A Variety Of Wood Types
Decking wood materials come in different types and specifications. Some wood types include Chengal, cedar, redwood, teak, and tropical hardwood.
You can select a material from a wide range of choices that suit your preference. Since each has unique appearances, you can match them to your exterior design. You can also consider the price, quality, and availability of the material.
5. It Is Affordable
Who says top-quality materials are always expensive? Well, wooden materials cannot relate!
Using wood for decking is affordable. It can match your budget because you can find sturdy materials at a low price. It will not be a burden for you to install your wood decking.
Nonetheless, some prices depend on the type of wood you will use. The costs for labor also vary. Still and all, it is an excellent choice for building something new and valuable to your house.
What Are The Different Wood Types For Wood Decking?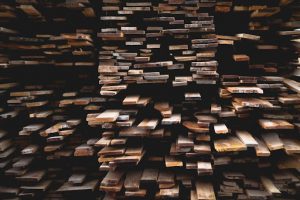 If you have already selected whether you are building a wood deck or not, it's time to choose a material. Since wood materials differ in prices, quality, and durability, choosing what suits you is essential.
1. Teak
Teak is one of the best and most durable wood types. It can handle everything you drop or throw into it. Moreover, it is the hardest deck wood option with high strength against tension.
Aside from its pleasing appearance, teak also produces natural oil that can fight against termites and other insects. It will not splinter, warp, or crack from moisture and water exposures. Furthermore, it does not need water sealants for protection.
When appropriately installed, teak can last for decades. You can add teak oil to produce a golden hue to your wood decking. After months or years, it will most likely become silver, which looks more attractive.
2. Chengal
Chengal is the most common and popular type of wood material for decking. Our ancestors from centuries ago have already used this material for building traditional houses. It is a type of heavy tropical hardwood that can stand against any weather condition.
This wood type is a perfect decking material due to its durability, sturdiness, and resistance against termites. It is worth your money and investment because it can also last for many years.
Nonetheless, using matured Chengal is better than using young ones. There is more sapwood in young Chengals, so matured ones are sturdier. Still and all, this wood type is eco-friendly and has dimensional stability.
3. Cedar
Cedar is a softwood material. It has a natural resistance to rot, moisture, and insects. Yet, it is too soft, so it tends to splinter.
Aside from that, cedar is also an excellent decking material for houses in freezing climates. It does not warp or crack and can last for 15 to 20 years. Washing yearly and refinishing every two to three years is the best way to maintain its natural-looking appearance.
If you plan to install vertical elements in your deck, cedar is also the best material for that. It is perfect for railings, pergolas, fences, and planters.
4. Redwood
Redwood is pretty similar to cedar when it comes to ruggedness and durability. It has resistance to rot, insects, moisture, and warp coming from the natural oils it produces. Moreover, it contains few to no resins, retaining finishes and lasting longer.
Redwood also possesses natural beauty. Nonetheless, you will need to apply a sealer for regular maintenance and wash the deck every year. This material is more expensive than pressure-treated woods, but you can find cheaper ones on the West Coast.
5. Pressure-treated Wood
When looking for widely available material, pressure-treated wood comes first! It is economical, aesthetically pleasing, and sturdy. Moreover, it is easy to work, resistant to rot and insects, and can last for decades.
You can consider using pressure-treated wood to have solid structural support. Yet, it needs a high level of maintenance, such as cleaning and sealing it on a regular basis. Some lesser-grade pressure-treated woods may also warp, twist, or shrink.
Aside from that, ensure to wear protective gear when working with this type of wood material. It has toxic contents designed for preventing rot and termites, so it is harmful. It is best not to burn it and use stainless steel fasteners instead.
6. Tropical Hardwood
Tropical hardwood has a dark brown texture with light-colored stripes. It is similar to teak, dense, fine-textured, and sturdy. Also, it is resistant to moisture, warping, and insects.
Nonetheless, it is challenging to cut and work with because of its hardness. You cannot also nail or screw it quickly due to thickness. Because of that, the labor costs can be more expensive than usual.
Tropical hardwood can turn to light silver or gray without sealants when exposed to heat under direct sunlight. Despite that, it can last for at least 25 years. Some brands even offer a 40-year warranty.
Some types of tropical hardwood include Ipe and Camaru. These materials often come from different places. Ipe comes from South America, while Camaru comes from Central America and Brazil.
7. Native Wood
Native woods can be an excellent base for paint and other finishes due to their flat and straight features. It is rich in color, texture, and grain, making it aesthetically pleasing. Furthermore, it has a natural resistance to various elements and can hold fasteners better than other wood types.
Some types of native wood include oak, hemlock, and black locust.
What Are The Factors To Consider When Buying Decking Woods?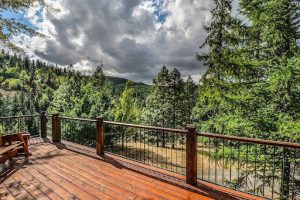 Once you have chosen your material, looking for a wood decking supplier in Singapore comes next. Nonetheless, there are various things you need to consider when choosing one. With that, check these tips below!
Look For Honest Suppliers
Honesty is a top-quality people must always seek when looking for suppliers. Shops must not trick people with promising high-quality materials and provide poor ones afterward.
They must be honest to fulfill everything they say. Moreover, suppliers must inform the customers about the condition and quality of the wood materials.
Why Not Find Creative Ones?
Suppliers should also help their customers pick appropriate woods if they are struggling. They must have unique products that can match different exteriors and styles. Furthermore, they must also be able to provide solutions to various conflicts.
Aim For The Best Quality!
Suppliers must also provide products that can satisfy customers' needs and preferences. They must give appropriate types and durable materials to prevent conflicts. It will become a waste of money if the quality they sell is not worthy.
Do They Have Enough Supply?
Choosing decking wood suppliers with enough supplies is an excellent option. It enables you to have a wide range of choices. Furthermore, it is also advisable for customers with big projects.
This factor can also save time and effort for buying because you can find everything you need in one shop.
Dependability Is Better Too
It is best if you can depend on your suppliers on the type of wood and quality you want. Providing you with a specific grade of material can build customer loyalty and trust with the shop. Moreover, it is also excellent if they can deliver the exact materials you need.
Is Wood Decking Better Than Composite?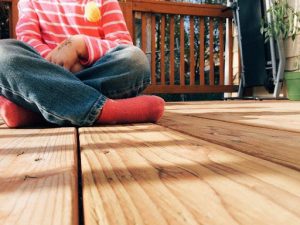 Despite wood decking's popularity, composite materials are also starting to rise in the marketplace. Composite wood decking is a combination of recycled plastics with wood fibers. It is a perfect option to provide a wide range of colors and finishing options.
Both materials make excellent decks, but the question is: is wood decking better than composite? Or is it the other way around? Read this comparison below!
Previous composite wood designs may look artificial and plastic. Meanwhile, modern ones offer various designs with embossed grain patterns. Both materials look excellent, but wood has a more natural appearance.
Wood decks need regular paints, stains, or sealants for maintenance. On the other hand, composite only needs sweeping and washing.
Few lesser-grade kinds of wood may absorb water. They can sometimes be susceptible to cracks, splinters, warp, and rotting when not maintained. Therefore, you will need to put on stains, sealants, and paints.
Meanwhile, composites are moisture resistant. They make excellent wood decking materials for moist conditions.
Fortunately, both materials are easy to work with and use.
Wood is a better material for summer weather. You can stop worrying about the surface temperature when heated under direct sunlight. Nonetheless, composite can be hot and uncomfortable.
Wood materials and composite are perfect for insect resistance. Still and all, you will need to ensure that you choose the appropriate wood type. Some woods from low-quality brands can be susceptible to wood-destroying insects.
Composite decking materials are wood fibers with plastics, so they do not splinter. On the other hand, some lesser-grade woods can splinter when not maintained properly.
This factor is essential because children and pets may get hurt when they walk to the deck barefooted.
Wood decking is more affordable than composite materials. Nonetheless, the expenses may still depend on the maintenance and the brand you will buy.
In summary, composite can be more resistant to moisture and splinter than wood materials. Wood decking, however, is a better option for a natural-looking deck and more affordable materials.
How Much Does Wood Decking Cost?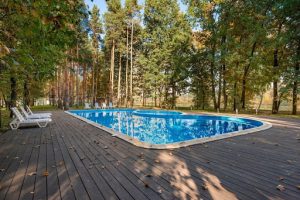 As stated earlier, the expenses for installing a wood decking depend on various factors. Here are some estimated prices to give you an idea of how much a wood decking costs.
Costs of a new wooden deck installation:
National average – USD 6,280 or SGD 8,475
Minimum cost – USD 1,200 or SGD 1,620
Maximum cost – USD 14,000 or SGD 18,900
Average range – USD 3,600 to 8,400 or SGD 4,900 to 11,300
Costs per square foot:
Basic materials – USD 15 or SGD 20
Average materials – USD 25 or SGD 35
Premium materials – USD 35 or SGD 50
Costs according to deck sizes:
8×10 – USD 1,200 to 2,800 or SGD 1,615 to 3,765
10×10 – USD 1,500 to 3,500 or SGD 2,200 to 4,760
10×12 – USD 1,800 to 4,200 to SGD 2,420 to 5,650
12×12 – USD 2,160 to 5,040 to SGD 2,905 to 6,780
12×20 – USD 3,600 to 8,400 to SGD 4,845 to 11,300
14×20 – USD 4,200 to 9,800 to SGD 5,650 to 13,180
16×16 – USD 3,840 to 8,960 to SGD 5,165 to 11,690
20×20 – USD 6,000 to 14,000 to SGD 8,070 to 18,830
Nonetheless, the expenses may vary over time due to decking wood materials costs. Moreover, some companies and shops offer different prices depending on brands. Labor costs and additional materials may also add up.
Aside from that, the costs stated here are estimated prices. They can be lesser or greater in actual installment processes. It is best to ask your respective contractors about this matter.
Install A Top-Quality Deck With The Best Decking Wood Suppliers!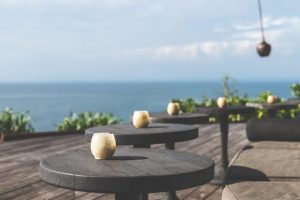 Wood decking allows you to turn an unused place into something more beneficial and attractive. It gives various advantages to a household, so it is best to install one in the most appropriate way.
Yet, you will need to consider many things when placing a wooden deck on your property. You will first choose the type of wood material that suits your exterior designs. Be it tropical hardwood, Chengal, or many others!
After picking your material, you can look for a wood decking supplier in Singapore. You need to ensure the shop's honesty, dependability, creativity, quality, and availability. This factor is crucial because they provide your wood decking materials.
Aside from that, you will also need to check your budget. Do you have enough money to buy Chengal wood? Or tropical hardwoods?
If you struggle to find suppliers, you can search for decking wood suppliers near me. They can offer you a wide variety of wood types and prices. You can ask for their price list and material recommendations!
Once you have finished everything stated here, we guarantee you can have the best wood decking ever. Go now and plan on making and installing one!
Contact Us
30 Kallang Pudding Road #04-04
Singapore 349312
+65 8616 2206
By Appointment Only (in line with Covid 19 Movement Restriction Protocol)