Anyone with a deck can attest to the necessity of keeping the flooring strong. It can be stressful looking for suitable, durable material which is also stylish. Luckily, there's a new deck flooring material circulating through hardware; wood plastic composite.
This hybrid material has a beautiful, rustic wood aesthetic while strong enough to withstand mold and water damage.
What else does wood plastic composite have to offer? Read on to find out!
What Is Composite Wood Decking?
You get composite wood decking by combining the best qualities of wood and plastic. The manufacturers heat the two materials together and mold the mixture into boards. The result is a top-notch building product that keeps the beauty of natural wood while being low maintenance.
This material isn't perfect, though. Composite wood is heavier than natural wood, and it's less heat resistant. This building product is also on the pricey side.
However, customers still feel that the long-term benefits of composite wood are worth the extra price. You don't have to clean your deck often, and there's no worry of mold and mildew growth.
Uses Of Composite Wood Decking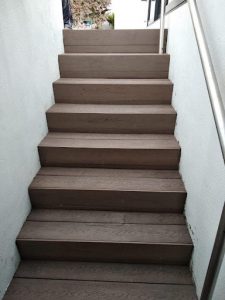 This building product has several uses. You can apply exterior composite wood decking on a garden porch or terrace. The wood's water-resistant abilities will prevent it from warping and developing mold.
You don't always have to go full scale, though. Sometimes you can use this wood for small sitting areas in your garden. The decking creates a clean and dry space where you can enjoy your fresh flowers.
You can also use composite wood decking as a floor for an outdoor shed. It's a strong barrier between the moist grass and the bottom area of your shed. Homeowners love this material because it's so versatile!
Luckily, Singapore has several trustworthy suppliers for composite decking. SG Good Wood is the best at decking, and we offer other essential home services!
Natural Wood Vs. Composite Wood
Why should homeowners choose wood composite over natural wood? There's a novelty from using the raw materials that some people value, but these materials have their downside. Even the most robust natural wood will eventually warp, rot, or develop mold. If you want to prevent this, you must do frequent extensive cleaning.
The composite wood decking price in Singapore may be high, but maintenance and repair costs are minimal. In the long run, investing in wood composite saves you money from extra expenses.
It's always up to the homeowner to decide what they like best for their home, but just remember it's helpful to research the pros and cons of materials before deciding which to purchase.
Benefits Of Using Composite Floor Decking
Here's where most people are convinced to settle on composite wood. The manufacturers intended for this material to be best for the outdoors. It's one of the most durable and low-maintenance floor deckings out there.
There are also other reasons why homeowners prefer this material:
It's designed to be durable – Composite wood decking undergoes capping, so there's a barrier that protects the material from fading, weathering, and moisture damage.
It's mold-resistant – The capping also prevents mold spores from growing. That's a significant help for homeowners who worry about mold growing on their wooden decks.
It's more economical – High prices are one of the reasons why some people are hesitant to buy this material. Composite wood is more expensive than natural wood on the first purchase, but you end up saving on maintenance and washing expenses when you buy it. You ultimately save more if you decide to buy composite wood decking.
It's low-maintenance – Natural wood usually needs regular power-washing and wood staining. You also need to replace the boards every 15 years. Luckily, composite lumber doesn't have this problem.
You don't need to stain or sand these boards, and dirt comes off easily. There's no need to exert much physical effort when cleaning this material.
It's stylish – This building product is durable, but it keeps the beauty of natural wood. The suppliers in Singapore have several composite wood decking tiles that come in different colors and styles.
Sometimes, you can't match durability with beauty on natural wood, as lumber changes appearance based on its hardness rate. With composite, you can get strength and style at the same time.
It's more sustainable than natural wood – Most suppliers in Singapore get their composite wood from recycled material. Scrap wood and plastic are put together to create a super material. It's an excellent example of upcycling made into valuable things.
Wood Plastic Composite Decking Types
You can choose the best type of composite wood that fits your preference. Manufacturers have made more innovations to make this material top-tier.
1. Conventional composite decking
Conventional decking is the typical composite wood you would get from suppliers. It has fantastic qualities, like durability, weather resistance, and beauty.
Conventional composite decking also works best with outdoor patios and balconies.
2. Wrapped composite decking
This decking is a new innovation for the product. There is an extra layer of composite spread around the wood. It adds an additional protective layer, but it also has some downsides.
Wrapped composite decking usually expands and contracts with the changing temperature, and it may become damaged in the long run. This is a massive concern in Singapore, where the temperature changes constantly.
This material has only been in the market for a few years, so some improvements to the material may be developed.
3. Eco composite wood decking
This material has the highest quality for composite wood. It has strict manufacturing standards, and it only uses sustainable processes.
However, if you decide to buy this composite wood, always do some research before finalizing your purchase. It's always best to be sure of what you're buying.
Decking Design Options
One downside to composite wood decking is you can't paint over it. Luckily, suppliers like SG Good Wood have several designs and colors you can choose from. No need to look for paint anymore!
We have several styles for the composite wood decking tiles. Our materials come in shades of brown, gray, gold, and even silver. These are our available color palettes:
The Original Collection
Silver fir
Washed teak
Aged walnut
The Rustic Collection
These tiles also come with different textures to make the flooring look more natural.
Essential Tips When Buying Decking
Remember to do extensive research about your product and the supplier before finalizing your purchase. Here are some tips you must remember when you buy composite wood decking.
Make sure it's heat resistant
Speak with your contractor and make sure your materials don't have too much plastic in them. The more plastic, the less heat resistant it is.
Don't settle for boards that are more than 70% plastic. You may have some problems with this later on.
Make sure the flooring is slip-resistant
Ensure that the decking has been tested to be slip-resistant. This is essential to keep your loved ones safe when the flooring gets rained on.
Choose a trusted contractor
Check how many years of experience your contractors have, and make sure they source their materials from trustworthy places. We at SG Good Wood are one of those trusted contractors you can rely on.
Look for an environmental certification
This certification may not be the most essential requirement, but it's comforting to know that your decking comes from sustainable, recycled materials.
How To Choose The Best Contractor
If you want a high-quality patio or deck, you must find a trustworthy contractor. Our team at SG Good Wood is one of those! Our workers have had at least 10 years mastering their craft and looking forward to giving you the best service.
We also get our materials from trusted sources. You're sure to have high-quality decking boards if you partner with us.
Finally, our salesmen are some of the best in Singapore. They can guide you with all the services we have to offer. We have several deck flooring designs, and we offer other home services.
For fencing, stairs, wall and ceiling cladding, and vinyl flooring, you can approach us. We're always here at your service.
Conclusion
Wood plastic composite is a popular material among homeowners. It's sturdy, but it still keeps the stylish aesthetic of natural wood. Investing in this flooring can save you from future expenses, and you don't have to exert so much effort cleaning it. This material is also sustainable and environmentally friendly.
Choose a trustworthy contractor when you install your wood plastic composite. Look for a company that has years of experience serving happy customers. Also, research the properties of your desired material so you will know what to get.
Our team at SG Good Wood is always ready to give you the best service. Drop by our office or give us a call — we're always prepared to help you!
Contact Us
30 Kallang Pudding Road #04-04
Singapore 349312
+65 8616 2206
By Appointment Only (in line with Covid 19 Movement Restriction Protocol)