Decking comes in many varieties as a flooring option, and you can use it in various places. Chengal decking is the most common type of wood decking used in Singapore. Chengal wood originates from Malaysia, and this proximity with Singapore is one reason why Chengal wood is popularly used in Singapore. The reason for its use is its hardness and durability. It lasts more than any other type of wood. When building a deck, you have to consider what kind of style and design the homeowner is looking for. Sometimes this can be easy because certain design styles seem to repeat themselves year after year, such as the contemporary or contemporary modern look. This post will talk about everything you need to know about Chengal wood decking.
Chengal Wood Decking for Outdoor Planter Box in Singapore
What is Chengal wood?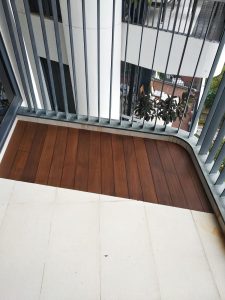 "Knight of Woods", Chengal wood is one of the most valuable and rare types of wood. Chengal trees typically grow in rain forests, which means they need rain throughout the year to survive. Chengal wood is a lightweight and durable hardwood. Chengal has a unique grain pattern, with broad stripes of light coloured sap. Wood has been used for furniture making since ancient times due to its exceptional durability and toughness. It is effortless to work with and machines well without much wear on cutting tools.
Why Chengal Wood?
Probably about half of solid wood outdoor decking in Singapore is made of Chengal wood. Let us explore why Chengal wood is very popular in Singapore as the preferred choice of wood decking and many other wood works.
1. Chengal wood last longer than other natural woods outdoor
Natural wood when dried outdoor for a long time under heavy sunlight and rain is expected to have a high wear and tear. Many solid wood decks made of real wood warps after some time, causing tripping and bleeding on toe hazards. Chengal wood has a very minimum warping rate compared to other solid wood placed outdoor. Chengal wood also maintains its structural form for many years, making it a popular material for any construction work requiring wood support system such as decking, trellis, fencing, etc. However, a few aesthetics issues are still to be expected with Chengal wood, such as minor surface cracks and slight discoloration over time.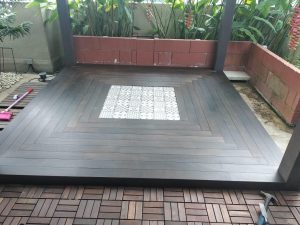 2. Affordable price
Chengal is one of the more affordable woods in Singapore. This is most likely due to the short distance travelled from the origin of wood, which is Malaysia. With a good number of years of durability for outdoor use, this affordability in price makes Chengal wood decking a value-for-money choice for wood decking lovers. It should be noted though that Chengal wood prices keep rising in recent years as the wood is getting scarcer and it is more difficult to get wood in from Malaysia due to some Covid-19 border restrictions.
3. Variety of sizes
Other than wood decking for outdoor, Chengal wood has been used for many other woods works such as fencing and trellis works. This is because Chengal wood is also available in a variety of sizes, including support sizes. Chengal wood in Singapore are usually available in the following sizes:
95 mm x 20 mm Chengal wood
70 mm x 20 mm Chengal wood
95 mm x 95 mm Chengal wood
95 mm x 45 mm Chengal wood
70 mm x 70 mm Chengal wood
70 mm x 45 mm Chengal wood
45 mm x 45 mm Chengal wood
45 mm x 20 mm Chengal wood
With the above many sizes, wood contractors have some flexibility in constructing Chengal wood fencing and trellis.
Chengal Wood Fencing with 95 mm x 20 mm planks, 70 mm x 45 mm planks and 70 mm x 70 mm planks
Chengal Wood Fencing with 95 mm x 20 mm planks, 70 mm x 45 mm planks and 70 mm x 70 mm planks
4. A variety of coloured-varnish applicable
Chengal wood also looks good with several different varnishes. Before exploring the different colours typically used on Chengal wood, let's have a look at the raw colour of Chengal wood.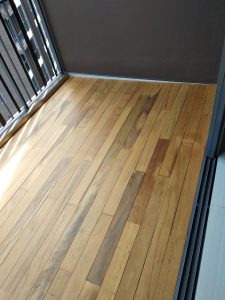 Chengal Wood Decking with Clear (Transparent) Varnish
The above picture shows Chengal wood decking in a clear (transparent) varnish. The raw colour of the Chengal wood is brownish yellow with some dark patches in random spots. While some enjoy the natural look of the Chengal wood decking, some prefer more consistency in terms of colour and therefore a coloured varnish is used.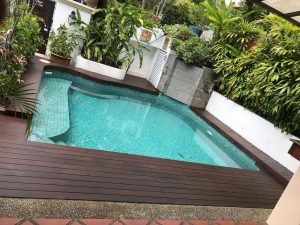 Chengal Wood Decking with Dark Walnut Varnish
The most popular choice of colour for Chengal wood decking is dark walnut colour as above photo. The Chengal wood decking appears reasonably consistent in terms of colour with a certain degree of patchiness, showing the natural aspect of the Chengal wood. Most house owners who select Chengal wood decking for outdoor are satisfied with this choice.
Chengal Wood Decking with Black Varnish
Black varnish is the darkest colour we can apply to Chengal wood. Some owners who like black-varnished Chengal wood decking mention that it looks classy and consistent. The drawback of black varnish is that the natural grain of the Chengal wood is not as visible anymore.
To wrap things up!
Chengal wood is just what you need for your deck if you're looking for a durable material that will last for years to come. There are many benefits to this type of wood, including its durability and strength, so it is ideal for building or renovating a deck. Once you have chosen decking material for your home or office, you will require a professional to install it; we have professionals for you who are just a click away. Visit our website today.