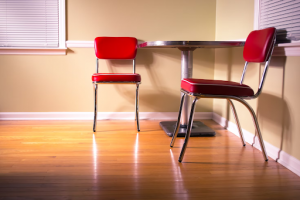 Choosing a type of flooring is one of the most important decisions you have to make when designing a house. It is an integral part of interior design that can make or break your home's aesthetic style.
Most people tend to depreciate the importance of having suitable flooring. Even though an eye-catchy one may seem tempting, remember that durability and affordability matter too.
Vinyl is one of the most in-demand floorings in Singapore. When picking the best vinyl flooring in Singapore, it will be helpful to learn the types under it.
Doing this will help you choose which one is the most appropriate for your home. Keep reading to learn more about vinyl flooring.
What Is Vinyl Flooring?
Photo By: This Old House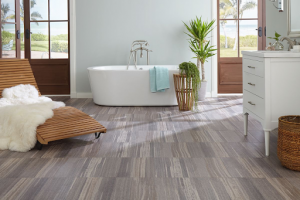 Before we discuss the different types of vinyl flooring, let's first talk about what it is in the first place. Vinyl flooring uses synthetic flooring products such as PVC vinyl, plasticizer, and fiberglass.
It is composed of several layers of various materials that are squeezed together to form a heavy-duty product. These materials make the vinyl flooring durable, inexpensive, and easy to install.
Some people often mistake linoleum flooring for vinyl. The main difference is that linoleum is made from natural products, while vinyl is made from man-made materials.
Thanks to advances made in previous years, most vinyl floorings now come in different styles, colors, and designs. If you're in search of the best vinyl flooring color, you should first look at the big picture.
Don't just choose something from the store because it looks pretty. It would be best if you still thought about your room's size, color, and lighting filters.
Things To Consider Before Buying Vinyl Flooring
If you're thinking about getting vinyl flooring, it would be best to familiarize yourself with the following factors to consider before you order any materials.
The first thing you have to consider is the state of your existing floor. It should be in smooth and good condition with no significant damages.
Installing your vinyl flooring over an old wood floor is not recommended. The flaws and damages on your previous wall will appear beneath the vinyl.
You should also check whether your subfloor is prone to humidity or moisture as it may affect the adhesives. In this case, use an underlayment to ensure protection for you and your vinyl flooring.
As one of the most economical alternatives for flooring, you won't have to worry much about vinyl flooring. Compared to natural hardwood or ceramic flooring, vinyl will save you a great amount of money.
For example, mahogany flooring can cost you up to $14 per square foot. On the other hand, vinyl flooring can range from $2 to $8 per square foot.
Although this will still depend on the shop, room size, and labor fees, it's a lot less than real wood.
From realistically looking wood patterns to abstract ones, vinyl flooring comes in various styles and designs. When choosing one for a room, it's important to pick something that can match what you already have in your home.
There are vinyl floorings that imitate the real wood, stone, and concrete look. If you are more into contemporary designs, there are geometric patterns for that living-in-a-castle vibes.
The bottom line here is that vinyl flooring is versatile, and your choices are pretty much endless. So, have fun and explore your aesthetic tastes!
Another factor you have to consider is how much cleaning you'll have to do to maintain your vinyl flooring's luster. Fortunately for you, vinyl is not that hard to clean.
However, it would be better to keep a cleaning routine to avoid damage, just like all other things. Regularly sweeping and vacuuming the floor should do the trick.
Avoid cleaning your vinyl floor with harsh chemicals. A simple mixture of some warm water and mild soap should be enough.
The government of Singapore initiated a Green Mark certification to encourage people to create a more sustainable and healthier environment. Since some companies make toxic vinyl floorings, a green mark certification will help you rule out those manufacturers.
This certification will also guarantee that the vinyl flooring is clear for indoor air quality. It can prevent those brands that contain emissions from volatile organic compounds.
Advantages Of Using Vinyl Flooring
Do you know that vinyl flooring can be as thick as 8mm? The vinyl's thickness produces a lot of benefits for the homeowners.
The biggest advantage of vinyl flooring is it's completely water-resistant. It means that surface spills and puddles will not affect the vinyl itself.
This makes vinyl the go-to flooring for bathrooms, kitchen, basement, and the like.
However, there's a possibility that water or moisture could still excrete between the layers if you don't correctly install the vinyl. In Good Wood Carpentry, we feature quality service to ensure proper vinyl flooring installation and premium customer service.
Another benefit of using vinyl flooring is that it's easy to install. This is the perfect type of flooring if you like to DIY and make home improvements by yourself.
It will cut down your costs and help improve your self-confidence. Here's a post about the benefits of DIY to learn more.
6 Types Of Vinyl Flooring In Singapore
Photo By: The Spruce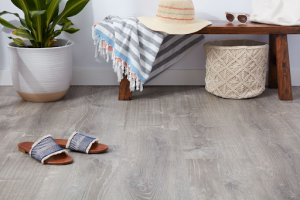 1. Vinyl Planks
The first and the most popular type of vinyl flooring in this list comes in plank form. Vinyl planks typically resemble real hardwood's look and texture, which gives warmth and an inviting feel to the room.
Aside from its classic wood patterns, vinyl planks are so popular because they are easy to install. Most of this type of vinyl comes in "floating" floors.
It is an installation method that does not need to be glued or nailed to the floor. It is similar to fixing a puzzle piece where the vinyl planks lock together to create a tight bond.
2. Vinyl Sheets
When people think about vinyl flooring, they first imagine a big roll of sheets instead of planks or tiles. Vinyl sheets or "vinyl rolls" are the original flooring option for vinyl.
Unlike other types that mimic the usual form of natural flooring, vinyl sheets are made into large and flexible sheets rolled for storage. People mostly use it for basements, clinics, and commercial spaces.
Since vinyl sheets are thinner, they are more affordable and comfortable. However, one downside of this type of flooring is that it requires a professional for proper installation.
3. Vinyl Tiles
The ability of vinyl tiles to resemble the appearance and texture of a natural stone is quite remarkable. Why buy the real deal if you can have an excellent replica that can last possibly more than the original one?
You can install vinyl tiles via the interlocking "floating" floor method. Some companies also make loose lay floors to peel and stick it to the floor.
Since vinyl tiles come in many different colors and patterns, you might get confused about the best vinyl flooring tiles to buy. Remember to always consider the style of your room to decide on which design will match your tastes.
Take a look at this article to discover some great brands for vinyl tiles to get started.
4. Soundproof Vinyl Flooring
Do you ever get annoyed by loud footsteps or tons of foot traffic? A soundproof vinyl flooring may solve this dilemma.
Although it won't necessarily cut off all sounds, this vinyl flooring can significantly reduce noise. This type of flooring is recommended for commercial places and other common areas where reduced noise will be helpful.
There are two options to soundproof your flooring. The first is the acoustic underlayment composed of foam and recycled fiber to cushion and absorb sound.
The next one is floor insulation. It is suitable for cases that need a new subfloor where it is applied beneath the pre-existing floor that also does an excellent job in muffling noise.
5. Printed And Inlaid Vinyl Flooring
If you like customizing and making stuff on your own, then you'd like this printed vinyl flooring. With the newest technology, you can now design your personalized flooring using vinyl sheets.
The difference between printed and inlaid flooring lies in their production process. In printed vinyl, a thin sheet of patterned paper is laid on top of the topmost layer of the vinyl.
On the other hand, inlaid flooring is much more detailed because it uses the help of granules to achieve the finest texture and printing quality. Even though this is costlier than printed vinyl, the granules make a more durable vinyl sheet.
6. Luxury Vinyl Flooring
As stated in the name, the luxury vinyl flooring is for people who don't mind spending a little more money. This type of flooring can cost you $2.50 to $5.00 per plank.
The luxury vinyl flooring is manufactured for both strength and style. It is composed of several layers to ensure optimal quality and precision.
Luxury vinyl flooring comes in two options — tile and plank. There's not much distinction between the two, except for the shape.
Just like with all other types of vinyl flooring, the LVT and LVP are both easy to clean. Make sure to clean regularly and wipe down spills of any kind immediately.
How To Take Care Of Vinyl Flooring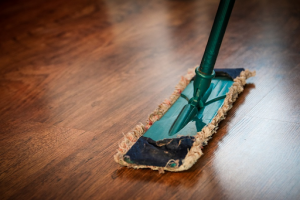 Cleaning vinyl flooring is pretty much straightforward. Even though vinyl is easy to clean, it's still important to remember to do it daily to avoid dirt build-ups or fungal growth.
You may start by making a regular cleaning schedule. It would be best to sweep the floor using a broom or remove dust with a vacuum at least once a day.
You may also wipe or mop the floor once a week to keep your vinyl looking new and pretty every day. Use a damp mop or cloth with a mixture of warm water and some mild detergent.
For more stubborn stains and scuff, you may treat them with clean water and soap. Use a sponge to clean the outside of the stain towards the center gently.
It's important to note here that you should avoid drenching your vinyl. Even though it's water-resistant, too much water may make its way into the cracks and ruin the adhesive under your vinyl.
Price Range Of Vinyl Flooring
The price range of vinyl flooring will depend on many things, but it will most likely hang on which type you wish to use. To give you a heads up, the price of vinyl flooring can range from $2 to $8 per square foot.
It will also depend on the location because it will answer how many you'll need. Remember that the bigger the room, the more sheets or tiles you must buy, which means your total cost could also increase.
Another thing that could affect the price of your vinyl flooring is labor fees. If you want your old floorings removed or any extra work, expect that there will also be additional costs.
Finishes To Use For Vinyl Flooring
A floor finisher will help decide the final look of your vinyl flooring. Here are the top three finishes you can use to complete the look with a bang.
This type of finish is the lightest one among the others on this list. The manufacturers apply a no-wax finish to vinyl floors with light polyurethane, giving it that classic glossy look.
We recommend using it for people living alone or places with minimal foot traffic and exposure to dirt or water.
Unlike the first product, the urethane finish can handle moderate foot traffic and is an excellent alternative to the acrylic floor coating. It will give your vinyl flooring a clear finish with richness and intensity.
It can also provide more resistance to scratching made by pets or furniture. You won't have to worry about how hard cleaning can be because it's pretty low-maintenance.
As stated in the name, this is just like the previous one, but much better. An enhanced urethane finish can protect the vinyl flooring from heavier foot traffic, dirt, and stain.
Out of all three, this one is the easiest to clean. You will also don't need to constantly take care of it because it can keep its glossiness to last long.
Vinyl Flooring Installation Tips
Photo By: Forbes
As mentioned earlier, vinyl flooring is easy to work with. Even if you're not confident with your DIY skills, rest assured that you can do great with installing this.
To ensure that the flooring installation will go smoothly, you must check the state of the floor you wish to put vinyl on. The surface should be smooth and free from imperfections such as bumps or indentations.
Even though vinyl is thick, these imperfections can still show through your flooring. Thus, it will ruin the vinyl and the project's overall look.
Most manufacturers don't recommend putting new vinyl over the old ones. As much work as removing previous vinyl flooring can be, it would be better if you do it to ensure smoothness and better foot traffic.
Possible Health Effects Of Vinyl Flooring
Photo By: Armstrong Flooring
You've probably heard that vinyl flooring can cause possible health effects. It's essential to address these things, so consumers will know what they're getting themselves into.
There are indeed some effects of vinyl flooring on human health. However, it's important to mention here that sometimes the manufacturers that make it are to blame.
Vinyl flooring is composed of PVC or polyvinyl chloride. It is a compound that contains toxic additives such as phthalates, lead, and cadmium.
These toxic chemicals can evaporate into the air over time. Once evaporated, it can affect children's brain development and hormone functioning.
That's why you have to carefully pick what brand of vinyl flooring is the best to prevent this from happening to your family. Do you know that there are now companies that make non-toxic vinyl flooring?
When buying vinyl flooring, ensure to buy from a trusted manufacturer that offers safe products. It would be better to ask a professional for advice on which brands are safe to buy.
Conclusion
Vinyl is a popular flooring option in Singapore. Due to its strength and versatility, many homeowners are now switching to vinyl flooring.
Now that you have our list of the best vinyl flooring in Singapore, we invite you to check out Good Wood Carpentry to learn about our flooring services. We offer professional wood installers with years of experience to ensure that your flooring installation will go smoothly.
Remember that you should first look for an air quality certification when buying vinyl flooring. The seal will tell you that the product complied with health and safety regulations for air emissions of VOCs.
It will help if you do your research about the brands you're eyeing on. It's vital to buy from manufacturers that make non-toxic vinyl flooring to ensure safety for you and your family.
Contact Us
30 Kallang Pudding Road #04-04
Singapore 349312
+65 8616 2206
By Appointment Only (in line with Covid 19 Movement Restriction Protocol)