Bay windows are not very common in Singapore's private and public housing. However, this should not stop you from realizing your dreams of having the grandest (or cosiest) bay window that suits your lifestyle.
Although not commonly seen, bay windows are still a popular concept in Singapore because they add and enhance a room's personality. Aside from the aesthetic elements, it is also a good way to invite the natural light in, improve ventilation, and allow additional space in your home.
Below, we will discuss what a bay window is, including its types, some fantastic bay window ideas on where to put it, and how to improve the looks and functionality of your chosen design.
What Is A Bay Window?
Bay windows or picture windows are spaces that usually consist of three windows — wherein the two windows that angle beyond the walls of a room flank the central window on each side. This type of structure puts the "bay" in the bay window.
The bay window becomes a bow when the structure has four or more connected windows that form a curve rather than stiff angles.
Bay windows add style to any room, especially if situated on a side with a marvellous view outside. Not only does it make a statement inside a room, but it also adds a defining character to a building's exterior.
Types Of Bay Windows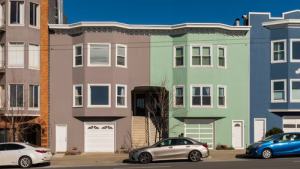 Although it has been a fairly long time since bay windows first existed, that doesn't mean they have undergone such drastic architectural changes. They were grand even then, and yet surely, there are many things you can do to "up" your bay window game.
However, before you start thinking about bay window ideas, it is best to understand what type of bay window fits your room and your taste. Generally, there are four different types:
1. Box Bay Window
Box Bay windows are similar to the typical bay window, except that its flanking windows are placed at a 90-degree angle. Instead of the usual angular shape on either side of a canted bay window, the box bay window forms the shape of a box, making it perfect for houses with dominant, sharp lines in its architectural design.
2. Canted Bay Windows
Canted bay windows, as mentioned above, are your typical bay windows. It has a flat front and angled flanking windows. They are usually found on a structure's first level and are great for homeowners who have a single-family home with a great view outside.
3. Circle Bay Windows
Although less common, circle bay windows are very distinct from other types of bay windows. It consists of bigger glass panes on the bay's three sides and another set of additional panes right above these three. Due to their circular nature, circle bay windows usually feature a more intricate detailing design.
4. Oriel Windows
First popularized during the English Renaissance era, oriel bay windows are probably the oldest type. What differentiates this from canted bay windows is that they can be built on any side of a structure but do not reach the ground, making it possible for any building level to have a bay window.
These windows usually have a corbel or a decorative bracket of some sort, whether wood, masonry, or stone, underneath for support.
Where To Put Bay Windows in Your Home
Truth be told, the answer is up to you. Anywhere with extra space you want to maximize will do — especially if it comes with a promising view. To help you decide, below are possible locations where you can put bay windows in your home.
In The Living Room
The living room is the typical area where bay windows are usually situated, and it's for a very good reason! It can be a place where any magic can happen. Imagine having that beautiful view outside while getting comfortable on your little nook or having a blast at that extra space that your bay window can provide!
If you build a bay window in the living room, there are many things you can do to make it functional. For starters, it can be a simple lounge area to put a good old sofa, or a built-in banquette seating to entertain guests. Add a wine cart or a coffee table, and your house party is good to go!
It can also be a cosy corner for a reading nook if you are the type to spend your weekends reading indoors. Do you have a musical prodigy at home? Perhaps there's a spot for that grand piano if it fits or other musical instruments that are too pretty to keep inside a trunk.
In The Dining Area
A bay window in the dining area also sounds like a good idea. Again, the banquette seating will allow extra seating if your guests don't fit the table.
Complete with a beautiful, refreshing view of the outdoors, your guests surely won't complain about any serving delay since there is a great "picture" to look at. This especially works if your dining area faces a garden or the woods beyond.
Building a bay window in the dining area also works magnificently on smaller dining spaces because it allows the full use of a dining table with chairs on all four sides. It also invites a natural light source that can energize your family, especially during the morning.
In The Kitchen
A bay window can serve as a breakfast nook in your kitchen space. Aside from banquets, a round table would fit the bill, especially if you like to have a circle bay window instead of the more traditional one. What better way is there to eat breakfast than to have the sunlight streaming in, right?
If you decide that your dining area is enough for you and there is no need for a breakfast nook, you can instead transform your kitchen bay window into a herb garden — whether you keep your herbs inside or outside, it is up to you! Since light is plentiful when there is a bay window, it will be perfect for you to grow your fresh herbs, making them more accessible when cooking.
In The Bathroom
You might be thinking, "why would I want such a large window in my bathroom? What about my privacy?" Well, if your dream is to have a lavish, grand bathroom fit for royalty, then a bay window will give you just that.
Imagine putting your bathtub — or even better, a jacuzzi — where you can have a full view of your garden or courtyard. Just make sure to install some blinds to keep your privacy when it's time to get up from your relaxing bath, and you're good to go.
If you want, you can have a bay window sitting area where you can put on your skincare before stepping out.
In The Bedroom
Your bedroom can also benefit from a bay window. It can serve many functions, one of which is a comfortable seating or private reading nook where you can spend your relaxing hours away from the hustle-bustle of your house.
Whether you add a grounded or a hanging chair, or even a built-in sitting with extra storage spaces below, you can design your private nook however you want.
You can also make your bay window your bed's headboard instead. This will fit, especially if you have a box bay window. Imagine the beautiful changing sky background you will have, waking you up with natural light every morning and lulling you to sleep with the moon and stars at night.
Anywhere, Really!
If your house has other rooms besides the ones we suggested you place your bay window in, then consider putting a bay window in one or two of these.
For instance, if you have a private office at your house, or you need working space, a bay window will be a good place to put your desk in and start working. The natural light coming from it provides an excellent source of energy that will keep you awake for optimum productivity.
How To Upgrade Your Bay Window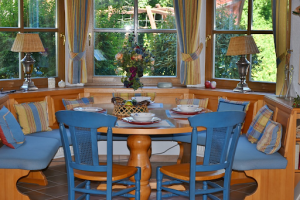 Simply speaking, you don't actually have to put anything on your bay window if you don't feel like it. If your window panes match your interior and the place where you put it holds the best view available, your bay window can most likely stand on its own as a statement fixture.
However, not many of us can resist leaving a bay window space alone, especially if you need additional space for functional and aesthetic purposes.
To start, make sure that the walls and the ceiling surrounding your bay window has wallpaper or a paint colour that you like and matches well with the aesthetic you are going for. Since it's a window we are talking about, a curtain or blinds should typically go with it. Some bay windows have pre-installed seats that come with the building of it, but if yours don't, you can easily integrate that idea, too.
Below are some other suggestions you can consider when planning to up your bay window design in Singapore.
1. Install Curtains or Blinds
Choosing the perfect curtain for your bay window might be tricky, but it all depends on the purpose and ambience you have in mind. For instance, blinds are good for privacy, as are dark-hued and heavy curtains. The latter is especially necessary if your bay window is in the bedroom because it will prepare your body for a relaxing sleep.
A sheer curtain is nice for bay windows on other parts of the house where your purpose is to create a comfortable and intimate environment. Of course, you can't always show the excellent view in a full display, or you might easily get tired of it, so curtains are nice pieces to shift the attention somewhere else inside the room.
2. Build Some Storage Space
Bay windows bring wonders for your storage problem. Smart ways of storing things are a must, especially now that housing units are shrinking in size over the years.
The seating can double in function as a storage space for things you don't frequently reach for. For example, it can be the place where your extra throw pillowcases and blankets go. If there are extra negative spaces on the sides of your bay window, these can also be installed with shelving for your other stuff like collectibles or other decorative items.
3. Hang A Chair!
What better wait to scream "cosy" and "playful" than installing hanging chairs instead of your typical grounded ones? Since there are many types of hanging chairs, here are some ideas.
A hammock is perfect for a boho vibe. It also does not use much space, especially if there isn't anyone sitting on it for a good part of the day. Pair it up with a beautiful, fine rug of your choice and some plants around, and you'll be sure to create a breath-taking space!
If you fancy another type of hanging chair, a bubble chair might do the job. Opt for a bubble chair with a transparent design to avoid blocking the light coming in through the bay window. Put some lovely throw pillows and maybe hang a blanket or two.
4. Build It Somewhere With A Great View
Singapore has plenty of great views, especially if you live in a high-rise apartment. Make sure you take advantage of it to create a really good "picture" window.
If you live somewhere close to any Singaporean bodies of water, then the bay window would surely make a stunning view perfect for a beach-themed or rustic-themed home. Make sure that if you want to place a table seating in this space, the table should be at the same level as the bottom of the window ledge to not obstruct the view.
If you have a larger space than most apartments and don't want to waste it by having the sofa face the other side, consider moving it to the center of the room and adding additional seats on its back facing the window.
5. Turn It Into A Reading Nook
Yes, we mentioned it many times, but really, bay windows are perfect for reading! Sometimes, you can get so lost in what you're reading that you barely have time to register what time it already is. By reading beside a bay window, the light coming from the outside would notify you if it's already late and you have to start preparing for bed.
You can transform a built-in window seat into a small home library where you can simply reach down and grab a new book once you have finished what you were reading. If your bay window does not already have a seat, you can consider placing a floor sofa to make the reading experience even more comfortable and laid back.
6. Get Some Plants
If you are a plant enthusiast, having a bay window would make your indoor plants happy if they are the type to need indirect light for a couple of hours a day. Luscious green floor plants are one thing, but you know what can spice the space up? Hanging plants!
Consider getting plant shelves if you can't get enough of your greeneries and want them in full display. With any setup you may want for your bay window area, whether a working space or simply a lounging space, plants are sure to make the place prettier and a delight to be in.
7. Make It A Home For Your Pets
If you are a fur parent, then the storage in your bay window seating are perfect places to store your pets' things — even their bed!
If you are interested in keeping your fur baby's bed under the bay window seating, make sure it's an open storage space. Talk about a room of their own!
For storing their other stuff like food stock, toys, and grooming tools, closed sliding shelves would be nice. Consider painting the seating storage in bold colours to make it even more playful.
8. Transform It To Fit Your Lifestyle
People of any kind of lifestyle can transform their bay window area to accommodate the kind of life they are living. Here are some examples.
For families with kids, the space can serve as a play area. Get some storage space in there and put the kids' toys in baskets so everything can have its place. Line up the floor with a foam mat and make sure there are no sharp edges to the storage shelves to ensure your babies are safe.
For fitness enthusiasts, a piece of workout equipment or two can fit in your bay window nook. Depending on how big it is, it can serve as storage or even the very space where you do your daily workout.
Artists, particularly those who work with paints and canvas, can set up their easel facing the bay window. Set up a movable cart for your art supplies and get inspired with the fantastic, ever-changing view outside.
9. Turn It Into A Platform Bay Window
If you want the illusion of more space on an even grander scale, you may perhaps consider upgrading your bay window with this idea. Install a raised or elevated platform by your bay window that is large enough to accommodate a seating area or more.
The subtle floor elevation gives a feeling of a bigger space. It also adds a luxurious, fine touch to your interior design.
If you think this will be perfect for your bedroom instead, then you can place your bed on the raised platform, thus creating an illusion that there is still a separate space between your sleeping space and workspace.
Conclusion
We've given you more than a fair share of ideas your bay window project can probably handle. Realize your dream of making such a luxurious addition to your home, and let us help you with it!
Contact Us
30 Kallang Pudding Road #04-04
Singapore 349312
+65 8616 2206
By Appointment Only (in line with Covid 19 Movement Restriction Protocol)