Houses in Singapore often comes with a balcony and therefore many house owners consider what to do with the balcony flooring. One of the alternatives for outdoor balcony flooring is to do wood decking and there has been a growing demand for balcony wood decking in recent times.
There are generally two types of balcony flooring: the flat ones and the planter box.
Flat Balcony – Balcony Wood Decking
The flat level balconies are more common in Singapore. Since the base balcony floor is levelled, it is also simpler and easier to lay wood decking on the balcony floor.
Aluminium support or wood support is glued down directly on the balcony tile. The top decking planks are then installed onto the support.
Wood decking on a balcony will give a newly refreshed and natural look on your balcony flooring.
Planter Box Decking – Balcony Wood Decking
Below is an image of a planter box. Many balcony floorings in Singapore comes with this planter box, which may potentially cause tripping hazards particularly for kids and elderlies. Of all the choices one can explore to fill up these balcony planter boxes, wood decking is one of the more popular choices. Every month we always have enquiries to cover such a planter box with wood decking for balcony.
To construct a strong balcony wood flooring over this planter box, there needs to be a proper decking support system and legs.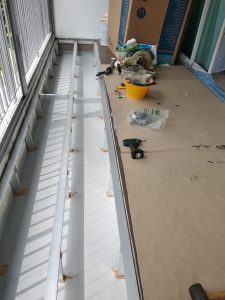 The decking support system can be in the form of aluminium support or wood support, depending on your decking choice for your balcony wood decking. After the support has been installed, the top wood planks are installed onto the support.
Once the planter box decking is completed, the entire balcony floor is levelled. There is no more tripping hazards after this. This is one reason why balcony wood decking is popular particularly among condominium owners in Singapore.
Are you interested in the installation of outdoor decking for your patio, balcony, backyard or patio? SG Goodwood is the right balcony decking contractor for you with a good reputation for decking and wood flooring installation.
Contact Us
30 Kallang Pudding Road #04-04
Singapore 349312
+65 8616 2206
By Appointment Only (in line with Covid 19 Movement Restriction Protocol)