Balcony decks are generally the focal points of residential houses, which means it is crucial to ensure their long-term viability and attractiveness. Selecting the best balcony timber type for the project is a must for long-term satisfaction and low maintenance costs.
The ideal balcony timber decking can survive the effects of time and exposure to the sun and rain. It should be something that can last you at least ten years and above without experiencing sudden deterioration. If you invest in balcony timber, choosing beautiful textures resistant to decay and insects is best.
What Is The Purpose Of A Balcony?
A balcony is a deck that extends forth from a house's exterior wall. It allows ease of access from bedrooms and living areas by placing it over a window or set of patio doors. Depending on the size, balconies can accommodate a single chair and a side table or many seats and a larger table.
A balcony enhances the appearance of a home. It also provides an excellent view of the outside world and is a lovely addition to your home's decor.
Although, most balconies have no protection from the elements at all. As a result, the balcony flooring often bears the burden of immediate changes in weather. Because of this, it's critical that the balcony timber decking is in an excellent state before a person utilizes it daily.
What Is The Use Of Your Balcony?
It's critical to think about the deck's intended use before making any decisions.
How many people will be using the deck, and how many deckchairs do you need? How big is the table, if there's one, and how many people will be dining there? Or is it possible that the balcony will serve as a gathering place for many people?
Balcony Flooring Options You Have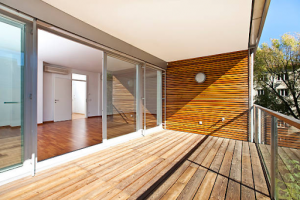 Cement
The floor of a cement balcony usually comes from the same material. When coated and handled the right way, cement may look fantastic for decades. You can repaint concrete flooring to suit the home's appearance, or you can leave it unpainted.
Wood
It is common for balcony timber to have the floor made of the same wood as deck planks. You might construct the balcony ground from coated or polished large wood planks. If you're painting a balcony timber decking, remember that you need to paint it from both top and bottom to preserve the wood.
It's also good to search for balcony timber design in Singapore to add more elements.
Composite Decking
You can use the same deck flooring on both the balcony and the house. Wood fibers and plastic polymers make up composite decking solutions.
Compared to wood, composite boards need less attention and painting since you don't need to maintain them. If you're looking for a low-maintenance option, they might be a good option for you.
Vinyl 
Balcony flooring can also benefit from vinyl patio tiles. You can also install vinyl tiles over an existing balcony floor or replace them with a modern one since they snap together.
Vinyl tiles come in various wood grain and pattern options, and you may put them in many ways. Vinyl deck tiles are an excellent choice for a balcony floor if you have a lot of foot traffic.
It also applies if you would like to bring extra visual appeal to the surface and want a minimal option.
How To Choose Your Material
Remember that your balcony should blend in with most of your outdoor living space. It should work no matter what material you pick for the flooring.
You may take inspiration from other parts of your home — such as the outside decks, gardens, and front passageways — to help you choose the right one. If you select wood, consider looking for balcony timber ideas on online sites or ask your construction for help.
A new balcony flooring may transform your outdoor space into a peaceful retreat. It can also give a stylish addition to your house.
What Is Timber Decking?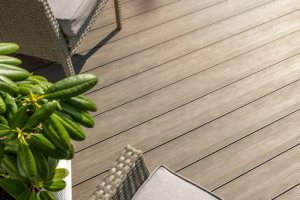 Timber decking is a new way of doing things, and it's taking over from more typical concrete decks and patios. The concept of a balcony garden is a recurring topic in modern landscape design. Balcony timber decking is an excellent method to bring the inside of a building outside and make it more usable.
Balcony timber is quite adaptable, and you may use it for various purposes. It includes entertaining, eating, and simply relaxing with friends and family. If you plan to create your balcony timber design in Singapore, you can be sure that it is one of the most appealing additions to a home.
Timber decking is a better option for landscaping buildings because of its advantages:
Allows you to walk, sit, and even lie comfortably on it
In conjunction with your yard and environment, it has a strong visual appeal
The inspection covers and drainage, and you can hide them to make them less noticeable
It is pretty flexible that you can extend or adjust
It also blends the natural beauty of wood with a practical and pleasurable design, allowing you to make use of your outside area year-round.
Why Choose Timber For Balcony?
When it comes to building a long-lasting deck, selecting the appropriate material is essential. Consider the advantages and disadvantages of wood.
Natural finish
You may find a wide range of quality in balcony timber. Homeowners may prefer the original appeal of hardwood flooring because of its natural elements.
Comfortable in any weather
Even on the warmest days, balcony timber decking is more comfortable to walk on than synthetic decks. It is because of their natural ability to absorb heat. Those who live in hot climates or places with sunshine will find that wood decks are the best choices.
Easy maintenance
Maintaining wood decking is essential for preventing rot, aging, and staining. Although balcony timber decking requires more care and maintenance from owners than synthetic alternatives, they are usually part of your daily routine. Sealing only comes once or twice a year to preserve the deck from water penetration and preserve its look.
Sustainable
It's also a sustainable material since you can repurpose and recycle it again and again. You can take your balcony timber when you move to a new home.
It contributes to environmental conservation while also saving money in the long term.
10 Balcony Timber Decking Ideas
1. Make it like a dining area
In terms of outdoor flooring, a balcony timber decking is ideal. It's a breeze to maintain because of its weather resistance. This means that you can bring your friends over for a social gathering and not stress about spillages.
2. Extension 
If you have a reduced yard or patio area, now is the time to create a balcony. To get the most out of your design, it's a good idea to incorporate high-end function flooring like balcony timber right from the start.
Choose a color and spectrum that complements your current designs to blend your interior and outdoor spaces. Make your internal area appear larger by drawing the attention outside.
Consider looking for balcony timber design in Singapore for other extension ideas.
3. Build a new deck
Add a balcony to your new house design if you're bold enough to take on the challenge of self-construction. There is a simple option at the beginning when planning balcony timber ideas — whether you want your balcony linked to the exterior of the building or integrated within the home.
More people prefer the cost-effective one, although both can produce a better outcome.
4. Incorporate lights
Lighting up your balcony timber decking area is a simple way to brighten up your home's exterior. Using bright lights or wall lights, you may create a cheery atmosphere outside. Adding to that, balcony timber decking lights allow you to enjoy your outside environment.
There are several types of energy-efficient LED lights that you can place yourself. Set a few into the edge of your deck or along the floorboards. It will give a classy look and modernity to any deck.
5. Personalize with plants and decorative pillows
Artificial climbing plants, pillows, and wood furniture all come together to create a vibrant outdoor space.
There are potential health benefits for indoor and outdoor plants, but the development of these may conflict with our intentions for a deck. You may have the look of a landscape makeover even if you don't have any greenery.
However, you can also add natural plants if you prefer. You may transform your balcony timber into an outdoor haven with the addition of colorful hanging baskets and plant arrangements..
6. Place a centerpiece rug
Year after year, transforming styles of rugs is an affordable way to stay on top of the current trends. Choose a balcony timber decking color that is both fashionable and neutral, and then add a beautiful rug to complete the look.
Add a few throw pillows on your rug or pair them with a wooden or golden chair to blend the look.
7. Install glass windows
A magnificent addition to any balcony design is a frameless glass panel. Windows are visually striking elements that can blend into any interior. They appear practically undetectable from a distance, but they look unfiltered when viewed inside.
8. Set up a relaxing area to enjoy the view
To get the most out of your outdoor living area, you need a place to relax. This balcony timber design in Singapore is ideal for houses with a beautiful view of mountains or the city. Your balcony should be at least a few meters wide so that you can fit a small table and seats there.
9. Create a reading area
The sound of birdsong, the sight of greenery, and a cup of tea in a secluded spot might make it the perfect place to relax and read a book. Enhance this peacefulness by painting your balcony timber decking with white decors. Aside from lending an appearance of artistry, the white deck chairs in this design also give it a seaside and beachy feel.
10. Be colorful
In the same way, dark interior walls are good since bright balcony timber is also a popular design choice. Using one of our favorite deck paints, you may get this appearance by staining or painting existing wood.
Colorful pillows, a colorful table runner, and eye-catching tableware and glasses are all that's needed to brighten up a dreary deck.
How To Prevent Balcony Collapse?
Regularly check the timber structure for symptoms of degradation
A visual check of your balcony timber decking will reveal the truth most of the time.
The most likely degradation type is dark-colored rot, brown, and cube shaped. The patterns in the wood might resemble those of broken bricks. Using a rubber mallet to pound on the material might also reveal signs of degradation.
Good wood gives a powerful sound, but rotten wood sounds hollow. Test the wood with a flat-head screwdriver to see whether any rotting wood can be readily extracted. It is essential to know if the degradation is minor or more extensive.
Check how much degradation is occurring if you notice the balcony timber weakening. You can collect the flakes by drilling a tiny hole. A moldy smell and crumbly shavings are signs that the wood is deteriorating. If the top is firm, the wood rotates, and the pressure needed to drill through it is lower.
Replacement is necessary if it's soft all the way through. Until you remove everything, no one should be able to use it. If you have any worries about the structure, you should seek the advice of an expert.
Apply preservatives to control and prevent additional decay
This is the best choice if the damage is just visible. Balcony timber preservative chemicals can help keep wood from decaying and rotting away when used appropriately. However, they won't repair the timber's structural integrity.
You can use solutions (like timber preserve) on a balcony showing signs of surface rot. As long as you use it appropriately, it will help prolong the construction's life. It's a reasonable investment, and it provides you with peace of mind as well.
Bring in a certified builder to replace balcony timber
To put it another way, this is the most critical point to make. If the degradation in pillars, supports, or the floorboards is too significant, then the structure's integrity has been compromised. You can't repair rotten wood, so you'll have to replace it.
You should call a construction inspector or qualified builder right away for your balcony timber decking if you have any doubts about the severity of the issue.
Schedule maintenance
Biological activity and exposure to weather changes will potentially cause timber to decay over time. Even after you've completed all of the tasks mentioned earlier, you should still do routine inspections for your balcony.
What's The Best Way To Build A Wooden Balcony?
The design concept of the balcony is the most crucial step in deciding whether or not to install a balcony timber decking in your home. As a result, it is essential to keep accurate records of the dimensions and supplies needed for the project.
It's important to remember that the best balcony timber is the one that can withstand the stress of standing up to potentially damaging factors. Handrail height, floor joist spacing, and baluster spacing are critical components of the wooden balcony's design.
Complete all your supplies and materials
After you've finished designing the balcony timber, you'll need to buy the resources you'll need to build it. To create your deck safely, you'll need an excellent wood saw.
Be careful to cut the floor joists and ledger to the correct dimensions before starting the project on your wooden balcony. Lag bolts with a diameter of six inches work well for securing the log.
You must cautiously fit the joist hangers to set in their location correctly. For safety reasons, make sure to inspect every component, particularly the joist spacing.
Install your subfloor, constructed of wood or plywood, with care. You should firmly fasten it to the joists when installing. This stage involves putting together the corner structure for the handrails installed in the future. It will help if you also anchor them to the subfloor.
Connect the handrails to the posts around your wooden balcony in a manner that makes them simple to grab, keeping them secured to the frames.
Conclusion
Are you looking for a balcony timber design in Singapore? Consider the services of Good Wood Carpentry! We offer expertise and high-end solutions such as wood installation.
We strongly advise investing in high-quality materials for balcony timber and hiring a reputable contractor. Contact us today and see our work firsthand!
Contact Us
30 Kallang Pudding Road #04-04
Singapore 349312
+65 8616 2206
By Appointment Only (in line with Covid 19 Movement Restriction Protocol)