Nothing is better than spending a quiet time at your balcony after a long day at work and watching the stars appear in the sky after a beautiful sunset. That sounds amazing, right? If you want to make that happen, you should start thinking about revamping your balcony decking in Singapore.
Aside from the illusion of extravagance it gives, there are numerous advantages it also comes with. Some people might see this option as intimidating in terms of cost, maintenance, and durability, but we will tackle more of that deep into the article.
If you are interested in knowing more about this, keep reading.
What Is Balcony Decking?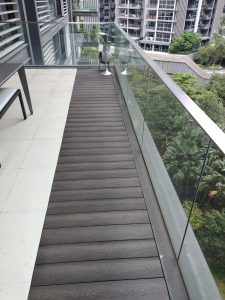 Balcony decking is a way of putting outdoor flooring on your balconies. It gives the area a distinct charm, depending on what material you install. It is also usually a part of outdoor renovations, where you can add furniture, plants, and other recreational items that complements the balcony decking design.
The good thing about balconies is that it serves as a private space where you can choose to make them for entertainment, extended living rooms, quiet areas, and other possible purposes. It is a versatile expansion, and adding beautiful decking can give it the vibe you desire.
Things to Consider When Choosing a Balcony Decking Material
Balcony decking in Singapore comes in either solid wood material or composite wood material. We shall explore both options from the typical list of consideration factors to choose which balcony decking to do.
1. Weather Resistance
As balcony decking is an outdoor space, the material used for balcony decking should be one that can withstand outdoor weather. Not all wood is suitable for outdoor. In Singapore, solid wood that can withstand outdoor weather is usually chengal wood, balau wood and iron wood. This does not necessarily mean that there will not be wear and tear. Wear and tear for solid wood decking for outdoor balcony usually comes in the form of non-hazardous aesthetic issues such as minor surface cracks and discoloration over time. It should be noted that the more sheltered the balcony decking is, the longer the wood decking will maintain its fresh form. Should you encounter any of the mentioned issues, you can minimize the issues by sanding and varnish the balcony decking again.
If you are choosing composite wood decking, you should find composite wood that is solid, not hollow. Solid composite wood tends to be more stable for outdoor use.
2. Shelter
For unsheltered area, we always recommend composite wood decking because its wear and tear is much lower than solid wood decking. If the balcony decking is sheltered, all wood decking options are fine.
3. Size
If your balcony decking is a big area, you may want to consider composite wood decking for practicality reason. General rule is that the bigger the area is, the more chance of wear and tear issues popping up at different parts of the balcony decking. As such, composite wood decking would be a better choice for your balcony decking of your area is large.
4. Beauty
Beauty can be a subjective matter so we should explore what beauty both solid wood decking and composite wood decking for balcony can offer. Solid wood balcony decking offers beauty that is very natural-looking, with the natural wood grains and the tonality of the wood. Some patchiness in colour is to be expected with solid wood balcony decking. For those who prefer the balcony decking to be as natural as it can be, solid wood decking like chengal decking or teak decking are the choice.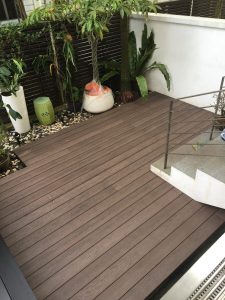 Comparison between Solid Wood Decking (Top) and Composite Wood Decking (Bottom)
Composite wood decking offers a different kind of beauty. While the colour and wood grains may not look so natural, every plank of composite wood balcony decking is very similar to one another. With this consistency in colour and tonality, some prefer composite wood decking to be their balcony decking.
5. Maintenance
The drawback of solid wood balcony decking is that it requires some maintenance after some time. Depending on usage and how exposed the balcony decking is to sunlight and rain, the wear and tear may be fast or slow. For hassle-free choice, composite wood decking is recommended. Composite wood decking also comes with aluminium support, instead of wood support for solid wood decking. Aluminium support is very resistant to rotting and will maintain its structure and strength for the longest time.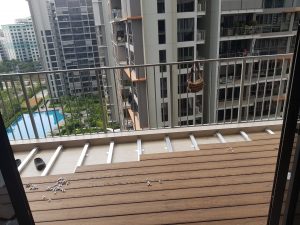 Composite Wood Balcony Decking with Aluminium Support
Conclusion
That is all there is to know about the balcony decking in Singapore. If you are still hesitating whether this renovation project will be worth it, come and talk to us. Whatever ambiance and vibe you want to achieve, there is a good decking material for that.