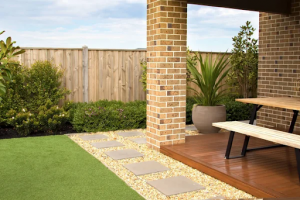 Are you looking for a way or method to improve the look of your home? Are you thinking about grass but don't have the time to take on the burden of maintaining it? Here's why artificial grass is the best choice for you.
Advantages of Artificial Grass

1. The Perfect Fit For Any Space
One of the important benefits of artificial grass carpets is that they can be incorporated into any space. Contrary to natural grass, which can look messy even in small areas, artificial grass can be cut to fit small and big areas.
Artificial grass from us is perfect for your house regardless of the size of your space.
If you live in an apartment and are looking to enjoy an easy and relaxing experience outdoors, artificial grass is a great option to bring some green to your outdoor space and create a pleasant outdoor space.
2. Artificial Grass is Stylish 
Synthetic grass is pliable; you can alter your grass's appearance to fit your preferences for design.
Perhaps you'd like a three-tone lawn carpet in your garden, or you're looking for patterns in your lawn to use in your indoor space. The possibilities are endless when you have artificial grass!
You can also choose from various artificial grass, each with a different size, color and texture.
It is easy to update your design to fit your Present Style.
Let's say that it's been two years since you've had enough of the cut grass look in your yard, and you've recently been interested in making your house appear more exotic and would like to alter your lawn to reflect that look.
Natural grass could require you to call a landscaper. Get your garden weeded and dug, and then the soil reseeded; that could be a long but messy procedure.
However, all you need to do to replace your grass artificially is contact SG Goodwood by phone call/email or fill up the form from our website, and we'll change your lawn in just a week. Clean and tidy.
Do not buy synthetic grass of low quality which could put your family and you in danger. 
3. Installation And Delivery Are Simple
We handle all the installation and delivery for you. After completing your order, we'll deliver our carpet made of artificial grass to your door. You don't need to worry about self-service pickup and to pack your purchases into cars; you just need to sit and wait for the delivery to arrive!
Installation is easy thanks to our experienced team, which ensures the artificial grass is cut precisely to the millimeter to suit the dimensions of your office, home or business space. We provide that our artificial grass is set up seamlessly without any sagging edges or uneven areas on your flooring.
4. Artificial Grass Needs Less Maintenance
The most significant benefit of opting to go with synthetic grass is the fact that they do not need costly maintenance while still being capable of enjoying all the benefits of having a lush indoor or outdoor space.
It is cheaper than hiring a professional gardener weekly to cut and maintain your lawn. Also, you don't have to worry about your property becoming overgrown or having to apply smelly fertilizers, which can irritate your nose.
Artificial grass is not in danger of developing weeds or suffering from severe bugs infestation, so you don't need to clean your lawn using pesticides or weed killers.
How Do You Maintain Artificial Grass?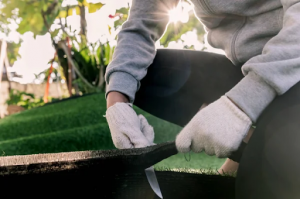 Once you put synthetic grass on your balcony, garden roof terrace or patio, you'll be amazed by how minimal maintenance your artificial lawn flooring needs. Compared to natural grass, it is unnecessary to water, cut or fertilize the artificial grass floors.
Tools You Could Require
Rake (for small areas) or an Air Blower (for large-scale gardens)
Vacuum Cleaner
Bristle or Stiff
Water Hose or a Pail of Water
The mild Soapy Solution is in the form of a Spray Bottle
Roof terraces, balconies or patios with artificial flooring always look inviting and are perfect for entertaining. What happens if your guests spill coffee or red wine on it? What if your favorite pet suffers a bathroom incident and pees on your synthetic grass flooring?
Do not worry about it because it requires more than a glass of dog pee or red wine to stain your sport-grade artificial grass, which is durable and stain-resistant. You only need to hose down the area with plenty of water (which flows towards the hole for drainage, which means there is no flooding). Then, spray it with a mild soapy solution and rinse with some water, and your artificial grass flooring will be as well-maintained and as clean as new.
Artificial grass can be maintained as your regular indoor flooring. Dry leaves and bits of paper are common culprits in artificial grass. For roof terraces and balconies, it is recommended to remove these large trash objects by taking them out with your hands (if there aren't too many) or employing a rake and a shovel to scrape all rubbish onto the side before bagging them. For large areas such as gardens, you might want to buy an air-blower from a hardware store and blow the trash into a bin before separating them.
For artificial grass in indoor areas such as balconies, vacuum the lawn floor and wash it with water if you want, and it will restore the grass to top condition.
For artificial grass laid out outdoors it is possible to clean the flooring of artificial grass; however, do it slowly to avoid taking away the sand that's infilled between the blades of fake grass.
Stepping on your synthetic grass flooring could cause "sleepy" lawn blades to lie in a flat, almost sloping surface instead of "standing" like the rest of excellent and healthy grass. If this happens, remove your stiff brush or broom and "wake" these blades. Then, spray the area with a mild soapy solution, then spray the area with a hose.
Here are other ways to maintain the artificial grass for your home:
Verify all seams to ensure that the artificial grass flooring doesn't have any unattractive gaps. If there are any gaps, we'll patch them by adding more grass.
Examining all edges to make sure it is fixed.
Clean the artificial grass using the use of a specific solution.
Clean the grass blades by hand or using a machine according to the location.
Add more infill similar to sand, if required.
A Simple Way to Refresh Your Landed House Garden
If you do just one thing to improve your garden this year ( or maybe even in the next decade) then this should be it. Replace the grass you have in your yard with artificial grass. You'll be amazed by how this one change can transform your old garden.
Singapore's weather is characterized by intense periods of intense sunshine and heavy rainfall in certain months. This is because the grass in the gardens grows rapidly, like it's on steroids. The rain and high grass could result in lakes of stagnant water that could lead to the breeding of mosquitoes.
If you don't spend much time caring for your garden or hire a landscaping firm to assist you, you'll end up with an unsatisfactory lawn at all times of the year.
Using synthetic or artificial grass, you will enjoy an evergreen lawn all year long. Let the artificial grass be used in conjunction with your living plants, in pots or in planters to create a gorgeous garden with a well-groomed appearance.
We only use high-quality artificial grass so you can be sure that you are getting the best performance and safety of our synthetic grass.
If you install artificial grass in soil, we use a unique installation process to help compact the ground and ensure that it remains in a level position. This ensures you don't have pot holes in the soil after a few months. These holes in the ground don't only affect the appearance at your yard, but they could cause painful ankle twists, if someone was to step on the holes.
More advantages of Artificial Grass for The Singaporean Home
Artificial grass can be used in various locations, including rooftops, balconies and eateries, gardens, shops, condos, shopping malls, offices and office buildings. Apart from being visually pleasing and soothing to the eyes (tired out from the endless hours spent on our smartphones) Artificial grass also offers the following advantages:
1. Lower Water Bills
Singapore being a water-scarce nation means that using less water for grass is a huge benefit for people and the entire country. Artificial grass doesn't need any irrigation (but obviously, you'll need to clean it up in case it's dirty) and can reduce the cost of water.
2. Greenery Throughout The Year
Synthetic grass is green all year long. The excessive amounts of sunshine and the rainwater that comes from thunderstorms are major grass killing agents. This is why natural grass fields generally look brown when a lot of money and time are put into taking care of the grass. In the case of artificial grass, almost no maintenance is required.
3. Pet-Friendly
When our pets emit urine or poop for marking their area, the area of natural grass is bound to be mowed down. Sad yet true. However, with artificial grass this isn't the case. It's gorgeous and doesn't leave any unpleasant smell after washing it with water. This means that your roof, balcony or garden will always be clean and ready for you and your family members to enjoy or host a gathering.
4. No harmful chemicals
In our attempts to grow natural grass and appear nice, we often employ a lot of pesticides and fertilizers. These chemicals are released into our sewage systems and pollute our surroundings. Artificial grass is no reason to utilize harmful chemicals. Hence, you're doing your part for the planet.
5. It's easy to put on joints
Did you know that artificial grass can cushion floors and is gentle on joints? Compared to tiles or flooring, walking over the artificial grass is like walking on carpet. If you notice you are experiencing pain on your knees, you might think about using artificial grass during your outdoor remodeling. Remember that you apply the glucosamine lotion regularly.
6. Many people believe artificial grass is difficult to keep clean, yet this could not be further from the truth. 
It is possible to vacuum and clean artificial grass like any other reputable flooring.
Contact SG Goodwood For Your Quality Artificial Grass and Installation
Are you looking for quality artificial grass? Look no further, contact SG Goodwood today for all your artificial grass needs. We provide only the highest quality artificial grass that is perfect for residential and commercial applications. Our artificial grass is soft, durable, and long lasting, and it will never fade or lose its color, even in direct sunlight.
Contact Us
30 Kallang Pudding Road #04-04
Singapore 349312
+65 8616 2206
By Appointment Only (in line with Covid 19 Movement Restriction Protocol)