The most straightforward approach to give your house an opulent makeover is to incorporate wood into the décor. No matter what style of architecture your home has—classic, rustic, or modern—you can always employ wood in various ways. Wood has a classic charm that never goes out of style. It is simple to add a surprise aspect to the interior design by incorporating wood and the range of colours and textures it offers, such as teak, walnut, and mahogany.
German half-timbered homes or the native two- to three-story wooden buildings in northern India continue to inspire awe at the quality of their designs. These are kept up as historical buildings, and the beauty and durability of antique wood furniture make it a prized collectable. One of the fundamental components of feng shui is wood, which, under this antiquated belief system, has the power to encourage growth and regeneration. It also harnesses the power of creativity when combined with other organic elements. So let's explore some ways to incorporate wood into our homes.
1. Wooden Staircase
Another highly prized piece in any home is an intricately crafted wooden staircase. There are now numerous varieties of wood staircases available for your selection. Many old buildings still have elegantly carved wood spiral stairs in their double-height libraries. The decision, however, is based on the amount of space available, the style of the room where the stair is being installed, and the budget.
2. Wood Flooring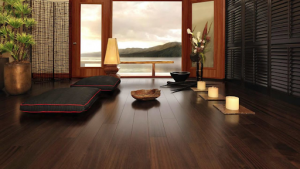 Any home seems to have a touch of glitz with hardwood floors. There are numerous advantages to having wood flooring. It is soft and naturally insulating, absorbs sound, is environmentally sustainable, exudes unmatched beauty, and is remarkably sturdy. Oak and Teak are preferred for traditional hardwood floors because of their strength and longevity. It takes some investigation and professional assistance to select the proper wood for a specific location and climatic condition.
Any home that has traditional parquet hardwood flooring values having it. Bamboo is one of the many forms of wood used to create a floor exquisitely adorned. In the past, hardwood flooring was a common feature of many homes and even commercial buildings, especially those located in colder climates. However, it is quickly disappearing due to worries over unplanned and occasionally illegal deforestation and poor environmental conditions. Instead, a lot of engineered wood flooring is being used. You might even have wood-panelled walls and ceilings in addition to wood flooring.
3. Wooden Ceiling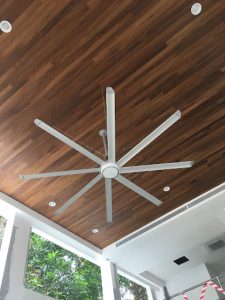 Many house owners use wooden ceilings for aesthetic purposes in their homes. It is basically wood flooring materials installed on the ceiling to give a country feeling at home. This wood ceiling concept is usually done in bedrooms or the living room. Most of the time wood ceiling is installed in the living room as it is the place with most traffic and most populated by guests.
4. Wooden Wall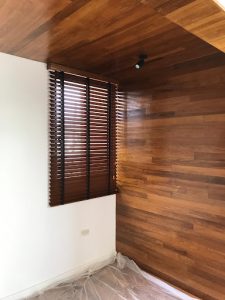 Similar to wooden ceiling, many people install wood on vertical walls too.
It would be boring to see all white walls, wouldn't it? Using wood materials for wall cladding brings a premium elegance to your house.
5. Wooden Fence / Gate
When incorporating wood into your home, pay attention to your front entrance. Every visitor will be immediately impressed by a front door made of exquisitely crafted and sturdy wood. Additionally, solid wood adds another level of security. Almost all of the hardwoods that have already been described here are suitable for creating a front door. In Singapore, most wooden outdoor doors are made of Chengal wood.
Select a door style that blends in with your home's structure and type of wood. Every location has its kind when it comes to fashion. A Versailles double-eye door has a similar unique appearance to Japanese sliding doors, and modern doors typically have a smaller profile and fewer ornaments. Whatever option you select, remember that a knock at your door should sound unique.
Conclusion
Home is our safe haven and our comfort zone. It is important to choose the right products to perfectly suit the interior designs of our homes. Thankfully, we have the perfect products that you may require. Feel free to contact Good Wood Carpentry Pte Ltd and speak to our outdoor decking experts in Singapore.